Heads up, Dream Landers! There's been a tidal wave of new information about the upcoming Kirby's Return to Dream Land Deluxe, including a new Copy Ability called Sand and the return of Festival! Other new information includes more sub-games and a new area called Merry Magoland. All this information is being added to the wiki as quickly as we can!

WiKirby also now has an official Twitter account for site news, updates on the Kirby series, and more!


Please remember that WiKirby contains spoilers, which you read at your own risk! See our
general disclaimer
for details.
Level
From WiKirby, your independent source of Kirby knowledge.
Jump to navigation
Jump to search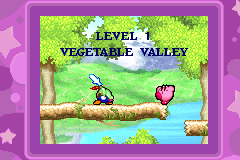 Broadly speaking, the term level in video games refers to a playable area or set of areas which share a distinct theme throughout. Typically, whenever the word level is used, it implies that there are multiple distinct areas which are visited either in sequence, or can be traversed between over the course of gameplay.
Though this is not true universally, in the Kirby series, a level is typically the largest form of sub-division that a main game's contents will take. Levels may also go by different names, such as world, area, zone, or even land. Usually, levels are also further sub-divided into stages, which tend to follow the theme of their host level, though some games (like Kirby's Dream Land) consist only of individual stages.
Levels may also contain level hubs, which are explorable areas which can be used to access individual stages. Levels themselves are also sometimes reachable from World Maps, which are usually no more complicated than an interactive map screen.
List of all levels
[
edit
]
The following is a full list of every level in the Kirby series, at least in terms of what may actually be called a level in the traditional sense. Included are details regarding the source game, the order of the levels in said game, how many stages (including boss and extra stages, but excluding peripheral areas such as Sub-Games and Museums) the levels have, and any other pertinent notes. Levels within Sub-Games will not be included here:
| Level | Image | Game(s) | Order | Stages | Type | Boss(es) | Notes |
| --- | --- | --- | --- | --- | --- | --- | --- |
| Vegetable Valley | | Kirby's Adventure / Kirby: Nightmare in Dream Land | 1 | 5 | Normal | Whispy Woods | This is the first level in the series. |
| Ice Cream Island | | Kirby's Adventure / Kirby: Nightmare in Dream Land | 2 | 6 | Normal | Paint Roller | |
| Butter Building | | Kirby's Adventure / Kirby: Nightmare in Dream Land | 3 | 7 | Normal | Mr. Shine & Mr. Bright | |
| Grape Garden | | Kirby's Adventure / Kirby: Nightmare in Dream Land | 4 | 7 | Normal | Kracko Jr. & Kracko | |
| Yogurt Yard | | Kirby's Adventure / Kirby: Nightmare in Dream Land | 5 | 7 | Normal | Heavy Mole | |
| Orange Ocean | | Kirby's Adventure / Kirby: Nightmare in Dream Land | 6 | 7 | Normal | Meta Knight | |
| Rainbow Resort | | Kirby's Adventure / Kirby: Nightmare in Dream Land | 7 | 7 | Normal | King Dedede | |
| The Fountain of Dreams | | Kirby's Adventure / Kirby: Nightmare in Dream Land | 8 | 1 | Boss | Nightmare | Can only be accessed by defeating King Dedede in Rainbow Resort. |
| Wispy-Woods Land | | Kirby's Pinball Land | N/A | 1 | Pinball Land | Whispy Woods | |
| Kracko Land | | Kirby's Pinball Land | N/A | 1 | Pinball Land | Kracko Jr. & Kracko | |
| Poppy Brothers' Land | | Kirby's Pinball Land | N/A | 1 | Pinball Land | Twin Poppy Bros. Sr. | |
| Course 1 | | Kirby's Dream Course | 1 | 8 | Dream Course | None | |
| Course 2 | | Kirby's Dream Course | 2 | 8 | Dream Course | None | |
| Course 3 | | Kirby's Dream Course | 3 | 8 | Dream Course | None | |
| Course 4 | | Kirby's Dream Course | 4 | 8 | Dream Course | None | |
| Course 5 | | Kirby's Dream Course | 5 | 8 | Dream Course | None | |
| Course 6 | | Kirby's Dream Course | 6 | 8 | Dream Course | None | |
| Course 7 | | Kirby's Dream Course | 7 | 8 | Dream Course | None | |
| Course 8 | | Kirby's Dream Course | 8 | 8 | Dream Course | None | |
| Dedede | | Kirby's Dream Course | 9 | None | Dream Course | Robo Dedede | |
| Whispy Woods Course | | Kirby's Dream Course | 1 | 8 | Dream Course | None | 2-player mode only |
| Mr. Shine & Mr. Bright Course | | Kirby's Dream Course | 2 | 8 | Dream Course | None | 2-player mode only |
| Kracko Course | | Kirby's Dream Course | 3 | 8 | Dream Course | None | 2-player mode only |
| Gordo Course | | Kirby's Dream Course | 4 | 8 | Dream Course | None | 2-player mode only |
| Grass Land | | Kirby's Dream Land 2 | 1 | 4 | Normal | Whispy Woods | |
| Big Forest | | Kirby's Dream Land 2 | 2 | 4 | Normal | Nruff and Nelly | |
| Ripple Field | | Kirby's Dream Land 2 | 3 | 4 | Normal | Sweet Stuff | |
| Iceberg | | Kirby's Dream Land 2 | 4 | 5 | Normal | Ice Dragon | |
| Red Canyon | | Kirby's Dream Land 2 | 5 | 6 | Normal | Mr. Shine & Mr. Bright | |
| Cloudy Park | | Kirby's Dream Land 2 | 6 | 7 | Normal | Kracko Jr. & Kracko | |
| Dark Castle | | Kirby's Dream Land 2 | 7 | 8 | Normal | King Dedede, Dark Matter | Only King Dedede is fought if Kirby is missing any Rainbow Drops. |
| Spring Breeze | | Kirby Super Star / Kirby Super Star Ultra | 1 | 4 | Main Game | Whispy Woods, Lololo & Lalala, Kracko, King Dedede | Truncated version of Kirby's Dream Land. |
| Dyna Blade | | Kirby Super Star / Kirby Super Star Ultra | 2 | 8 | Main Game | Dyna Blade | |
| Gourmet Race | | Kirby Super Star / Kirby Super Star Ultra | 3 | 3 | Main Game | None | Main objective is to race King Dedede to the end of the stage. |
| The Great Cave Offensive | | Kirby Super Star / Kirby Super Star Ultra | 4 | 4 | Main Game | Fatty Whale, Computer Virus, Chameleo Arm, Wham Bam Rock | Stages are directly interconnected into one larger whole area. |
| Revenge of Meta Knight | | Kirby Super Star / Kirby Super Star Ultra | 5 | 7 | Main Game | Whispy Woods, Twin Woods, Combo Cannon, Heavy Lobster, Reactor, Meta Knight | Stages operate on a time limit. |
| Milky Way Wishes | | Kirby Super Star / Kirby Super Star Ultra | 6 | 9 | Main Game | Twin Woods, Fatty Whale, Kracko, Chameleo Arm, Wham Bam Rock, Heavy Lobster, Computer Virus, Galactic Nova Nucleus, Marx | All but the final stage may be visited in any order. |
| Revenge of the King | | Kirby Super Star Ultra | 7 | 5 | Main Game | Whispy's Revenge, Lololo & Lalala's Revenge, Kracko's Revenge, Kabula, Masked Dedede | Can be considered a tougher version of Spring Breeze. |
| Grass Land | | Kirby's Dream Land 3 | 1 | 7 | Normal | Whispy Woods | |
| Ripple Field | | Kirby's Dream Land 3 | 2 | 7 | Normal | Acro | |
| Sand Canyon | | Kirby's Dream Land 3 | 3 | 7 | Normal | Pon Con | |
| Cloudy Park | | Kirby's Dream Land 3 | 4 | 7 | Normal | Ado | |
| Iceberg | | Kirby's Dream Land 3 | 5 | 7 | Normal | King Dedede | |
| Hyper Zone | | Kirby's Dream Land 3 | 6 | 1 | Boss | Dark Matter, Zero | Only accessible if all Heart Stars were obtained. |
| Pop Star | | Kirby 64: The Crystal Shards | 1 | 4 | Normal | Whispy Woods | |
| Rock Star | | Kirby 64: The Crystal Shards | 2 | 5 | Normal | Pix | |
| Aqua Star | | Kirby 64: The Crystal Shards | 3 | 5 | Normal | Acro | |
| Neo Star | | Kirby 64: The Crystal Shards | 4 | 5 | Normal | Magman | |
| Shiver Star | | Kirby 64: The Crystal Shards | 5 | 5 | Normal | HR-H & HR-E | |
| Ripple Star | | Kirby 64: The Crystal Shards | 6 | 4 | Normal | Miracle Matter | |
| Dark Star | | Kirby 64: The Crystal Shards | 7 | 1 | Boss | 0² | Only accessible if all Crystal Shards were obtained. |
| Level 1 | | Kirby Tilt 'n' Tumble | 1 | 4 | Normal | Orbservor | |
| Level 2 | | Kirby Tilt 'n' Tumble | 2 | 4 | Normal | Orbservor | |
| Level 3 | | Kirby Tilt 'n' Tumble | 3 | 4 | Normal | Kracko | |
| Level 4 | | Kirby Tilt 'n' Tumble | 4 | 4 | Normal | Orbservor | |
| Level 5 | | Kirby Tilt 'n' Tumble | 5 | 4 | Normal | Orbservor | |
| Level 6 | | Kirby Tilt 'n' Tumble | 6 | 4 | Normal | Kracko | |
| Level 7 | | Kirby Tilt 'n' Tumble | 7 | 4 | Normal | Orbservor | |
| Level 8 | | Kirby Tilt 'n' Tumble | 8 | 4 | Normal | King Dedede | |
| Rainbow Route | | Kirby & The Amazing Mirror | 1 | N/A | Area | None | |
| Moonlight Mansion | | Kirby & The Amazing Mirror | 2 | N/A | Area | King Golem | |
| Cabbage Cavern | | Kirby & The Amazing Mirror | 3 | N/A | Area | Moley | |
| Mustard Mountain | | Kirby & The Amazing Mirror | 4 | N/A | Area | Kracko | |
| Carrot Castle | | Kirby & The Amazing Mirror | 5 | N/A | Area | Mega Titan | |
| Olive Ocean | | Kirby & The Amazing Mirror | 6 | N/A | Area | Gobbler | |
| Peppermint Palace | | Kirby & The Amazing Mirror | 7 | N/A | Area | Wiz | |
| Radish Ruins | | Kirby & The Amazing Mirror | 8 | N/A | Area | ??? | |
| Candy Constellation | | Kirby & The Amazing Mirror | 9 | N/A | Area | Master Hand & Crazy Hand | |
| The Mirror | | Kirby & The Amazing Mirror | 10 | N/A | Boss | Dark Meta Knight, Dark Mind | Not accessible until all previous bosses are defeated. |
| Reddy Land | | Kirby: Canvas Curse | 1 | 3 | Normal | Player's choice | Stages may be played in any order. |
| Arange Gorge | | Kirby: Canvas Curse | 2 | 3 | Normal | Player's choice | Stages may be played in any order. |
| Iello Adventure | | Kirby: Canvas Curse | 3 | 3 | Normal | Player's choice | Stages may be played in any order. |
| Neo Greo | | Kirby: Canvas Curse | 4 | 3 | Normal | Player's choice | Stages may be played in any order. |
| Bloo Hills | | Kirby: Canvas Curse | 5 | 3 | Normal | Player's choice | Stages may be played in any order. |
| Omarine Zone | | Kirby: Canvas Curse | 6 | 3 | Normal | Player's choice | Stages may be played in any order. |
| Wonder Lilane | | Kirby: Canvas Curse | 7 | 3 | Normal | None | Stages may be played in any order. |
| The World of Drawcia | | Kirby: Canvas Curse | 8 | 1 | Boss | Drawcia & Drawcia Soul | |
| Prism Plains | | Kirby: Squeak Squad | 1 | 7 | Normal | King Dedede | |
| Nature Notch | | Kirby: Squeak Squad | 2 | 7 | Normal | Mrs. Moley | |
| Cushy Cloud | | Kirby: Squeak Squad | 3 | 7 | Normal | Mecha-Kracko | |
| Jam Jungle | | Kirby: Squeak Squad | 4 | 7 | Normal | Yadgaine | |
| Vocal Volcano | | Kirby: Squeak Squad | 5 | 6 | Normal | Bohboh | |
| Ice Island | | Kirby: Squeak Squad | 6 | 7 | Normal | Daroach | |
| Secret Sea | | Kirby: Squeak Squad | 7 | 7 | Normal | Meta Knight | Can only be reached once all Star Seals are collected. |
| Gamble Galaxy | | Kirby: Squeak Squad | 8 | 4 | Normal | Dark Daroach, Dark Nebula | |
| Quilty Square | | Kirby's Epic Yarn / Kirby's Extra Epic Yarn | 1 | 1 | Hub level | None | The main purpose of this area is for extra features, and contains only one actual stage. |
| Grass Land | | Kirby's Epic Yarn / Kirby's Extra Epic Yarn | 2 | 7 | Normal | Fangora | |
| Hot Land | | Kirby's Epic Yarn / Kirby's Extra Epic Yarn | 3 | 7 | Normal | Hot Wings | |
| Treat Land | | Kirby's Epic Yarn / Kirby's Extra Epic Yarn | 4 | 7 | Normal | Squashini | |
| Water Land | | Kirby's Epic Yarn / Kirby's Extra Epic Yarn | 5 | 7 | Normal | Capamari | |
| Snow Land | | Kirby's Epic Yarn / Kirby's Extra Epic Yarn | 6 | 7 | Normal | King Dedede | |
| Space Land | | Kirby's Epic Yarn / Kirby's Extra Epic Yarn | 7 | 7 | Normal | Meta Knight | |
| Dream Land | | Kirby's Epic Yarn / Kirby's Extra Epic Yarn | 8 | 7 | Normal | Yin-Yarn & Mega Yin-Yarn | |
| Green Grounds | | Kirby Mass Attack | 1 | 11 | Normal | Whispy Woods | Only some stages must be played to advance. |
| Sandy Canyon | | Kirby Mass Attack | 2 | 12 | Normal | Lady Ivy | Only some stages must be played to advance. |
| Dedede Resort | | Kirby Mass Attack | 3 | 12 | Normal | King Dedede | Only some stages must be played to advance. |
| Volcano Valley | | Kirby Mass Attack | 4 | 12 | Normal | Skullord | Only some stages must be played to advance. Some stages must be played out of order. |
| Necro Nebula | | Kirby Mass Attack | 5 | 5 | Boss | Whispy Woods, Lady Ivy, King Dedede, Skullord, Necrodeus | All Rainbow Medals are required to access this level. |
| Cookie Country | | Kirby's Return to Dream Land | 1 | 5 | Normal | Whispy Woods | |
| Raisin Ruins | | Kirby's Return to Dream Land | 2 | 5 | Normal | Mr. Dooter | |
| Onion Ocean | | Kirby's Return to Dream Land | 3 | 5 | Normal | Fatty Puffer | |
| White Wafers | | Kirby's Return to Dream Land | 4 | 6 | Normal | Goriath | |
| Nutty Noon | | Kirby's Return to Dream Land | 5 | 6 | Normal | Grand Doomer | |
| Egg Engines | | Kirby's Return to Dream Land | 6 | 6 | Normal | Metal General (& HR-D3 in Extra Mode) | This is the first level to add an extra boss fight in the Extra Mode. |
| Dangerous Dinner | | Kirby's Return to Dream Land | 7 | 4 | Normal | Landia | |
| Another Dimension | | Kirby's Return to Dream Land | 8 | 1 | Boss | Lor & Magolor, Magolor, Magolor Soul | Features a substantial build-up area before the boss fights commence. |
| Fine Fields | | Kirby: Triple Deluxe | 1 | 6 | Normal | Flowery Woods | |
| Lollipop Land | | Kirby: Triple Deluxe | 2 | 6 | Normal | Paintra | |
| Old Odyssey | | Kirby: Triple Deluxe | 3 | 7 | Normal | Kracko | |
| Wild World | | Kirby: Triple Deluxe | 4 | 7 | Normal | Coily Rattler | |
| Endless Explosions | | Kirby: Triple Deluxe | 5 | 7 | Normal | Pyribbit | |
| Royal Road | | Kirby: Triple Deluxe | 6 | 8 | Normal | Masked Dedede & Masked Dedede's Revenge, Queen Sectonia | |
| Eternal Dreamland | | Kirby: Triple Deluxe | 7 | 1 | Boss | Flowered Sectonia | Only accessible by clearing the boss stage of Royal Road. |
| Green Valley | | Kirby and the Rainbow Curse | 1 | 4 | Normal | Whispy Woods | |
| Yellow Dunes | | Kirby and the Rainbow Curse | 2 | 4 | Normal | Hooplagoon | |
| Indigo Ocean | | Kirby and the Rainbow Curse | 3 | 4 | Normal | The Claykken | |
| Blue Sky Palace | | Kirby and the Rainbow Curse | 4 | 4 | Normal | Whispy Woods (reprise) | |
| Orange Woodland | | Kirby and the Rainbow Curse | 5 | 4 | Normal | Hooplagoon (reprise) | |
| Red Volcano | | Kirby and the Rainbow Curse | 6 | 4 | Normal | The Claykken (reprise) | |
| Purple Fortress | | Kirby and the Rainbow Curse | 7 | 4 | Normal | Claycia, Dark Crafter | |
| Patched Plains | | Kirby: Planet Robobot | 1 | 6 | Normal | Gigavolt, Clanky Woods | |
| Resolution Road | | Kirby: Planet Robobot | 2 | 6 | Normal | C.O.G.S., Holo Defense API | |
| Overload Ocean | | Kirby: Planet Robobot | 3 | 7 | Normal | Susie | |
| Gigabyte Grounds | | Kirby: Planet Robobot | 4 | 7 | Normal | C.O.G.S., Core Kabula, Mecha Knight | |
| Rhythm Route | | Kirby: Planet Robobot | 5 | 7 | Normal | Dedede Clone & Dedede Clones & D3 | |
| Access Ark | | Kirby: Planet Robobot | 6 | 8 | Normal | Holo Defense API (partial), Gigavolt II, Mecha Knight+, President Haltmann | |
| Mind in the Program | | Kirby: Planet Robobot | 7 | 1 | Boss | Star Dream | |
| Level 1 | | Kirby's Blowout Blast | 1 | 4 | Normal | Lololo | |
| Level 2 | | Kirby's Blowout Blast | 2 | 4 | Normal | Kracko Jr. | |
| Level 3 | | Kirby's Blowout Blast | 3 | 5 | Normal | Lololo & Lalala | |
| Level 4 | | Kirby's Blowout Blast | 4 | 5 | Normal | Kracko | |
| Level 5 | | Kirby's Blowout Blast | 5 | 5 | Normal | King Dedede & Giant King Dedede | |
| Level 1 EX | | Kirby's Blowout Blast | 6 | 4 | Extra | Lololo's Revenge | Unlocked by clearing all Level 1 stages with Gold or better. |
| Level 2 EX | | Kirby's Blowout Blast | 7 | 4 | Extra | Kracko Jr.'s Revenge | Unlocked by clearing all Level 2 stages with Gold or better. |
| Level 3 EX | | Kirby's Blowout Blast | 8 | 5 | Extra | Lololo & Lalala's Revenge | Unlocked by clearing all Level 3 stages with Gold or better. |
| Level 4 EX | | Kirby's Blowout Blast | 9 | 5 | Extra | Kracko's Revenge | Unlocked by clearing all Level 4 stages with Gold or better. |
| Level 5 EX | | Kirby's Blowout Blast | 10 | 5 | Extra | King Dedede's Revenge & Giant King Dedede's Revenge | Unlocked by clearing all Level 5 stages with Gold or better. |
| Secret Path | | Kirby's Blowout Blast | 11 | 1 (technically 5) | Special | King Dedede's Revenge & Giant Masked Dedede | Unlocked by clearing all prior stages with Gold or better. These stages may not be played individually. |
| World of Peace - Dream Land | | Kirby Star Allies | 1 | 6 | Normal | Whispy Woods, King Dedede | |
| World of Miracles - Planet Popstar | | Kirby Star Allies | 2 | 7 | Normal | Meta Knight | |
| Fortress of Shadows - Jambastion | | Kirby Star Allies | 3 | 9 | Normal | Pon & Con, Francisca, Flamberge, Zan Partizanne | |
| Far-Flung Starlight Heroes | | Kirby Star Allies | 4 | 19 | Normal | Whispy Woods, Yggy Woods, Goldon & Silvox, Grand Mam, Francisca, Kracko & Twin Kracko, Flamberge, Zan Partizanne, Hyness | The first six planets may be visited in any order, with corresponding moons unlocked after the host planet is complete. This level is by far the largest in the history of the series. The level resembles Milky Way Wishes in layout. |
| Kirby Star Allies | | Kirby Star Allies | 5 | 1 | Boss | Void Termina | |
| Heroes in Another Dimension | | Kirby Star Allies | 6 | 5 | Extra Game | Parallel Woods, Parallel Twin Kracko & Parallel Big Kracko, Parallel Meta Knight, Parallel Dedede, Corrupt Hyness, The Three Mage-Sisters | Only playable in version 4.0.0 and onward. Not strictly part of the story mode. |
| Natural Plains | | Kirby and the Forgotten Land | 1 | 5 | Normal | Gorimondo | |
| Everbay Coast | | Kirby and the Forgotten Land | 2 | 5 | Normal | Tropic Woods | |
| Wondaria Remains | | Kirby and the Forgotten Land | 3 | 5 | Normal | Clawroline | |
| Winter Horns | | Kirby and the Forgotten Land | 4 | 5 | Normal | King Dedede | |
| Originull Wasteland | | Kirby and the Forgotten Land | 5 | 5 | Normal | Sillydillo | |
| Redgar Forbidden Lands | | Kirby and the Forgotten Land | 6 | 6 | Normal | Forgo Dedede | |
| Lab Discovera | | Kirby and the Forgotten Land | 7 | 1 | Boss | Leongar, Fecto Forgo, Fecto Elfilis | |
| Isolated Isles: Forgo Dreams | | Kirby and the Forgotten Land | 8 | 7 | Extra | Phantom Gorimondo, Phantom Tropic Woods, Phantom Clawroline, Phantom King Dedede, Phantom Sillydillo, Phantom Forgo Dedede, Forgo Leon, Morpho Knight | |