Please remember that WiKirby contains spoilers, which you read at your own risk! See our
general disclaimer
for details.
Cabbage Cavern
From WiKirby, your independent source of Kirby knowledge.
Jump to navigation
Jump to search
Cabbage Cavern is the third cardinal area of the Mirror World, located directly south of Rainbow Route and its Central Circle. The few Mirror Doors leading to it are characterized by a rocky brown frame, in contrast to the mostly purple-hued terrain of the area itself, though a few of the rooms here deviate with rocky blue surfaces such as the regions surrounding the Mid-Boss Batafire and Boss Moley. In Cabbage Cavern, Kirby navigates through many narrow tunnels and close-quarter enemy encounters, and traverses hazards such as spike beds, bottomless pits, and water currents. Copy Abilities which have good horizontal and/or vertical reach are most useful for this area, since enemies are liable to come from many different directions. In a few niches, a stake-pounding ability such as Hammer or Stone will allow access to otherwise-unreachable treasure chests.
Unique treasures found in this area include two Spray Paints - sapphire and chocolate - two Sound Files which can be found in out-of-the-way treasure chests, and a single Mirror Shard, which is guarded by Moley at the cavern's deepest point. When any of the three Big Switches are activated, a corresponding hub with a mirror door will be opened to access other areas. From Cabbage Cavern, it is possible to travel to areas in Rainbow Route, Olive Ocean, and Radish Ruins.
Enemies, Bosses, and Abilities in Cabbage Cavern
[
edit
]
| Sprite | Name | Copy Ability |
| --- | --- | --- |
| | Moley | N/A (various objects he throws can be swallowed for abilities) |
Cabbage Cavern Area Map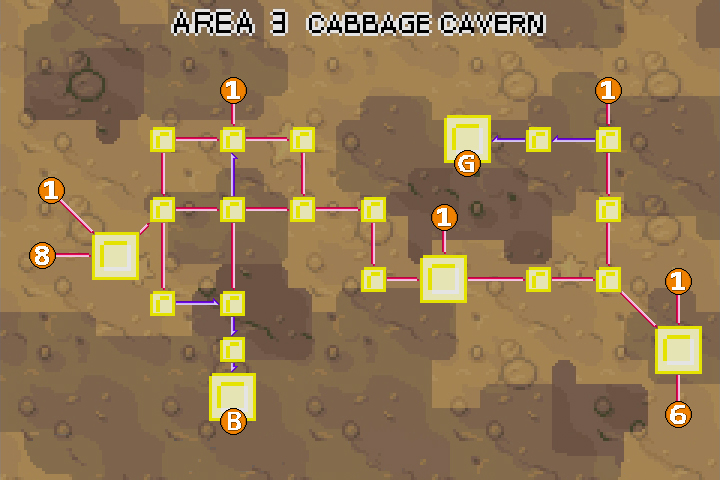 Click on any room
Cabbage Cavern is a fairly small area, consisting primarily of a single path through its breadth. It has numerous connections to Rainbow Route from above, but has very few connections to anywhere else. Under normal circumstances, Kirby and his clones will not spend too much time traveling through this area. Overall, there are 16 normal rooms, three hubs, and one Goal room.
Cabbage Cavern is bordered to the north by Rainbow Route, to the south-east by Olive Ocean, and to the west by Radish Ruins.
Cabbage Cavern has one Goal room. Completing this room takes Kirby and his clones to the Goal Game, then returns them to the Central Circle of Rainbow Route.
For a full synopsis of what's in each room, click on any room on the map to head to the corresponding page.
Gallery
[
edit
]
Names in other languages
[
edit
]
Language
Name
Meaning
Japanese
キャベッジキャバーン
Kyabejji Kyabān
Cabbage Cavern
French
Caverne des Choux
Cabbage Cavern
German
Kohl-kaverne
Cabbage Cavern
Italian
Caverna de' Cavoletti
Cabbage Cavern
Spanish
Gruta del Repollo
Cabbage Cavern