Please remember that WiKirby contains spoilers, which you read at your own risk! See our
general disclaimer
for details.
Course 5
From WiKirby, your independent source of Kirby knowledge.
Jump to navigation
Jump to search
Course 5
Details
Gold par
18 or lower (Main Game)
15 or lower (Extra Game)
Silver par
19-23 (Main Game)
16-20 (Extra Game)
Bronze par
24-30 (Main Game)
21-27 (Extra Game)
Course 5 is the fifth course in the single-player mode of Kirby's Dream Course. This course is the first which does not introduce any new Copy Abilities or types of obstacles, but features a lot of long, hilly, and complicated boards.
Cutscene
[
edit
]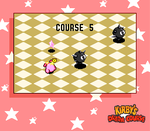 In the intro cutscene, Kirby prepares to line a shot past a Gordo on patrol in order to hit a Waddle Dee on the other side. After carefully timing his shot, he makes it through unscathed and defeats the Waddle Dee. Kirby starts to celebrate, but a second Gordo comes in from the left and hits him, knocking him into the first Gordo, who knocks him back to the second, where Kirby is then knocked off to the side, having been hit three times. He is left face-down in a daze.
There are eight holes in Course 5, as follows:
| Hole | Description |
| --- | --- |
| | A big square board with many tiers and ponds. |
| | A long board with a ramp and a long pond. |
| | A long board with lots of bunkers and sloping terrain. |
| | A narrow board with lots of steps and slopes. |
| | A large and long board featuring lots of Twisters and uneven ground. |
| | A board split in two, featuring a Dash Panel to leap between them. |
| | A board of many sloping steps lined with Waddle Dees and Trampolines. |
| | A very long board lined with various obstacles and which gradually slopes upward. |
The intro cutscene for this course is the only one of the eight in Kirby's Dream Course which does not involve Whispy Woods in some way.
As demonstrated in this tool-assisted playthrough, the theoretical maximum score on this course in the main game is 10 shots (with 2 each being required on Holes 3 and 4). In the Extra Game, a perfect score of 8 can be achieved by getting a hole-in-one on every hole.
Gallery
[
edit
]