New NIWA Member:
Make a Mii, or two, or three!
MiiWiki
has joined NIWA's plaza of wikis! Check them out for all Mii content from the Wii to the Switch, including games like the
Tomodachi
series and
Miitopia
!
Please remember that WiKirby contains spoilers, which you read at your own risk! See our
general disclaimer
for details.
Peppermint Palace
From WiKirby, your independent source of Kirby knowledge.
Jump to navigation
Jump to search
Peppermint Palace is the seventh area of the Mirror World in Kirby & The Amazing Mirror. Kirby enters this icy palace in order to find the Mirror Shard held by Wiz. Exploration of the area takes place inside the palace, surrounding mountains, and underground cavern. Mirror Doors leading to Peppermint Palace are distinctly characterized by their cool color shades, such as light blue and textures resembling ice. Entrances to Peppermint Palace, and the exterior of the building, can be found in the forests of the Carrot Castle area.
Most of this area's surface is icy and slippery, which leads to several open pits to harm Kirby. Many of the rooms are divided and a network of portals loop serve to confuse travelers, as most of the map loops back to certain rooms. Another very noticeable aspect of the area is the abundant placement of inclined areas, which make the Laser Copy Ability useful.
Treasure
[
edit
]
The term palace is generally associated with wealth and treasure, and Peppermint Palace is no exception. Kirby is able to obtain three Spray Paints (Grape, Snow, and Pink), two Sound Files, and the map for the Collection Room. In addition to the many 1-Ups, Energy Drinks, batteries, food, and Maxim Tomatoes.
Enemies, Bosses, and Abilities in Peppermint Palace
[
edit
]
| Sprite | Name | Copy Ability |
| --- | --- | --- |
| | Wiz | N/A (various abilities can be obtained from things he conjures) |
Peppermint Palace Area Map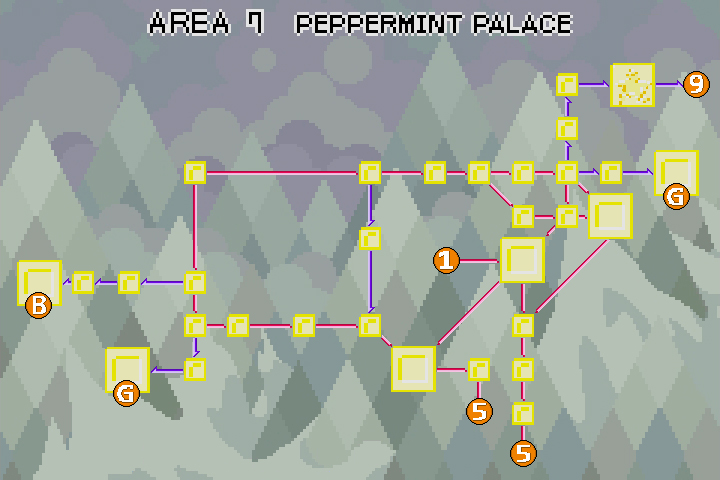 Click on any room
Peppermint Palace is a chaotic cluster of loops, with only a few one-way passages, most of which lead to special rooms. Kirby and his clone friends could spend a great deal of time running the loops in here if they are not careful. There are 24 normal rooms, two Hubs, one Chest room (containing the area map), two Goal rooms, and one Warp room. The boss of this area is Wiz.
Peppermint Palace is a very isolated region. Only Carrot Castle connects directly to this area on the south side. Once the first Hub is reached, this area can connect to Rainbow Route. There is also a Warp Star that will take Kirby on a one-way trip to Candy Constellation.
Peppermint Palace has two Goal rooms. Completing the Goal Game in each room will take Kirby and any friends with him back to the Central Circle in Rainbow Route.
For a full synopsis of what's in each room, click on any room on the map to head to the corresponding page.
Gallery
[
edit
]
Names in other languages
[
edit
]
Language
Name
Meaning
Japanese
ペパーミントパレス
Pepāminto Paresu
Peppermint Palace
French
Palais Menthe
Mint Palace
German
Pfeffer-minzpalast
Peppermint Palace
Italian
Palazzo Menta
Mint Palace
Spanish
Palacio de la Menta
Mint Palace