Please remember that WiKirby contains spoilers, which you read at your own risk! See our
general disclaimer
for details.
Kirby Wiki
From WiKirby, your independent source of Kirby knowledge.
Jump to navigation
Jump to search


Since 2010,
WiKirby
has been striving to be the best resource for
Kirby
information on the internet—
and you can help us!
It's easy—just head on over to our
Help & Policy section
and then find a page to get started.
Not sure where to begin? Check out our maintenance page. If you have any additional questions, contact an administrator+.
Please keep in mind that in order to create new pages (including your user page) and upload files, you must create an account, wait one day, and make 5 edits to pages first. Doing this will also allow you to edit without being moderated!

Keep in mind that this wiki contains spoilers, which you view at your own risk!
Have fun and thanks for visiting!


New and Upcoming Kirby Games


Featured Article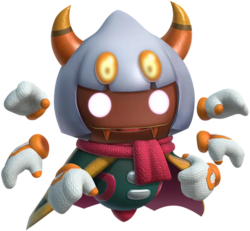 Taranza is a young, clumsy wizard with arachnid-like characteristics who serves as a prominent character in many games in the Kirby series. He first appeared in Kirby: Triple Deluxe when, on orders from Queen Sectonia, he kidnapped King Dedede in order to prevent him from foiling their plans to conquer Floralia. In the end, however, he realized he had captured the wrong target, as Kirby would pursue him all the way to the queen's chambers and defeat them in combat. Taranza would later be betrayed by his queen, and eventually come to Kirby and King Dedede's aid in dispatching her after she had merged with the Dreamstalk. From then on, he would be an ally to Kirby and King Dedede.
Since Kirby: Triple Deluxe, Taranza has made various appearances in subsequent games. In Team Kirby Clash Deluxe, he serves as one of the principal villains, and is battled directly for the first time in the series (he also serves as a more minor plot element in Super Kirby Clash). This is where he gained the moniker of The Puppeteer Magician. Taranza would become playable for the first time as a Dream Friend in Kirby Star Allies, though he does not serve a specific role in the game's story. He has also made minor appearances in Dedede's Drum Dash Deluxe, Kirby: Planet Robobot, and Kirby Battle Royale.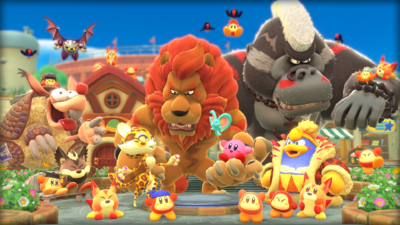 Cute? Check. Adorable? Check. It's too good of an image from a relatively-recent game to feature, that's for sure! – Owencrazyboy17 (talk) 19:09, 31 May 2022 (UTC)
Did you know that...

December 3rd, 2022 - Voting has begun to select WiKirby's first Assistant Editor-in-Chief! Go to this page to vote before the end of December 9th, 2022!
November 25th, 2022 - Nominations for WiKirby's first ever Assistant Editor-in-Chief have begun! Go to this page to learn more and nominate our AEiC before the end of December 2nd, 2022, after which voting will commence!
November 8th, 2022 - And here we are! It's been officially confirmed that Kirby and the Forgotten Land has surpassed the original Kirby's Dream Land as the highest-selling game in the Kirby series. No more will this 30-year old series operate in the shadow of its original installment!
October 30th, 2022 - WiKirby has completed the process of switching hosts. Things are running smoothly and the wiki is now ad-free! Thanks for your patience!

October 19th, 2022 - Brave heroes of light, gather your power, wisdom, and courage, for our friends at Zelda Wiki have boldly forked off of Fandom and become

Zeldapedia

! With this step, the Triforce of original founding NIWA wikis has finally been restored to balance, and the land shall be at peace once more!

October 9th, 2022 - It has taken a little while, but the first batch of core pages to retain the Good template have been assigned their badges! Going forward, all future Good badges may only be assigned by staff, ideally through the Good recommendations page. Feel free to recommend a page that you think deserves the badge, and it will be looked into!
September 21st, 2022 - The Good referendum has concluded! The community has decided to overhaul the Good template to make it more exclusive, and disbar its usage on files entirely. Look out for the changes on the Featured content policy page!
September 13th, 2022 - Kirby fans rejoice! The newest Nintendo Direct has revealed a remake of Kirby's Return to Dream Land called Kirby's Return to Dream Land Deluxe for the Nintendo Switch! New features include an updated art style, a new Copy Ability called Mecha, and new and remastered Sub-Games! Look forward to the release on February 24th, 2023!
Community Poll
What is your favorite level in Kirby's Return to Dream Land?
You voted for "Nutty Noon" on 5 December 2022 at 05:33. You can change your vote by clicking a different answer below.
There were 30 votes since the poll was created on 07:35, 14 November 2022.
poll-id 64A6BAD1FC85A0C315710D58926FEB7A

NIWA
is a family of open-content encyclopedias based on Nintendo franchises, vowing to be now and forever independent!
Other Nintendo franchise wikis are welcome; please visit the NIWA website for more information!
NIWA also has a
Discord
server that you can join by clicking
here
.
Recommended Downloads

We at WiKirby would like to share some tools that make your wiki-editing life easier. If you aren't currently using any of these, we recommend looking into them. All are free of charge, and easy to install or uninstall if desired.