Please remember that WiKirby contains spoilers, which you read at your own risk! See our
general disclaimer
for details.
Kirby Wiki
From WiKirby, your independent source of Kirby knowledge.
Jump to navigation
Jump to search


Since 2010,
WiKirby
has been striving to be the best resource for
Kirby
information on the internet.
And you can help us!
It's easy - just head on over to our
Help & Policy section
and then find a page to get started.
Not sure where to begin? Check out our maintenance page.
Please keep in mind that in order to create new pages (including your user page) and upload files, you must create an account, wait one day, and make 5 edits to pages first. Doing this will also allow you to edit without being moderated!

Keep in mind that this wiki contains spoilers, which you view at your own risk!
Have fun and thanks for visiting!


Featured Article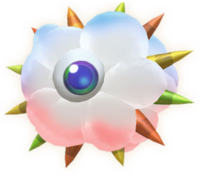 Kracko is a recurring boss in the Kirby series. He resembles a large floating cloud, but he has a single eyeball in his center and small spikes on his fringes. In every iteration, Kracko's signature attack is his ability to shoot lightning bolts, fire beams from his eye, and generate various minions from his body (usually Waddle Doos or Li'l Krackos). He also has a weaker, more premature form called Kracko Jr. His name is a pun on "crack", an onomatopoeia of the sound of lightning striking.
Much like Whispy Woods, Kracko is one of the most iconic entities in the Kirby series, appearing in some form in the majority of games. While he is typically mute, and his motivations largely unknown, Kracko is sometimes given a voice, though he does not say anything particularly important. Kracko is sometimes referred to as the "lord of the sky" or the "cloud-spirit ruler", and has gone through many variations on his appearance over the course of the series.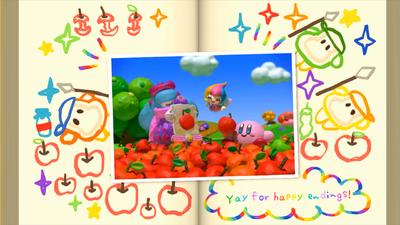 Agreed. It's also an interesting image with a screenshot in the middle surrounded by simple kid-style artwork. ---PinkYoshiFan 02:35, 16 July 2022 (UTC)
Did you know that...

...series director Shinya Kumazaki had a pet cat named Tom, whose voice was used for Star Dream and Nago?

...series composer Hirokazu Ando has a pet chicken, whose voice was used for Star Dream's weathervane?

...the staff credits in Kirby's Avalanche can be viewed immediately after the game is started or rebooted if player 1 holds L + right, while player 2 holds R + left?
July 22nd, 2022 - Heads up! Kirby's Avalanche is now available on Nintendo Switch Online in the west, and Kirby's Star Stacker (SNES) is available on the Japanese NSO service. If you have a Japanese Switch account, this is an opportunity to finally play the game on an official emulator!
July 12, 2022 - Kirby's Dream Buffet, a new spin-off, has just been announced for this summer!
June 28th, 2022 - WiKirbians and friends, let it be known that we have three high-profile promotions to announce today! Users MetaDragon and Pinkyoshifan have both been promoted to Administrator, and Kirbeat has been promoted to Moderator! Give them all your congratulations!
May 29th, 2022 - The spoiler referendum has ended! Going forward, spoilers will not be marked as such on individual pages. Instead, a sitewide spoiler warning will be placed at the top of every page. Thanks to everyone for helping us determine how best to proceed.
April 27th, 2022 - Today marks the 30th anniversary of the release of Kirby's Dream Land in Japan!
March 25th, 2022 - Get ready to join Kirby in a new world! Kirby and the Forgotten Land is now officially out worldwide! Note that endgame content and other spoilers will be added to the wiki shortly, so watch what you read if you do not want to be spoiled!
March 3rd, 2022 - Get a mouthful of this! A demo for Kirby and the Forgotten Land has been released, featuring three stages from the full game. Go take a look, and then see our increasing coverage of the game and its contents!
February 5th, 2022 - WiKirby now has a Community Poll on its main page! All readers and editors are invited to take part in these lighthearted polls that will be updated at semi-regular intervals.
Community Poll
Kirby's Dream Buffet was announced recently. What's your impression?
You voted for "The game looks fun! I'll probably pick it up some time." on 8 August 2022 at 16:08. You can change your vote by clicking a different answer below.
There were 27 votes since the poll was created on 20:10, 25 July 2022.
poll-id FC023E51B1D2614D1F9771494B1BB584

NIWA
is a family of open-content encyclopedias based on Nintendo franchises, vowing to be now and forever independent!
Other Nintendo franchise wikis are welcome; please visit the NIWA website for more information!
NIWA also has a
Discord
server that you can join by clicking
here
.
Recommended Downloads

We at WiKirby would like to share some tools that make your wiki-editing life easier. If you aren't currently using any of these, we recommend looking into them. All are free of charge, and easy to install or uninstall if desired.