Please remember that WiKirby contains spoilers, which you read at your own risk! See our
general disclaimer
for details.
Kirby Wiki
From WiKirby, your independent source of Kirby knowledge.
Jump to navigation
Jump to search


About Us


Since 2010,
WiKirby
has been striving to be the best resource for
Kirby
information on the internet—
and you can help us!
It's easy—just head on over to our
Help & Policy section
and then find a page to get started.
Not sure where to begin? Check out our maintenance page. If you have any additional questions, contact an administrator+.
Please keep in mind that in order to create new pages (including your user page) and upload files, you must create an account, wait one day, and make 5 edits to pages first. Doing this will also allow you to edit without being moderated!

Keep in mind that this wiki contains spoilers, which you view at your own risk!
Have fun and thanks for visiting!


Featured Article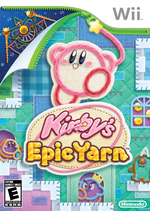 Kirby's Epic Yarn is a sidescrolling 2-D platformer and a spin-off game in the Kirby series, developed primarily by Good-Feel. Despite being in the same genre, the game departs from the main Kirby series in several key ways, chief of which being the setting, art style, and Kirby's move-set: instead of inhaling enemies to gain their powers, Kirby uses a Yarn Whip to unravel his foes or wrap them up into projectiles. As implied by the title, the game is centered around a yarn and fabric aesthetic, and the setting, story, and stage gimmicks play heavily off this theme, from Kirby interacting with buttons, patches, and threads to reshaping himself and other characters by various means.
Another key aspect of Kirby's Epic Yarn is its accessibility and ease of play. Unlike most other platformers, it is not possible for the player to lose the game, with damage to Kirby and his second-player companion Prince Fluff being punished only by losing beads instead of actually having a health meter or extra life counter. As such, the only real difficulty the game presents is entirely to the player's discretion, taking the form of earning medals in stages by completing them with more beads, or by grabbing all of the optional collectibles. These collectibles include pieces of music that can be listened to in a separate area of the game and pieces of furniture and fabric which can be used to decorate an apartment given to Kirby in the game's world of Patch Land.
Originally beginning as a non-Kirby game, Kirby's Epic Yarn would eventually gain the pink puffball as its main character and be shown at E3 2010, to much critical acclaim. The game was subsequently released for the Wii later that same year in Japan and North America and in 2011 in other regions; this game would also be the first game in the Kirby series to be officially localized into Canadian French and Latin American Spanish for the North American market. Kirby's Epic Yarn would later be ported to the Wii U as a downloadable eShop title in 2015 and 2016. In 2019, the game received an enhanced port for the Nintendo 3DS, titled Kirby's Extra Epic Yarn.


Featured Picture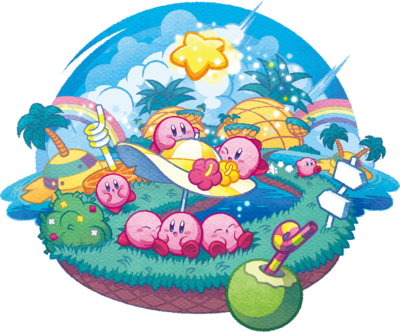 This week's featured picture is artwork for the Dedede Resort area in Kirby Mass Attack. It features many Kirbys having a grand ol' time at King Dedede's new tropical resort!
This is one of the cutest Kirby pictures I've ever seen, this one definitely needs to go on the front page.
--
Meta
K
irb
o
Did you know that...


WiKirby News

Community Poll
Magolor got his own mode recently, and King Dedede and Meta Knight got their own modes before. Which character do you think should get their own mode next?
You voted for "Bandana Waddle Dee" on 7 June 2023 at 00:37. You can change your vote by clicking a different answer below.
There were 71 votes since the poll was created on 01:36, 25 April 2023.
poll-id 526967C900CD4E6AAA096B0C80D72E5B
Random Video
Today's video is the initial E3 2017 reveal of
Kirby Star Allies
, known at the time as
Kirby for Nintendo Switch
!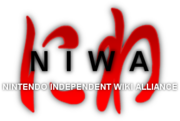 NIWA
is a family of open-content encyclopedias based on
Nintendo
franchises, vowing to be now and forever independent!
Other Nintendo franchise wikis are welcome; please visit the NIWA website for more information!
NIWA also has a
Discord
server that you can join by clicking
here
.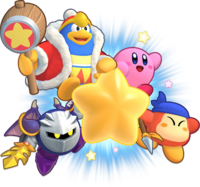 Recommended Downloads

We at WiKirby would like to share some tools that make your wiki-editing life easier. If you aren't currently using any of these, we recommend looking into them. All are free of charge, and easy to install or uninstall if desired.