Please do not add leaked or datamined content that has not been officially announced!
See our
general content policy
for more details.
Эй, Эй, Эй! There's a
referendum
going on about potentially adding a Russian language version of WiKirby! Please go to
the referendum page
and vote on it in the
corresponding talk page
before the end of
February 7th, 2023
!
Please remember that WiKirby contains spoilers, which you read at your own risk! See our
general disclaimer
for details.
Kirby Wiki
From WiKirby, your independent source of Kirby knowledge.
Jump to navigation
Jump to search


About Us


Since 2010,
WiKirby
has been striving to be the best resource for
Kirby
information on the internet—
and you can help us!
It's easy—just head on over to our
Help & Policy section
and then find a page to get started.
Not sure where to begin? Check out our maintenance page. If you have any additional questions, contact an administrator+.
Please keep in mind that in order to create new pages (including your user page) and upload files, you must create an account, wait one day, and make 5 edits to pages first. Doing this will also allow you to edit without being moderated!

Keep in mind that this wiki contains spoilers, which you view at your own risk!
Have fun and thanks for visiting!


New and Upcoming Kirby Games


Featured Article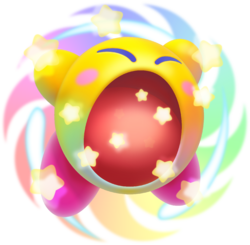 Hypernova is a special power that is granted to Kirby whenever he touches a Miracle Fruit in Kirby: Triple Deluxe which turns his stomach into a "veritable black hole", allowing him to inhale and move much larger foes and objects than he could previously. This ability appears regularly throughout stages in Kirby: Triple Deluxe, and is used to solve specialized puzzles as well as battle Mid-Bosses catered specifically to the 'inhale and spit' dynamic of the ability, such as the Mowlee Bros., the Gigant Chicks, and the Winged Eggers. When Kirby has the Hypernova ability, he glows a rainbow color (though with large amounts of yellow on his body) and a special musical theme plays over the regular stage theme.
Hypernova is not a Copy Ability, but it can be considered to be a combination of an item effect (such as Invincible Candy or Mint Leaf) and the Super Abilities from Kirby's Return to Dream Land, since the ability is acquired from an item and "overrides" Kirby's current Copy Ability. Unlike the Super Abilities, however, Kirby's Copy Ability before activating Hypernova will be returned to him at the end of the stage when Hypernova wears off. Additionally, Hypernova cannot be taken out of the stage it appears in by pausing and exiting from the menu. Since its debut in Kirby: Triple Deluxe, Hypernova has not appeared as an ability in any other Kirby game, though it has been referenced here and there.


Featured Picture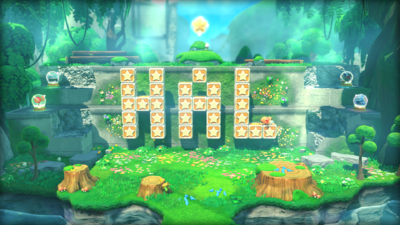 Such a nice, relaxing scene. On top of that, it represents HAL Laboratory and this iconic easter egg. The little sleeping Awoofy is also so cute!! I think this'll be perfect for the front page... Just make sure we don't wake the adorable little Awoofy up! -- Jellytost♡ (talk) 06:25, 7 January 2023 (UTC)
Did you know that...


WiKirby News

January 24th, 2023 - Эй, Эй, Эй! There's a referendum going on about potentially adding a Russian language version of WiKirby! Please go to the referendum page and vote on it in the corresponding talk page before the end of February 7th, 2023! Also, it's WiKirby's 13th anniversary! Let's celebrate with a Car-Mouth Cake!

January 19th, 2022 - New NIWA Member: Take heart! Kingdom Hearts Wiki has formally entered the Nintendo Independent Wiki Alliance! Be sure to visit if you wish to unlock the secrets of the franchise!

January 11th, 2023 - Heads up, Dream Landers! There's been a tidal wave of new information about the upcoming Kirby's Return to Dream Land Deluxe, including a new Copy Ability called Sand and the return of Festival! Other new information includes more sub-games and a new area called Merry Magoland. All this information is being added to the wiki as quickly as we can!
January 10th, 2023 - WiKirby now has an official Twitter account for site news!
January 1st, 2023 - Happy New Year, WiKirby! As part of WiKirby's New Years Resolution, all images that are known to be unsourced or improperly-sourced have been removed from mainspace and either deleted or archived. We will not be using such images on the wiki going forward! This has left a few small holes in our galleries in places, which you are more than free to replace if you find a properly-sourced version of what was removed. Please remember that we do not accept uploads that come from the Kirby Wiki on Fandom, or any other such wiki. Thank you, and here's to another great year!

December 14th, 2022 - New NIWA Member: Get your pencils and paper ready to go! Wapopedia, the Drawn to Life wiki, has been drawn into the NIWA alliance! Go check them out and let your imagination run wild!

December 10th, 2022 - Pinkyoshifan has been elected WiKirby's first Assistant Editor-in-Chief!
December 9th, 2022 - Kirby history has been made! At The Game Awards 2022 yesterday, Kirby and the Forgotten Land won the award for best family game of the year! Congrats to our lovable little pink ball!
Community Poll
WiKirby is considering a Russian language version! What other language versions of WiKirby would you want to see in future?
You voted for "I just want to see the results." on 2 February 2023 at 17:07. You can change your vote by clicking a different answer below.
There were 31 votes since the poll was created on 21:15, 24 January 2023.
poll-id 9D0609963B80FC5F356979623445A1E3
Random Video
Today's video is the initial E3 2017 reveal of
Kirby Star Allies
, known at the time as
Kirby for Nintendo Switch
!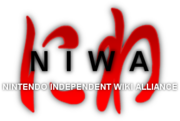 NIWA
is a family of open-content encyclopedias based on
Nintendo
franchises, vowing to be now and forever independent!
Other Nintendo franchise wikis are welcome; please visit the NIWA website for more information!
NIWA also has a
Discord
server that you can join by clicking
here
.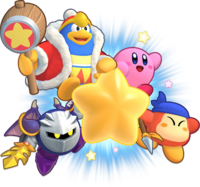 Recommended Downloads

We at WiKirby would like to share some tools that make your wiki-editing life easier. If you aren't currently using any of these, we recommend looking into them. All are free of charge, and easy to install or uninstall if desired.