Kirby Wiki
From WiKirby, your independent source of Kirby knowledge.
Jump to navigation
Jump to search


Since 2010,
WiKirby
has been striving to be the best resource for
Kirby
information on the internet.
And you can help us!
It's easy - just head on over to our
Help & Policy section
and then find a page to get started.
Not sure where to begin? Check out our maintenance page.
Please keep in mind that in order to create new pages (including your user page) and upload files, you must create an account, wait one day, and make 5 edits to pages first. Doing this will also allow you to edit without being moderated!

Keep in mind that this wiki contains spoilers, which you view at your own risk!
Have fun and thanks for visiting!


Featured Article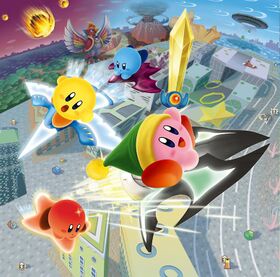 City Trial is the third and most extensive mode in Kirby Air Ride. Unlike the other two modes of Air Ride and Top Ride, it is not strictly a racing game, instead pitting up to four Kirby clones against each-other in a large open city where the goal is to power up their Air Ride Machines and then face off in a separate Stadium match using those machines once time runs out. During the match, the Kirbys can attempt to battle each other to destroy their opponents' machines or simply to steal their powerups. However, the winner is ultimately decided by whoever wins the Stadium game, which is randomly selected and could favor a Kirby with a machine which, while not objectively the best, is still the most suitable for that particular game. Like the other two modes, City Trial features its own tutorial and ending movies, scoreboards, extra modes and settings, and a Checklist which has 120 objectives to complete.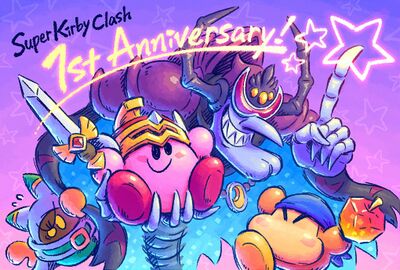 Also agree for much the same reasons. Sure, the "FIRSTANNIVERSARY" might be a week or two ago, but that won't stop us from celebrating it throughout the rest of the month. – Owencrazyboy17 (talk) 17:49, 13 September 2020 (UTC)
Did you know that...

April 27th, 2022 - Today marks the 30th anniversary of the release of Kirby's Dream Land in Japan!
March 25th, 2022 - Get ready to join Kirby in a new world! Kirby and the Forgotten Land is now officially out worldwide! Note that endgame content and other spoilers will be added to the wiki shortly, so watch what you read if you do not want to be spoiled!
March 3rd, 2022 - Get a mouthful of this! A demo for Kirby and the Forgotten Land has been released, featuring three stages from the full game. Go take a look, and then see our increasing coverage of the game and its contents!
February 5th, 2022 - WiKirby now has a Community Poll on its main page! All readers and editors are invited to take part in these lighthearted polls that will be updated at semi-regular intervals.
January 12th, 2022 - New information on Kirby and the Forgotten Land has surfaced, including a release date for March 25th, 2022! Additionally, two new Copy Abilities were unveiled, those being Drill and Ranger, along with a plethora of other little details!
September 23rd, 2021 - A new mainline Kirby game, the first ever in 3D, has been announced at today's Nintendo Direct: Kirby and the Forgotten Land! It's set to release on Spring 2022. We will add more information about it as it comes!

May 9th, 2021

-

New NIWA Member

: From a parallel universe comes our latest NIWA inductee,

Ukikipedia

! Give them a visit for in-depth

Super Mario 64

knowledge.

April 28th, 2021

-

New NIWA Member

: A new NIWA wiki has been summoned,

Dragalia Lost Wiki

! Get ready to team up with some Adventurers and Dragons!
Community Poll
When did you play your first Kirby game?
You voted for "2010-2019" on 22 May 2022 at 00:16. You can change your vote by clicking a different answer below.
There were 26 votes since the poll was created on 13:12, 17 May 2022.
poll-id E16C7D7C0CA595819A6680FFE3257C40

NIWA
is a family of open-content encyclopedias based on Nintendo franchises, vowing to be now and forever independent!
Other Nintendo franchise wikis are welcome; please visit the NIWA website for more information!
NIWA also has a
Discord
server that you can join by clicking
here
.
Recommended Downloads

We at WiKirby would like to share some tools that make your wiki-editing life easier. If you aren't currently using any of these, we recommend looking into them. All are free of charge, and easy to install or uninstall if desired.