Kirby Wiki
From WiKirby, your independent source of Kirby knowledge.
Jump to navigation
Jump to search


Since 2010,
WiKirby
has been striving to be the best resource for Kirby information on the internet.
And you can help us!
It's easy - just head on over to our
Help & Policy section
and then find a page to get started.
Not sure where to begin? Check out our maintenance page.
Please keep in mind that in order to create new pages (including your user page) and upload files, you must create an account, wait one day, and make 5 edits to pages first. Doing this will also allow you to edit without being moderated!

Have fun and thanks for visiting!


Featured Article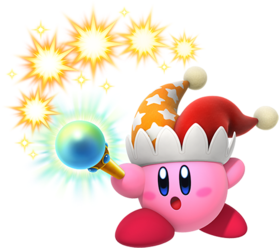 Beam is a Copy Ability primarily obtained by absorbing an energy beam-using enemy, such as Waddle Doos or Laser Balls, as well as by using Copy Essences. It allows Kirby to perform one of several beam attacks, such as a magical beam whip attack, which is useful for hitting switches, Bomb Blocks, and Star Blocks behind solid walls in order to get to hidden areas and items. Typically, Kirby obtains a red and yellow jester hat when this Copy Ability is obtained.
Beam is among Kirby's oldest Copy Abilities, first appearing in Kirby's Adventure, and having solid representation in the series since then. In addition to the base ability, there are several spin-off powers and forms, including the Beam Mage, the Robobot Beam Mode, and the Flare Beam Super Ability. In more recent titles, it has also gained electrical properties, able to infuse allies' weapons with the Zap Power Effect in Kirby Star Allies.

A beautiful, high-quality picture that would look great on the main page. -YFJ (talk · edits) 00:28, 20 January 2020 (UTC)
Did you know that...

January 12th, 2022 - New information on Kirby and the Forgotten Land has surfaced, including a release date for March 25th, 2022! Additionally, two new Copy Abilities were unveiled, those being Drill and Ranger, along with a plethora of other little details!
September 23rd, 2021 - A new mainline Kirby game, the first ever in 3D, has been announced at today's Nintendo Direct: Kirby and the Forgotten Land! It's set to release on Spring 2022. We will add more information about it as it comes!

May 9th, 2021

-

New NIWA Member

: From a parallel universe comes our latest NIWA inductee,

Ukikipedia

! Give them a visit for in-depth

Super Mario 64

knowledge.

April 28th, 2021

-

New NIWA Member

: A new NIWA wiki has been summoned,

Dragalia Lost Wiki

! Get ready to team up with some Adventurers and Dragons!

April 24th, 2021 - Gigi has been elected as WiKirby's third Editor-in-Chief!
April 17th, 2021 - Voting has begun to select WiKirby's next Editor-in-Chief! Go to this page to vote before the end of April 23rd, 2021!
April 9th, 2021 - Our current Editor-in-Chief, YoshiFlutterJump has decided to step down from his position. As such, a new election is taking place right now to choose his successor! Go to this page to nominate for our next EiC before the end of April 16th, 2021, after which voting will commence!

March 13th, 2021

-

New NIWA Member

: A passage of fate has brought us

Xeno Series Wiki

, the newest NIWA inductee! Today, wikis move one step closer to the divine!

NIWA
is a family of open-content encyclopedias based on Nintendo franchises, vowing to be now and forever independent!
Other Nintendo franchise wikis are welcome; please visit the NIWA website for more information!
NIWA also has a
Discord
server that you can join by clicking
here
.
Recommended Downloads
We at WiKirby would like to share some tools that make your wiki-editing life easier. If you aren't currently using any of these, we recommend looking into them.
All are free of charge, and easy to install or uninstall if desired.