The annual
Cross-Wiki Week
is now underway from
Saturday, September 23rd
to
Sunday, October 1st!
Help out other
NIWA
wikis for the chance to win a
$20 Nintendo eShop gift card!
If you're visiting us from another wiki and you want to contribute, check out
our list of example tasks
for some ideas!
Please remember that WiKirby contains spoilers, which you read at your own risk! See our
general disclaimer
for details.
Course 3
From WiKirby, your independent source of Kirby knowledge.
Jump to navigation
Jump to search
Course 3
Details
Gold par
17 or lower (both modes)
Silver par
18-22 (both modes)
Bronze par
23-29 (both modes)
Course 3 is the third course in the single-player mode of Kirby's Dream Course. This course features larger boards than the previous ones, and introduces the Stone and Freeze Copy Abilities, as well as Trampolines and Conveyor Belts.
Cutscene
[
edit
]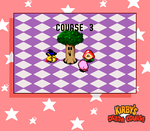 In the intro cutscene, Kirby walks up toward Whispy Woods as Waddle Dee and Broomhatter stand on each side. After making note of the relative distances, Kirby backs up and curls into ball form, then a guide line appears and starts to curve, indicating Kirby is about to do a hook spin. He releases, defeating both enemies as he curves around Whispy Woods. After finishing, he unfurls and does a little celebratory dance.
There are eight holes in Course 3, as follows:
| Hole | Description | Notes |
| --- | --- | --- |
| | A large multi-tiered hole featuring many Trampolines and Bunkers. | First appearance of trampolines. |
| | A long leveled hole featuring tons of Conveyor Belts and other obstacles. | First appearance of conveyor belts. |
| | A small flat hole involving two areas mostly enclosed in bumpers. | |
| | A long straight hole featuring Turntables and conveyor belts. | |
| | A hole with a lawn, pond, and steep slope with Rockys on it. | First appearance of the Stone ability in this game. |
| | A long straight path with Air Curtains as obstacles. | |
| | A big pond area with small islands interspersed. | First appearance of the Freeze ability in this game. |
| | A big area with many slopes featuring a pond fill switch. | |
As demonstrated in this tool-assisted playthrough, the theoretical maximum score for Course 3 is 9, with a hole-in-one on every hole except Hole 1, which requires two shots. In the Extra Game, the theoretical maximum score is 10, requiring two shots on Holes 1 and 5.
Gallery
[
edit
]