Please remember that WiKirby contains spoilers, which you read at your own risk! See our
general disclaimer
for details.
Course 7
From WiKirby, your independent source of Kirby knowledge.
Jump to navigation
Jump to search
Course 7
Details
Gold par
14 or lower (Main Game)
16 or lower (Extra Game)
Silver par
15-19 (Main Game)
17-21 (Extra Game)
Bronze par
20-26 (Main Game)
22-28 (Extra Game)
Course 7 is the seventh course in the single-player mode of Kirby's Dream Course. This course introduces UFO - the last Copy Ability in this game - and features lots of oddly-shaped and/or segmented boards.
Cutscene
[
edit
]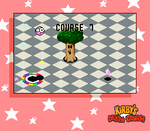 In the intro cutscene, Kirby is choosing to go after either a UFO or a Broomhatter. He goes after the Broomhatter, causing the UFO to transform into the cup. Kirby then bounces back into the cup, but nothing happens initially. He pokes his head out in confusion, but then suddenly gets carried away in the UFO form. He rockets up toward the sky uncontrollably, then gets ejected from the UFO and falls to the ground. As he lands, the UFO picks him back up and then flies away.
There are eight holes in Course 7, as follows:
| Hole | Description | Notes |
| --- | --- | --- |
| | A long segmented track with a Conveyor Belt to help jump the gap. | First appearance of the UFO ability in this game. |
| | A bowl-like board with a long wrapping entrance hall. | |
| | A hazardous rectangular board with "rabbit ears". | |
| | A hilly and uneven board with a small pier sticking out the bottom. | |
| | A board featuring a wide internal rectangular island space in a massive pond. | |
| | A very narrow board featuring slopes with conveyor belts on them. | |
| | A very long board featuring a ramp and a trio of Krackos in a line. | |
| | A board split in two with ponds on both pieces. | |
As demonstrated in this tool-assisted playthrough, it is possible to get a hole-in-one on every hole in this course in both the main game and Extra Game, thus achieving a perfect score of 8 on both course variants.
Gallery
[
edit
]