Please remember that WiKirby contains spoilers, which you read at your own risk! See our
general disclaimer
for details.
Course 8
From WiKirby, your independent source of Kirby knowledge.
Jump to navigation
Jump to search
Course 8
Details
Gold par
18 or lower (Main Game)
15 or lower (Extra Game)
Silver par
19-23 (Main Game)
16-20 (Extra Game)
Bronze par
24-30 (Main Game)
21-27 (Extra Game)
Course 8 is the final course in the single-player mode of Kirby's Dream Course. This course features the largest boards in the game, along with all of the forms of obstacles and hazards present in the previous courses.
Cutscene
[
edit
]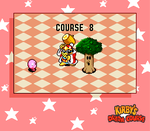 In the intro cutscene, Kirby is standing near Whispy Woods when King Dedede drops in from above and whacks him three times with his hammer from behind. While Kirby is dazed, King Dedede hides behind Whispy. A Gordo passes by in the background as Kirby looks around to see what hit him, not spotting Dedede at first. Dedede then sneaks up and prepares to hit Kirby again, but Kirby spots him and leaps back. Kirby gives Dedede a nasty look as the King freezes in place nervously.
There are eight holes in Course 8, as follows:
| Hole | Description |
| --- | --- |
| | A very large chute-like hillside with lots of Whispy Woods. |
| | A long board which involves skipping across a long pond. |
| | A board involving sloped trampolines and a lawn in a basin. |
| | A hole featuring a tall cliff and three lines of Air Curtains. |
| | A very long chute-like hole starting with a confined bumper area. |
| | A small board featuring Conveyor Belts leading upward. |
| | A large board split in two featuring two sets of Warp Panels or a big jump to cross between them. |
| | An extremely long obstacle course board with many hazards and foes and no guard rail. |
In the Extra Game, the checkerboard tiles are a different color (black and white) than in the main game (brown and white). This is the only course to have this color discrepancy between versions.
As demonstrated in this tool-assisted playthrough, it is possible to get a hole-in-one on every hole in this course in both the main game and Extra Game, thus achieving a perfect score of 8 on both course variants.
Gallery
[
edit
]