Please remember that WiKirby contains spoilers, which you read at your own risk! See our
general disclaimer
for details.
Kirby Café
From WiKirby, your independent source of Kirby knowledge.
Jump to navigation
Jump to search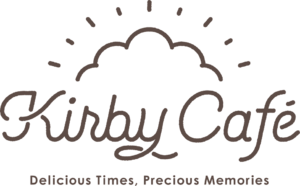 Kirby Café (カービィカフェ; stylized as KIRBY CAFÉ) is a real-world official Kirby series-themed café in Japan, which first opened in August 2016. Right now, the Kirby Café is only available in Japan, with two permanent locations in Tokyo and Hakata.
Events by Year
[
edit
]
Kirby Café was first hosted by Sparkle & Co. in three cities during 2016. Besides the café, official shops also opened to sell goods.
In Tokyo, Kirby Café was hosted from August 26th to October 30th; the official shop from August 3rd to August 23rd.
In Osaka, Kirby Café and the official shop were hosted from August 5th to September 25th.
In Nagoya, only the official shop was hosted from August 5th to September 25th.
The 12 acoustic music arrangement tracks used in the café were released on CD as The Sound of Kirby Café on August 3rd, 2016.
According to the café's description, Kirby is the Chef (シェフ,[1] not to be confused with Cook), and Waddle Dees work as Apprentice Chefs (みならいシェフ[2]).
2018-2019
[
edit
]
After the hiatus in 2017, Kirby Café and its shop reopened on September 27th 2018, now hosted by BENELIC CO., LTD. This café was only available in Tokyo and for reservations only. A story is also made for the café, so far with 4 chapters.
Chapter 1
[
edit
]
Period: September 27th, 2018 ~ February 17th, 2019
The plot involves Chef Kawasaki joining the café.
Chapter 2
[
edit
]
Period: February 27th 2019, ~ June 2nd, 2019
Originally planned to end on February 17th, Kirby Café entered Chapter 2 with the plot of Chef Kawasaki in search of coffee beans. The menu has also been expanded with new dishes.
Chapter 3
[
edit
]
Period: June 11th, 2019 ~ September 23rd, 2019
Originally planned to end on June 2nd, Kirby Café was extended until September 23rd under the title Kirby Café Summer. Time-limited dishes were introduced on the summer menu. This was the final run for the temporary Tokyo café, which ended up lasting for about a year.
2019-2020
[
edit
]
Period: November 14th, 2019 ~ February 24, 2020
The temporary Kirby Café and associated shop reopened in Hakata, Fukuoka in November of 2019. As before, it was for reservation only. It closed on February 24th, 2020 to make room for a new, permanent café.
Tokyo, Chapter 4
[
edit
]
Period: December 12th, 2019 ~ indefinite
Due to its continued popularity, a permanent Kirby Café was opened in Tokyo in December of 2019, in a different location from the previous temporary café. Reflecting this, the storyline involved Kirby and Chef Kawasaki moving the café to be closer to Whispy Woods, who is prominently featured in the new chapter's branding and appears as a statue in the permanent café.
Also included was a new set of 15 acoustic music arrangements, The Sound of Kirby Café 2, which released on the same day as the permanent café's opening.
Hakata, Chapter 2
[
edit
]
Period: March 12th, 2020 ~ indefinite
As with the Tokyo café, the Hakata café proved popular enough to open a permanent location in the city, meaning that there are currently two permanent Kirby Café branches running in Japan. The Hakata location, which opened in March of 2020, shares its storyline and décor with the Tokyo location, but some menu items are mutually exclusive.
2020-Kirby
[
edit
]
Picture
Japanese Name
Translation
Price
Description
カービィのすいこみ!スティックサラダ
Kābyi no suikomi! Sutikkusarada
Inhaling Kirby! Stick Salad
¥880
彩り豊かなスティック野菜に特製明太マヨネーズをたっぷりつけてお召し上がりください。取りだす際に、カービィに手をすいこまれないよう、念のためご注意くださいね。
Enjoy colorful stick vegetables served with special mentai mayonnaise. When taking them out, please be careful not to let Kirby suck up your hands.
マキシムトマトのミニスープ
Makishimutomato no minisūpu
Maxim Tomato Mini Soup
¥480
トマトたっぷりミネストローネスープ。サイズはミニでも、お腹もこころもフルチャージ!
Minestrone soup with plenty of tomatoes. Its size might be "mini", but your heart and stomach will be fully charged!
ワドルディのコロコロ手ごねピッコラ
Wadorudi no korokoro tegone pikkora
Waddle Dee's Roly-poly Homemade Piccola
¥580
カワサキ考案の、ひとくちサイズメニュー。ピッツァ生地をワドルディたちがせっせと丸めて、中はしっとり、外はカリッと揚げたクセになる一品です。
A bite-sized dish designed by Kawasaki. For this dish, the Waddle Dees roll pizza dough, which is moist on the inside and crispy on the outside.
ふんわりあまおうパン
Funwari amaō pan
Fluffy Amaō Bread
¥380
あまおうのぜいたくな香りと味が楽しめる、オリジナルのパン。パカッとわると、なんとカービィ色! 混ぜると同じくカービィ色になる、練乳&いちごソースと一緒に召し上がれ。
Original bread with the luxurious scent and taste of amaō strawberries. When you break it open, it's colored like Kirby! Served with strawberry sauce and condensed milk, which turns Kirby-colored when mixed.
ワープスターパンケーキ mini
Wāpusutāpankēki mini
Warp Star Pancake mini
¥680
ちょっとだけデザートを食べたいあなたに。小ぶりでもたっぷりの厚みがうれしい、ふんわりパンケーキです。
For those who'd like a bit of dessert. Even for its small size, it's very thick and fluffy.
ウイスピーファームのカレー Theアルティメットチョイス
U~isupīfāmu no karē The arutimettochoisu
Whispy Farm's Curry: The Ultimate Choice
¥2580
じっくりと野菜を煮込み、ビーツでピンクに仕上げた野菜カレーと、タマゴをたっぷり使用したタルタルソースを添えたチキン南蛮。どちらもアルティメットソースで"なんいど"を自由にチョイスして召しあがれ!
※カービィ or ワドルディ(博多限定ver.)のフェーヴ(陶器マスコット)付き
A vegetable curry with carefully stewed vegetables finished with pink beets, and a chicken nanban that comes with tartar sauce and plenty of eggs. Try the Ultimate Sauce with both to choose and enjoy your favorite "difficulty"!
※Comes with Kirby or Waddle Dee fave (pottery mascot)
カービィのすいこみ!とんこつラーメンドッグ
Kābyi no suikomi! Tonkotsu rāmendoggu
Inhaling Kirby! Tonkotsu Ramen Dog
¥1280
博多ラーメンを、ふんわりおいしいパン生地の上にまるごと再現した、おどろきのラーメンドッグ!3種の薬味で味わいの変化もお楽しみいただけます。カービィがすいこんじゃう前にどうぞ!
The taste of Hakata ramen combined with fluffy and delicious bread dough to create a surprising ramen dog! You can enjoy three different flavors with the included condiments. Just make sure to finish it before Kirby does!
カービィのぽかぽかビーフシチュー 温野菜添え
Kābyi no pokapoka bīfushichū Yutaka yasaizoe
Kirby's Warm Beef Stew with Steamed Vegetables
¥1480
コック帽をとると、とろとろに煮込んだ牛肉入りのビーフシチューがたっぷり。コーヒーパウダーを入れるとおいしさがさらにUP! 温野菜は、シチューにディップしてもGOOD!
When you take off the chef's hat, you'll find warm, gently stewed beef! Adding coffee powder makes the tastiness go UP! Dipping the steamed vegetables into the stew is also GOOD!
カービィのさがしもの
Kābyi no sagashi mono
Kirby's Search
¥1480
雲の中にすっぽり顔をうずめて、カービィ、何してるの? なにか探しているのかな? いちご風味のレアチーズケーキとクリームのハーモニーをお楽しみください。
Kirby, what are you doing with your face in the clouds? Are you searching for something? Enjoy the harmony between the cream and strawberry-flavored cheesecake.
むてきの完全回復プレート
Muteki no kanzen kaifuku purēto
Invincible Full Recovery Plate
¥1880
あの完全回復アイテムと、あの無敵アイテムのワンプレートメニューが実現!大切なイベントや大事なプレゼン前の景気づけ、しあわせな気持ちになりたいとき等に、ぜひお召し上がりください。
※スーベニアプレート(小)(東京第2章ver.付)
An all-in-one plate with that full recovery item and that invincibility item! If you need to raise your spirits before an important event or business meeting, give it a try.
※Comes with a small souvenir plate (chapter 2 ver.)
オレンジウッドランド
Orenjiuddorando
Orange Woodland
¥1980
2種のオレンジとシナモンの香りのハーモニーが楽しめる、大人なドリンク。ミントのアクセントで、いっそう爽やかな風味に。
※スーベニアガラスジャー(博多限定ver.)&オリジナルコースター(博多限定ver.)付き
An adult drink which combines the harmonious scents of orange and cinnamon. Accents of mint give it a fresh flavor.
※Comes with a souvenir glass jar and coaster (Hakata limited ver.)
グレープガーデン
Gurēpugāden
Grape Garden
¥1980
ステージの名称をモチーフにした、新しいアプローチのドリンクです。ぷかぷか浮かぶ巨峰とディル(香草)を添えた、口当たりの良いすっきりとした風味です。

※スーベニアガラスジャー(博多限定ver.)&オリジナルコースター(博多限定ver.)付き
An innovative drink with the stage name as its motif. It has a floaty flavor with hints of kyohō grapes and dill.
※Comes with a souvenir glass jar and coaster (Hakata limited ver.)

コックカワサキのミートプレート with まるごとマキシムトマト
Kokkukawasaki no mītopurēto u~izu marugoto makishimutomato
Chef Kawasaki's Meat Plate with Whole Maxim Tomato
¥1980
ぜいたくにまるごとのマキシムトマトがのったボリューム満点のハンバーグ。ベーコンとチェダーチーズのミルフィーユは一度食べたらやみつきに。
★ディナー限定メニュー。17時より提供いたします。
A luxurious Hamburg steak plate served with plenty of Maxim Tomatoes. The bacon and cheddar mille feuille is addictive once you try it.
★Dinner-only item, served after 17:00.
カービィカフェブレッド
Kābyikafebureddo
Kirby Café Bread
¥200
ふんわりやわらかな少し甘みのあるパンです。お料理とセットのみのご提供となります。
★お料理とセットでのご注文となります。
Fluffy bread that's a little sweet. The dish is only offered as part of a meal.
★If ordered, it will be counted as part of the meal.
ふわふわワープスターパンケーキ
Fuwafuwa wāpusutāpankēki
Fluffy Warp Star Pancake
¥1980
きらきらかがやく星空に厚みたっぷりのフワフワパンケーキ。特製のあまおうクリームをつけてさらにおいしさUP!!
※カービィ or ワドルディ(博多限定ver.)のフェーヴ(陶器マスコット)付き
The starry sky shines brightly with this fluffy, thick pancake. Add amaō strawberry sauce to turn the sweetness UP!!
※Comes with Kirby or Waddle Dee fave (pottery mascot)
ワドルディのおひるねオムライス
Wadorudi no ohirune omuraisu
Waddle Dee's Omelette Rice Nap
¥1680
すやすやとおひるねする、ワドルディのオムライス。 かわいい寝顔にしばし見とれてからお召し上がりください。
Relax with Waddle Dee's omelette rice. Be sure to savor that cute sleeping face for a while.
カービィバーガー&ミートパスタ温野菜のせ
Kābyibāgā & mītopasuta Yutaka yasai nose
Kirby Burger and Spaghetti with Steamed Vegetables
¥2580
カービィバーガーに、温野菜をトッピングしたミートパスタを添えた、バランスよくお食事が楽しめるプレートです。
※スーベニアプレート(大)(博多限定ver.)付き
A plate that comes with a Kirby burger and spaghetti topped with steamed vegetables, creating an enjoyable and well-balanced meal.
※Comes with a large souvenir plate (Hakata limited ver.)
カービィのすいこみカプレーゼ
Kābyi no suikomi kapurēze
Inhaling Kirby Caprese
¥1380
フレッシュトマトとモッツアレラチーズに、バジルソースを添えて。カービィが食べちゃう前にお召し上がりください。
Fresh tomatoes and mozzarella cheese served with basil sauce. Just make sure to eat it before Kirby does.
Translations are conjectural.
References in Games
[
edit
]
Kirby Battle Royale

[

edit

]
In Kirby Battle Royale, two Headgears reference Kirby Café:
Waddle Dee's Café Cap - This is part of the working outfit of the Apprentice Chef Waddle Dees.
King Dedede's Knit Cap - This is part of what he wears as a customer of the café.
Kirby Star Allies

[

edit

]
In Kirby Star Allies, the hat for the Cook ability now includes a star-shaped button on its left side, referencing Chef Kirby's appearance in the Kirby Café branding. This design is also used by Chef Kawasaki as a Friend.
Kirby and the Forgotten Land

[

edit

]
Main article: Waddle Dee Café
In Kirby and the Forgotten Land, a café partially based on Kirby Café called Waddle Dee Café appears in Waddle Dee Town. Here, in addition to an Energy Drink and Maxim Tomato, Kirby can order either a Car-Mouth Cake, which was made available as a dish in the real-world Kirby Café after the game's release, called the "ヘンケイ!くるまほおばりケーキ" (Henkei! Kuruma hōbari kēki), or a Kirby Burger, which resembles the physical "カービィバーガー&ミートパスタ温野菜のせ" (Kābyibāgā & mītopasuta Yutaka yasai nose) dish and may have been directly based off it.
There is also a Sub-Game located at the café, called Waddle Dee Café: Help Wanted!, where Kirby has to serve the aforementioned dishes to Waddle Dees in quick succession.
Kirby JP Twitter commemorative artwork made for Kirby's 30th Anniversary, which includes Kirby Burgers and a Car-Mouth Cake, in addition to the "ハッピーバースデー☆カービィ" (Happībāsudē ☆ kābyi) cake
Gallery
[
edit
]
External Links
[
edit
]
References