Эй, Эй, Эй! There's a
referendum
going on about potentially adding a Russian language version of WiKirby! Please go to
the referendum page
and vote on it in the
corresponding talk page
before the end of
February 7th, 2023
!
Also,
it's WiKirby's 13th anniversary!
Let's celebrate with some
Car-Mouth Cake
!
Please remember that WiKirby contains spoilers, which you read at your own risk! See our
general disclaimer
for details.
Kirby Portal
From WiKirby, your independent source of Kirby knowledge.
Jump to navigation
Jump to search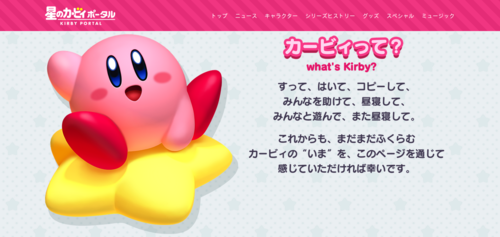 The Kirby Portal is an official Japanese website dedicated solely to Kirby and the Kirby franchise. It is owned and maintained by Warpstar, Inc., a joint venture between Nintendo and HAL Laboratory that manages the Kirby intellectual property. The site was originally created to celebrate Kirby's 25th anniversary along with a Twitter feed. After the turn of the 26th anniversary, they were both re-branded to remove the '25' motif, and have continued under general coverage of the Kirby franchise.
Content
[
edit
]
The website consists largely of seven main pages, all about different aspects of the franchise.
Top (トップ), is the main page, which consists of small sections pertaining to each of the other categories. These sections include a small biography on Kirby, recent news and events, recent and upcoming games, and links to pages such as the character pages and Kirby Café page. This page also has a link to a Copy Ability page that lists every Copy Ability, as well as various other special abilities from throughout the series and features various images and videos of them.
News (ニュース) is a page which contains every "news" article since the site's launch. A "news" item is usually a notification of a partnership with another company to produce Kirby-themed products, anniversaries or release of new games, occasions such as character birthdays, or new updates to the Kirby Café. Clicking on an article will open a pop-up with an image, a short description of the event, and often links to another site to purchase products.
The following pages contain all of the news items:
Character
[
edit
]
Character (キャラクター), is a page containing information on the four central characters of the Kirby franchise: Kirby, Waddle Dee, Meta Knight, and King Dedede. Clicking on a character will present a biography in the form of a side-scrolling artwork-filled slideshow, with small facts and tidbits about the character.
Series History
[
edit
]
Series History (シリーズヒストリー) lists every Kirby game released in Japan, and details about them. Each game has a pop-up, containing a gameplay screenshot, release date and console, a description of the game, and links to its official website and any virtual console releases. As only games published in Japan are listed, Kirby's Avalanche is not on the list.
Goods (グッズ) lists official Kirby-themed merchandise, split up into nine categories:
Plush dolls · Hobby (ぬいぐるみ・ホビー)
Apparel · Accessories (アパレル・小物)
Food (たべもの)
Books · CDs (本・CD)
Kitchen (キッチン)
Miscellaneous goods (雑貨)
Stationery (ステーショナリー)
Prizes · Capsule toys (プライズ・カプセル玩具)
Other (その他)
Special
[
edit
]
Special (スペシャル) links to other pages that do not fit in the other categories. There are currently three items listed:
Kirby Personality Quiz (カービィのコピー能力診断) - A quiz where users are assigned a Copy Ability based on their answers to Kirby-themed questions.
Extra Artworks (エクストラ・アートワークス) - A list of some extra artwork pieces not found elsewhere on the site.
KIRBY's COMIC PANIC
KIRBY Mystic Perfume
KIRBY MUTEKI! SUTEKI! CLOSET
Artwork of Yellow, Green, and Pink Kirby with various Copy Abilities and costumes
KIRBY'S DREAMY GEAR
THE LANDSCAPES OF DREAM LAND
PUPUPU FRIENDS
Original Photo Frame (オリジナルフォトフレーム) - An activity which allows users to upload an image, and then add a Kirby-themed frame to it.
Music (ミュージック) is a page which offers free downloads of sheet music of three orchestral arrangements from the Kirby 25th Anniversary Orchestra Concert. This is the only part of the site available in English.
30th Anniversary
[
edit
]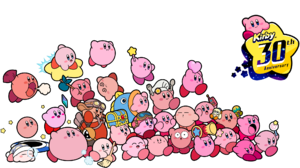 The Kirby Portal opened a teaser site for the series' 30th anniversary in early 2022. The site features unique artwork with 30 Kirbys representing different parts of the series, a download for a wallpaper featuring said artwork, and a redirect to the official Japanese website for Kirby and the Forgotten Land. This was expanded into a full mini-site later on, with news about the 30th anniversary and highlights for each of the 30 Kirbys.
The 30 Kirbys are as follows:
The 30 30th Anniversary Kirbys
#
Name
Image
What
Since...
Music
Notes
01
Ohirune Time

Sleep Kirby
1992
"Green Greens" (Kirby Air Ride)
"Ohirune Time" translates to "Nap Time".
02
Cleaning

Cleaning Kirby
1998
"Ripple Field: Ocean Waves" (Kirby's Dream Land 3)
03
Harukaze to Tomoni

Spring Breeze
1992
"Green Greens" (Kirby Air Ride)
"Harukaze to Tomoni" translates to "Together with the Spring Breeze" (which is Spring Breeze's Japanese name).
04
Treasure Scramble

Kirby with a Treasure Chest
2006
"Squeak Squad Appears!" (Kirby: Squeak Squad)
05
Hover

Kirby hovering
1992
"Green Greens" (Kirby Air Ride)
06
Air Ride Machine

Kirby on a Warpstar
2003
"City Trial: City" (Kirby Air Ride)
References the Japanese box art for Kirby Air Ride.
07
Ripple Star

Kirby with a Crystal Shard
2000
"Ripple Star: Stage Select" (Kirby 64: The Crystal Shards)
08
Feed Me

Kirby initiating Face-to-Face
1992
"Green Greens" (Kirby Air Ride)
09
Tabi no Wakamono

"Classic" Kirby
1992
"Welcome to Dream Land" (Kirby's Dream Land)
"Tabi no Wakamono" translates to "Traveling Youth".
10
The Fountain of Dream

Kirby with the Star Rod
1993
"Level 8 Intro" (Kirby's Adventure)
11
Friend Heart

Kirby with a Friend Heart
2018
"Twinkle☆Stars" (Kirby Star Allies)
12
FLOWERED

Kirby with the Dreamstalk's flower
2014
"Hypernova Inhale" (Kirby: Triple Deluxe)
"FLOWERED" is the acronym created by the names of each level in Kirby: Triple Deluxe
13
Nakama to Isshoni

Kirby and Kine
1995
"Kine's Theme" (Kirby's Dream Land 2)
"Nakama to Isshoni" translates to "Together with Friends".
14
Muteki no Candy

Kirby with Invincible Candy
1992
"Green Greens" (Kirby Air Ride)
"Muteki no Candy" translates to "Invincible Candy"
15
Akogare no Cake

Kirby longing for cake
2017
"Apple Scramble" (Kirby Battle Royale)
"Akogare no Cake" translates to "Longing for Cake".
16
Manpuku

Super-stuffed Kirby
2017
"3D Adventure! Kirby's Blowout Blast" (Kirby's Blowout Blast)
"Manpuku" translates to "Super-stuffed".
17
Game Over

Kirby tumbled out
2000
"Balloon" (Kirby Tilt 'n' Tumble)
18
Friend, Sunset, and...

Wheelie Rider Kirby
1996
"My Friend and the Sunset" (Kirby Super Star Ultra)
"Friend, Sunset, and..." is the Japanese name for "My Friend and the Sunset"
19
Hole in One!

Kirby Ball
1994
"Finish" (Kirby's Dream Course)
20
Delicious Time

Chef Kirby from Kirby Café
2016
"Fresh Green Café Terrace" (The Sound of Kirby Café)
21
Mori wo Nukete

Kirby with a Crackler
2011
"Cookie Country" (Kirby's Return to Dream Land)
"Mori wo Nukete" translates to "Through the Forest"
22
Inhale

Kirby inhaling
1992
"Green Greens" (Kirby Air Ride)
23
Kihon wa Maru

Kirby with Tiff and Tuff dolls
2001
"Stadium: Kirby Melee" (Kirby Air Ride)
"Kihon wa Maru" translates to "First You Draw a Circle".
24
Bouken no Hajimari

Kirby with a knapsack
1992
"Green Greens" (Kirby Air Ride)
"Bouken no Hajimari" translates to "The Adventure Begins".
25
Panic!

Kirby panicking
1992
"Green Greens" (Kirby Air Ride)
26
Yakiimo Shooting

Kirby with a Sweet Potato
1992
"Green Greens" (Kirby Air Ride)
"Yakiimo Shooting" translates to "Sweet Potato Shooting".
27
Slide Attack

Kirby sliding
1992
"Green Greens" (Kirby Air Ride)
28
Momodama Hasshin!

Robobot Armor Kirby
2016
"Pink Ball Activate!" (Kirby: Planet Robobot)
"Momodama Hasshin!" translates to "Pink Ball Activate!".
29
Cell Phone

Kirby with his Cell Phone
2004
"Forest/Nature Area" (Kirby & The Amazing Mirror)
30
Discovery

Kirby on a Warp Star
1992
"Green Greens" (Kirby Air Ride)
Also used as Kirby 30th Anniversary logo.
"Discovery" is the Japanese subtitle of Kirby and the Forgotten Land.
In addition, a secret wallpaper featuring HAL Rooms can be unlocked. To do so, the three "H", "A", and "L" letter need to be collected, each referencing recurring ways of reaching HAL Rooms in the games:
H: The viewer must choose all 30 Kirbys. Once done, a popup message acknowledging having chosen every Kirby will appear. Afterwards, the viewer should then scroll to the bottom of the page, and a new link will appear.
A: The viewer must scroll to the bottom of the page, then back to the top, and then back to the bottom again, which will cause a secret door to appear.
L: The viewer must wait without clicking or scrolling away for 86 seconds until the Moon map from Kirby's Dream Land appears, and then click on the moon in the image.
Gallery
[
edit
]
Names in other languages
[
edit
]
Language
Name
Meaning
Japanese
星のカービィポータル
Hoshi no Kābī Pōtaru
Kirby of the Stars Portal
External links
[
edit
]