The annual
Cross-Wiki Week
is now underway from
Saturday, September 23rd
to
Sunday, October 1st!
Help out other
NIWA
wikis for the chance to win a
$20 Nintendo eShop gift card!
If you're visiting us from another wiki and you want to contribute, check out
our list of example tasks
for some ideas!
Please remember that WiKirby contains spoilers, which you read at your own risk! See our
general disclaimer
for details.
Yuuta Ogasawara
From WiKirby, your independent source of Kirby knowledge.
Jump to navigation
Jump to search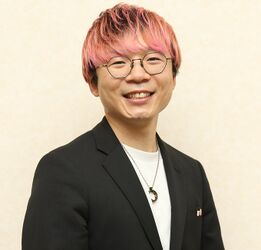 Yuuta Ogasawara (小笠原雄太 Ogasawara Yūta, born July 2, 1987) is a sound composer at HAL Laboratory.
Biography
[
edit
]
Yuuta Ogasawara graduated from HAL Tokyo College of Technology & Design (not to be confused with HAL Laboratory which is not associated). Before joining HAL Laboratory, he was a freelance composer and once worked in the sound production team Tritium.[1] He joined HAL Laboratory in August 2017.[2]
List of works
[
edit
]
Kirby Star Allies (with Hirokazu Ando and Jun Ishikawa)
BoxBoy! + BoxGirl! (with Hirokazu Ando and Jun Ishikawa)
The Sound of Kirby Café 2 (with Hirokazu Ando, Jun Ishikawa, Shogo Sakai, Megumi Ohara, and Yuki Shimooka)
Kirby and the Forgotten Land (Lead Sound; with Hirokazu Ando, Jun Ishikawa, and Yuki Shimooka)
Kirby 30th Anniversary Music Festival (conductor for "Kirby Through the Years: 1993-2004", "Kirby Through the Years: 2005-2022", "Special Live Performance: Green Tree Memories", and "Special Live Performance: WELCOME TO THE NEW WORLD!"; drums and arrangement of "King Dedede Medley")
Kirby's Dream Buffet (Lead; with Jun Ishikawa, Shogo Sakai, Hirokazu Ando, Megumi Ohara, and Yuki Shimooka)
Kirby's Return to Dream Land Deluxe (with Hirokazu Ando, Yuki Shimooka, Jun Ishikawa, Kiyoshi Hazemoto, and Yuki Kato)
Song credits
[
edit
]
The following are all Kirby songs Yuuta Ogasawara has been credited for being in charge of:
Kirby Star Allies

[

edit

]
The Greedy King
Kirby Dance (short version)
Let's Make a Log House
Results

The First Bonjam
...Jambuhbye
An Angry Jamblasted
Jambuhbye!
For the Splendid Lord Hyness
Jambuhbyyye

Holy White Priest
Priest Bowing in Holy Worship
Final Episode Attack!!
Shadowy Partners
Start Stage / Star Allies Arrangement ver.

Hero's Naptime
Choosing the Ultimate Choice's Flavor
Destroyer's Roar
Cocoon's Echoing Answer
Heavens' Wailing
Cry of Chaos
STAR ARISE
Let Them Know We're Happy
A Farewell to Kirby: He of the Stars Heads to the Future
The Sound of Kirby Café 2

[

edit

]
Fruits of the Dancing Forest
Kirby and the Forgotten Land

[

edit

]
Roar of Dedede
The Wastes Where Life Began
The Raging Lion Roars
Welcome to the New World! (Full)
Welcome to the New World! (Bonus Track)
Kirby 30th Anniversary Music Festival
[
edit
]
Kirby's Dream Buffet

[

edit

]
References