Please remember that WiKirby contains spoilers, which you read at your own risk! See our
general disclaimer
for details.
Hirokazu Ando
From WiKirby, your independent source of Kirby knowledge.
Jump to navigation
Jump to search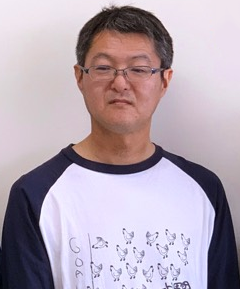 Hirokazu Ando (安藤浩和 Ando Hirokazu, born December 19, 1969) is a senior sound composer at HAL Laboratory, one of the main composers of the Kirby series, and the composer of Super Smash Bros.. He is best known for his collaboration with Jun Ishikawa and his recent preference for acoustic themes and orchestrated pieces in games such as Kirby's Epic Yarn and Kirby's Return to Dream Land.
Hirokazu Ando's artistic influences include classical pianist Claude Debussy, Ryuchi Sakamoto of the band Yellow Magic Orchestra, Dragon Quest composer Koichi Sugiyama, and Jun Ishikawa.[1] On his songs, he plays live bass, ukelele, and melodica.
List of works
[
edit
]
Hirokazu Ando is credited as a composer unless otherwise noted:
Kirby series

[

edit

]
Kirby's Adventure (Lead, with Jun Ishikawa[2])
Kirby's Avalanche (music arranged by Einosuke Nagao)
Kirby's Star Stacker (SNES) (with Jun Ishikawa)
Kirby 64: The Crystal Shards (with Jun Ishikawa)
Kirby: Nightmare in Dream Land (with Shogo Sakai, Jun Ishikawa, and Tadashi Ikegami)
Kirby Air Ride (Lead, with Shogo Sakai, Tadashi Ikegami, and Jun Ishikawa)
Kirby: Canvas Curse - Special Thanks
Kirby: Squeak Squad (with Jun Ishikawa, Tadashi Ikegami, and Shogo Sakai)
Kirby Super Star Ultra (with Jun Ishikawa)
Kirby's Epic Yarn (with Tomoya Tomita, Tadashi Ikegami, and Jun Ishikawa)
Kirby's Return to Dream Land (with Jun Ishikawa)
Kirby's Dream Collection Special Edition (with Jun Ishikawa and Shogo Sakai)
Kirby: Triple Deluxe (with Jun Ishikawa)
Kirby: Planet Robobot (Lead, with Jun Ishikawa)
Team Kirby Clash Deluxe (Lead, with Jun Ishikawa)
Kirby's Blowout Blast (Lead, with Jun Ishikawa)
Kirby Star Allies (Lead, with Jun Ishikawa and Yuuta Ogasawara)
Super Kirby Clash (with Jun Ishikawa and Kiyoshi Hazemoto)
Kirby Fighters 2 (with Jun Ishikawa, Kiyoshi Hazemoto, and Yuki Shimooka)
Kirby and the Forgotten Land (Lead Music; with Yuuta Ogasawara, Jun Ishikawa, and Yuki Shimooka)
Kirby albums

[

edit

]
Super Smash Bros. series

[

edit

]
BoxBoy! series

[

edit

]
BoxBoy! (with Jun Ishikawa)
BoxBoxBoy! (with Jun Ishikawa)
Bye-Bye BoxBoy! (with Jun Ishikawa)
BoxBoy! + BoxGirl! (with Jun Ishikawa and Yuuta Ogasawara)
Other selected works
[
edit
]
HyperZone (with Jun Ishikawa)
Arcana (with Jun Ishikawa)
Picross 3D (with Jun Ishikawa and Yasumasa Yamada)
Picross 3D: Round 2 (with Shogo Sakai and Megumi Ohara)
References