Please do not add leaked or datamined content that has not been officially announced!
See our
general content policy
for more details.
Эй, Эй, Эй! There's a
referendum
going on about potentially adding a Russian language version of WiKirby! Please go to
the referendum page
and vote on it in the
corresponding talk page
before the end of
February 7th, 2023
!
Please remember that WiKirby contains spoilers, which you read at your own risk! See our
general disclaimer
for details.
Mr. Chip
From WiKirby, your independent source of Kirby knowledge.
Jump to navigation
Jump to search
This article is about the schoolteacher, and should not be confused with Chip.
Mr. Chip is a contract schoolteacher who makes his only appearance in the Kirby: Right Back at Ya! episode Teacher's Threat. He is passionate about his profession and is dedicated to helping his students any way he can, but due to his difficulty finding teaching work, he was hired by Night Mare Enterprises and sent to Dedede Academy to attack Kirby and the other students. Despite this contract, Mr. Chip refuses to carry out the violence he was hired to commit, so King Dedede orders the teacher monster Rekketsu to take his place, but Rekketsu is destroyed by Kirby along with the academy.
Characteristics
[
edit
]
| | | | |
| --- | --- | --- | --- |
| " | If Mr. Chip could stay here in Cappy Town, I'd be the happiest girl alive! Mr. Chip is a wonderful man! | " | — Tiff, in Teacher's Threat |
Mr. Chip is a tall, somewhat plump man who has anatomy similar to Tiff and her family, though his shape and skin tone also somewhat resembles the Cappies. Mr. Chip wears a brown overcoat with a green sweater-vest underneath. He wears gray trousers and black shoes. He has a small pair of triangular glasses and his hair is brown with a noticeable cowlick on the front.
Mr. Chip is a kind-hearted man who tries his best to reach out to his students and get them interested in the subjects he is teaching. He is kind to a fault, however, as he fails to discipline the delinquent King Dedede and Escargoon, and also does not have the heart to tell his students when they did poorly on an exam, instead lying and saying they all got 100%. Tiff in particular is enamored with Mr. Chip's teaching style and mannerisms right away, and starts to develop a crush on him through the episode. This makes it harder for her when she finds out that Mr. Chip was sent by Night Mare Enterprises to attack the students, though he never did as his contract specified.
Role in Teacher's Threat
[
edit
]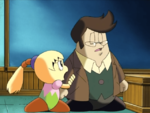 Main article: Teacher's Threat
| | | | |
| --- | --- | --- | --- |
| " | I couldn't find a teaching job anywhere and that's when Night Mare Enterprises approached me. I signed a contract and they sent me here. But once I met these students I just couldn't bring myself to hurt them, you see. | " | — Mr. Chip, in Teacher's Threat |
Mr. Chip appears in the episode Teacher's Threat where he wanders into Dream Land and takes up a teaching position at the recently-rebuilt Dedede Academy. Mr. Chip tries his best to teach his students in a kind way, but King Dedede and Escargoon make it hard for him by harassing both him and the other students. Mr. Chip tries his hardest to reach out to King Dedede in particular, but his ignorance and haughtiness make this very difficult.
Later on, King Dedede complains to Night Mare Enterprises about Mr. Chip's teaching, and the N.M.E. Sales Guy confirms to him that Mr. Chip was sent by them, but that he is not doing what he was told to. King Dedede returns to the school to reveal Mr. Chip's affiliations to the class, and then reveal his replacement: the monster Rekketsu. Mr. Chip tries to defend Kirby from Rekketsu's attacks, but is knocked away. After Kirby defeats the monster and destroys the academy, Mr. Chip bids farewell to the Dream Landers, telling them he cannot stay any longer.
Gallery
[
edit
]