Neichel
From WiKirby, your independent source of Kirby knowledge.
Jump to navigation
Jump to search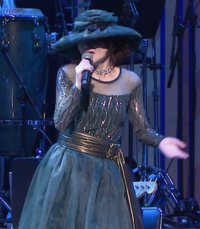 Neichel (stylized as NEICHEL; in New World script,  






 ) is a mentioned character in Kirby and the Forgotten Land. She is a famous diva from the New World and the singer of "Welcome to the New World!". However, at the time Kirby and the Forgotten Land, she is no longer around and she can't be met in the game, nor can any depictions of her be found.
"Neichel" is not actually her real name, but a stage name instead — in the language of her civilization, it means "nature" or "fresh greenery".[1] The Japanese and Korean names for Natural Plains use "Neichel" instead of "Natural".
Neichel is also the pseudonym of a real person who actually sang "Welcome to the New World!", credited in the staff credits. Her real-life indentity is not known yet to date, but Shinya Kumazaki has stated that he'd like to reveal it one day.[2]
However, Neichel made a surprise appearance at the Kirby 30th Anniversary Music Festival, where she, along with Makiko Ohmoto, sang "Special Live Performance: WELCOME TO THE NEW WORLD!". She wore a dark green ballgown and a matching hat with a wide brim, effectively hiding her face.
References