List of Present Codes in Kirby and the Forgotten Land
From WiKirby, your independent source of Kirby knowledge.
Jump to navigation
Jump to search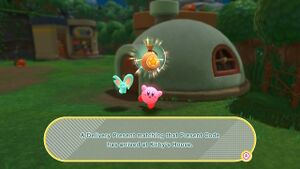 Similar to the passwords found in the Team Kirby Clash series, Kirby and the Forgotten Land features Present Codes which can be entered to receive rewards such as Star Coins, Rare Stones, Food Items, or Stock Items. Present Codes are submitted to Delivery Waddle Dee at Waddle Dee-liveries in Waddle Dee Town in exchange for Delivery Presents.
Despite official releases listing them as "English" and "日本語" (Japanese), Present Codes are not region exclusive and can be redeemed regardless of the console's region settings. However, in order to access Japanese keyboard options, the game must be loaded onto a Switch whose language is set to Japanese. Once the Code is used, the language can be changed at the user's preference and all rewards will be kept. An unopened Delivery Present will even remain next to Kirby's House to be opened in any other language.
Players who are familiar with Latin characters are able to enter Japanese language Present Codes using the Japanese romaji input option of the Nintendo Switch keyboard (日本語 ローマ字入力). This option converts wapuro romaji into Japanese script. For the purposes of this article, romaji representing hiragana (かな) are written as blue lowercase letters and romaji representing katakana (カナ) are written as green uppercase letters.
Some Present Codes from different languages are considered equivalent by the game with only the first one used granting any rewards.
Present Codes found in Waddle Dee Town
[
edit
]
These Codes are revealed in certain spots around Waddle Dee Town. If Elfilin is present, he will find the Present Codes and read them to Kirby, otherwise they are presented through narration. They are able to be redeemed without an internet connection, and will never expire.
Password
Romanization
Meaning
Reward
Location
FIRSTPASSWORD
×100
On the wall across from Waddle Dee-liveries
はじめてのキーワード

hajimeteno

KI-WA-DO

The First Keyword
KIRBYSTORY
×300
In a pamphlet on the rack in the Waddle Dee Cinema
カービィストーリー

KA-BYISUTO-RI-

Kirby Story
KIRBYTHEGOURMET
×1 ×1
In the rooftop garden of the Waddle Dee Café
グルメなカービィ

GURUME

na

KA-BYI

Kirby the Gourmet
BRAWLINGCOLOSSEUM
×500 ×1
On top of Commentator Waddle Dee's tent
かくとうコロシアム

kakutou

KOROSHIAMU

Brawling Colosseum
THANKYOUMETAKNIGHT
×3
On the wall next to where Meta Knight perches on the Colosseum
ありがとうメタナイト

arigatou

METANAITO

Thank you, Meta Knight
THANKYOUKIRBY
×1000
Behind the golden Kirby statue built after rescuing all 300 Waddle Dees
ありがとうカービィ

arigatou

KA-BYI

Thank you, Kirby
Present Codes announced online
[
edit
]
These Codes are revealed by sources external to the game.
Password
Romanization
Meaning
Reward
Date revealed
Expiration Date
Source
CLEARDEMO
×300
Mar 3, 2022
Unlimited
Clearing the Demo
たいけんばんクリア

taikenbann

KURIA

Demo version cleared
NEWADVENTURE
×300 ×1
Mar 3, 2022
Unlimited
Clearing the Demo and completing all Missions in Downtown Grassland
いざだいぼうけんへ

izadaiboukenhe

Time for a great adventure
もっとふくらむニンテンドードリーム

mottofukuramu

NINTENDO-DORI-MU

Fill up, Nintendo Dream
×300
Mar 19, 2022
May 19, 2022
Nintendo Dream May 2022[1]
GAMENEWS
×1
Mar 25, 2022
Unknown
Nintendo Switch News (Nintendo News)
だいぼうけんガイド

daiboukenn

GAIDO

Great Adventure Guide
×1
Mar 25, 2022
Unknown
星のカービィ ディスカバリー 新世界大冒険ガイド (Kirby and the Forgotten Land New World Great Adventure Guide)
ADVENTUREGUIDE
×1
Pamphlet distributed in Taiwan
KIRBYSNACKS
×250 ×1
1 Cup of Juice
Mar 25, 2022
May 22, 2022
Kirby and the Forgotten Land section of the "You Could Win a Nintendo Switch™ Bundle" Contest microsite
KIRBYMICROSITE
×150 ×1
Mar 25, 2022
Jun 10, 2022
Official website after finding all 5 real world objects
カービィカフェでディスカバリー

KA-BYIKAFE

de

DHISUKABARI-

Discovery at the Kirby Café
×500 ×1
1 Cup of Coffee
Apr 1, 2022
Jun 30, 2022
Kirby Café stores
Twitter link
キャラぱふぇカービィ

KYARA

pafe

KA-BYI

Kirby character showcase
×300
Unknown
Unknown
Character Parfait
メールでディスカバリー

ME-RU

de

DHISUKABARI-

Discovery Mail
×350 ×1
Unknown
Unknown
Email from Nintendo
THIRTIETH
×1 ×1
Apr 27, 2022
May 27, 2022
Twitter link (Japanese)
Twitter link (English)
Nintendo Switch News (Nintendo News)
さんじっしゅうねん

sanjisshuunenn

Thirtieth anniversary
はかたでポップアップ

hakatade

POPPUAPPU

Pop-up in Hakata
×300
2 Loaves of French Bread
Apr 27, 2022
May 25, 2022
Kirby pop-up shop at EKIHAKO Hakata store, JR Hakata Station
Twitter link
キデイランドでディスカバリー

KIDEIRANDO

de

DHISUKABARI-

Discovery at Kiddy Land
×300 ×1
Apr 27, 2022
Jul 31, 2022
KIRBY'S PUPUPU MARKET At Kiddy Land Osaka Umeda and Harajuku stores
Twitter link
BIRTHDAY
×1
Apr 27, 2022
Unlimited
Nintendo Switch News (Nintendo News, European version only)
カービィコロコロ

KA-BYIKOROKORO

Kirby CoroCoro
×300
2 Rice Balls
Apr 27, 2022
CoroCoro
なごやでポップアップ

nagoyade

POPPUAPPU

Pop-up in Nagoya
×300
2 Roast Chickens
May 13, 2022
Jun 9, 2022
Kirby pop-up shop at Nagoya Takashimaya
Twitter link
Expired Present Codes
[
edit
]
Password
Romanization
Meaning
Reward
Date revealed
Expiration Date
Source
MOUTHFULMODE
×100 ×1
Mar 25, 2022
Apr 25, 2022
Twitter link (Japanese)
Twitter link (English)
ほおばりヘンケイでだいぼうけん

hoobari

HENKEI

dedaiboukenn

A Great Mouthful Mode Adventure
KIRBYNEWSDESK
×150 ×1
Mar 25, 2022
Apr 25, 2022
Nintendo Switch News (Kirby and the Forgotten Land Channel)
KIRBYGAMESTOPCAN
×150 ×1
Mar 25, 2022
Apr 25, 2022
GameStop Canada employees
KIRBYADVENTURECALI
×300
4 Food items (Soft-Serve Traffic Cone, Macaron, Shortcake (slice), Ice Cream Cone)
Mar 25, 2022
Apr 25, 2022
Kirby and the Forgotten Land 3D walkthrough at Universal CityWalk
カービィポップアップショップ

KA-BYIPOPPUAPPUSHOPPU

Kirby pop-up shop
×300
2 Cherries
Apr 14, 2022
May 4, 2022
Kirby pop-up shop at JR Ikebukuro Station
Twitter link
ICONELEMENTS
×300 ×1
Apr 8, 2022
May 6, 2022
Twitter link (Japanese)
Twitter link (English)
ユーザーアイコンでディスカバリー

YU-ZA-AIKONN

de

DHISUKABARI-

User icons from Discovery
かんさいでポップアップ

kansaide

POPPUAPPU

Pop-up in Kansai
×300
2 Orders of Takoyaki
Apr 20, 2022
May 10, 2022
Kirby pop-up shop at JR Ikebukuro Station
Twitter link
Gallery
[
edit
]
Names in other languages
[
edit
]
Language
Name
Meaning
Japanese
プレゼントキーワード
Purezento Kīwādo
Present Keyword
Traditional Chinese
禮物關鍵詞
Lǐwù Guānjiàncí
Present Keyword
Simplified Chinese
礼物关键词
Lǐwù Guānjiàncí
Dutch
cadeaucode
gift code
French
code cadeau
present code
German
Geschenkcode
present code
Italian
códice regalo
gift code
Korean
프레젠트 키워드
Peurejenteu Kiwodeu
Present Keyword
Spanish
código de regalo
gift code
References