Happy New Year, WiKirby!
As part of WiKirby's New Years Resolution, all images that are known to be unsourced or improperly-sourced have been removed from mainspace and either deleted or archived. We will not be using such images on the wiki going forward! This has left a few small holes in our galleries in places, which you are more than free to replace if you find a properly-sourced version of what was removed. Please remember that we
do not accept
uploads that come from the Kirby Wiki on Fandom, or any other such wiki. Thank you, and here's to another great year!
Please remember that WiKirby contains spoilers, which you read at your own risk! See our
general disclaimer
for details.
Shinichi Shimomura
From WiKirby, your independent source of Kirby knowledge.
Jump to navigation
Jump to search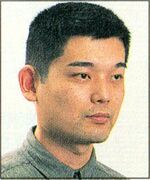 Shinichi Shimomura (下村真一 Shimomura Shinichi) is a Japanese video game designer who previously worked for HAL Laboratory. He was one of the main game designers who directed some of the Kirby series along with Masahiro Sakurai. He is best known for directing Kirby's Dream Land 2, Kirby's Dream Land 3 and Kirby 64: The Crystal Shards. However, he hasn't been involved in the development of the series after Kirby: Nightmare in Dream Land in 2002, for unknown reasons.
There is not a great deal of information about Shinichi Shimomura, online or otherwise. It is not clear what his background was before working on the Kirby series, or what he has done since.
List of games
[
edit
]