The annual
Cross-Wiki Week
is now underway from
Saturday, September 23rd
to
Sunday, October 1st!
Help out other
NIWA
wikis for the chance to win a
$20 Nintendo eShop gift card!
If you're visiting us from another wiki and you want to contribute, check out
our list of example tasks
for some ideas!
Please remember that WiKirby contains spoilers, which you read at your own risk! See our
general disclaimer
for details.
Moonlight Mansion - Boss
From WiKirby, your independent source of Kirby knowledge.
Jump to navigation
Jump to search
Moonlight Mansion - Boss is a room in Moonlight Mansion, the second area of Kirby & The Amazing Mirror.
This is a boss room. Defeating the boss allows Kirby to return to the Rainbow Route - Central Circle.
Overview
[
edit
]
Main article: King Golem
As soon as Kirby enters this room, he falls down to a wide flat area with King Golem occupying the right side of the screen. This boss has two primary ways of attacking; the first involves slamming the ground to cause large rocks (and occasionally Gordos) to fall from the ceiling and then bounce away, and the second has the king spitting out smaller Golems (any of the three types) to attack Kirby. The rocks and Golems can be inhaled and used as ammunition against King Golem.
Once King Golem is defeated, Kirby may collect a piece of the Dimension Mirror (or a Maxim Tomato if re-visiting). He then does his dance and returns to the Central Circle.
Moonlight Mansion Area Map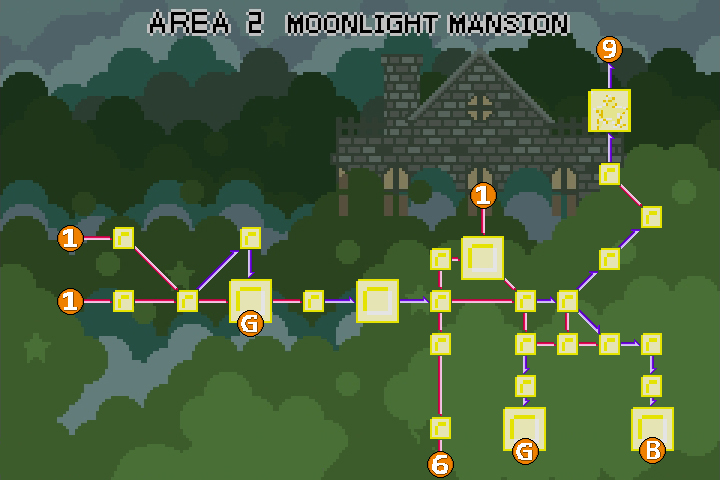 Click on any room