Due to a catastrophic server malfunction outside our control, we've had to restore from a recent backup as of 04/01/2013. Please let us know if anything looks missing or out of place, and we apologize for the inconvenience.
Please remember that WiKirby contains spoilers, which you read at your own risk! See our
general disclaimer
for details.
Enemy Info Card
From WiKirby, your independent source of Kirby knowledge.
Jump to navigation
Jump to search
| | | | |
| --- | --- | --- | --- |
| " | View Info Cards for each enemy character. If you get a card in one of the Bonus Games at the end of each stage, that card's data will show up under Enemy Info. | " | — Kirby 64: The Crystal Shards Instruction Booklet (North America), page 9 |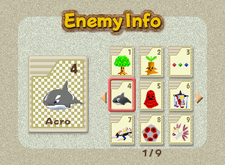 Enemy Info Card, otherwise known as Info Card, is an identification card of a specific enemy gathered at the end of every level's Bonus Game in Kirby 64: The Crystal Shards. Collecting Enemy Info Cards is not required in terms of the game's progression or for 100% completion of the file. However, the collection of such cards makes up the only plot diversion in Kirby 64: The Crystal Shards, and is commonly considered the focal point of players attempting to fully complete the game.
The card itself is interestingly non-detailed, with only four distinct features: a photograph of the enemy at the center (which changes to a 3D animation when selected), the catalogued enemy number at the top-right, the enemy's name at the bottom, and, when applicable, the specific Copy Ability the enemy provides upon ingestion, determined by the symbol at the top-left of the card.
Unlike many of the items and pickups in Kirby 64: The Crystal Shards, the Enemy Info Card is only available at the Bonus Game at the end of every stage, and in order to obtain one, not only must Kirby complete the level preceding the game, but successfully land on the card when jumping from the edge of the picnic blanket. Every enemy and boss has an Enemy Info Card, and Kirby can also collect repeated cards as well, making it quite the challenge to collect all 81.
When Kirby collects a new card, he adopts a happy expression, and when he collects a repeated one, he will adopt a disappointed expression. When all cards are collected, they will stop appearing on the Bonus Game.
Gallery
[
edit
]