Please remember that WiKirby contains spoilers, which you read at your own risk! See our
general disclaimer
for details.
Kirby Wiki
From WiKirby, your independent source of Kirby knowledge.
Jump to navigation
Jump to search


Since 2010,
WiKirby
has been striving to be the best resource for
Kirby
information on the internet—
and you can help us!
It's easy—just head on over to our
Help & Policy section
and then find a page to get started.
Not sure where to begin? Check out our maintenance page. If you have any additional questions, contact an administrator+.
Please keep in mind that in order to create new pages (including your user page) and upload files, you must create an account, wait one day, and make 5 edits to pages first. Doing this will also allow you to edit without being moderated!

Keep in mind that this wiki contains spoilers, which you view at your own risk!
Have fun and thanks for visiting!


New and Upcoming Kirby Games


Featured Article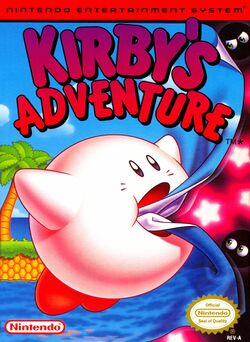 Kirby's Adventure is a video game serving as the second title of the Kirby series and the first and only Nintendo Entertainment System game in the series. The game expands greatly on concepts developed in Kirby's Dream Land, as it features a broader visual style (including color) and more extensive gameplay than its predecessor. The game marks the introduction of Kirby's trademark Copy Abilities and introduces many characters which are now standard to the series, including enemies like Hot Head, Sparky, and UFO, mid-bosses like Bonkers, Mr. Frosty, and Bugzzy, and bosses like Paint Roller, Mr. Shine & Mr. Bright, and Meta Knight. This game was also the first to establish the notion of having levels broken up into distinct stages, finding Big Switches to unlock extra content, playing Sub-Games and Goal Games, using a special weapon to fight the final boss, and having progress tracked toward 100% completion.
A remake of the game, known as Kirby: Nightmare in Dream Land, was released for the Game Boy Advance in 2002. A demo of Kirby's Adventure later appeared as one of the Masterpieces in Super Smash Bros. Brawl and Super Smash Bros. for Wii U. The original game was ported as a Virtual Console game for Wii and Wii U, featured as part of Kirby's Dream Collection, released as a 3D Classic on the Nintendo 3DS eShop, and included as a playable game for the NES Classic Edition and the Nintendo Switch Online service.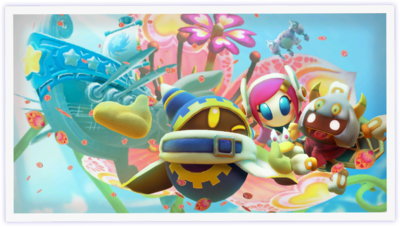 It was definitely a good way to conclude a phase and celebrate characters from all over the series by giving them end card artworks that are of exceptionally high quality. ⁠–⁠Vipz (talk · edits) 12:10, 18 March 2022 (UTC)
Did you know that...

...Fleur Tornado Kirby can pirouette by spinning rapidly in circles (using the left stick)?

...the roller coaster car used for Coaster Mouth is called "The Spaceship Wondaria"?

...the in-game script reveals that Wondaria is actually called "Wonderia"?
November 25th, 2022 - Nominations for WiKirby's first ever Assistant Editor-in-Chief have begun! Go to this page to learn more and nominate our AEiC before the end of December 2nd, 2022, after which voting will commence!
November 8th, 2022 - And here we are! It's been officially confirmed that Kirby and the Forgotten Land has surpassed the original Kirby's Dream Land as the highest-selling game in the Kirby series. No more will this 30-year old series operate in the shadow of its original installment!
October 30th, 2022 - WiKirby has completed the process of switching hosts. Things are running smoothly and the wiki is now ad-free! Thanks for your patience!

October 19th, 2022 - Brave heroes of light, gather your power, wisdom, and courage, for our friends at Zelda Wiki have boldly forked off of Fandom and become

Zeldapedia

! With this step, the Triforce of original founding NIWA wikis has finally been restored to balance, and the land shall be at peace once more!

October 9th, 2022 - It has taken a little while, but the first batch of core pages to retain the Good template have been assigned their badges! Going forward, all future Good badges may only be assigned by staff, ideally through the Good recommendations page. Feel free to recommend a page that you think deserves the badge, and it will be looked into!
September 21st, 2022 - The Good referendum has concluded! The community has decided to overhaul the Good template to make it more exclusive, and disbar its usage on files entirely. Look out for the changes on the Featured content policy page!
September 13th, 2022 - Kirby fans rejoice! The newest Nintendo Direct has revealed a remake of Kirby's Return to Dream Land called Kirby's Return to Dream Land Deluxe for the Nintendo Switch! New features include an updated art style, a new Copy Ability called Mecha, and new and remastered Sub-Games! Look forward to the release on February 24th, 2023!
Community Poll
What is your favorite level in Kirby's Return to Dream Land?
Please vote below. Results will be shown when you have voted.
There were 24 votes since the poll was created on 07:35, 14 November 2022.
poll-id 64A6BAD1FC85A0C315710D58926FEB7A
Random Video
Today's video is the initial E3 2017 reveal of
Kirby Star Allies
, known at the time as
Kirby for Nintendo Switch
!

NIWA
is a family of open-content encyclopedias based on Nintendo franchises, vowing to be now and forever independent!
Other Nintendo franchise wikis are welcome; please visit the NIWA website for more information!
NIWA also has a
Discord
server that you can join by clicking
here
.
Recommended Downloads

We at WiKirby would like to share some tools that make your wiki-editing life easier. If you aren't currently using any of these, we recommend looking into them. All are free of charge, and easy to install or uninstall if desired.