Nintendo 3DS
From WiKirby, your independent source of Kirby knowledge.
Jump to navigation
Jump to search
Nintendo 3DS

The Coral Pink model of the Nintendo 3DS

Details
Creator(s)
Nintendo
Release date(s)
February 26, 2011
March 25, 2011
March 27, 2011
March 31, 2011

The Nintendo 3DS is a handheld console released by Nintendo. It features two screens, one, the top screen, with 3D capability, and the bottom screen, with a touch screen. It was released in Spring of 2011. The first details of the new system were revealed at the E3 Conference of 2010. Similarly to its predecessor, the Nintendo DSi, it features a camera inside the system, albeit above the top screen. The exterior has two cameras, capable of taking three-dimensional photographs. It also has a slider, which is used to raise or lower the strength of the 3D graphics. The 3D effect can be observed without the need of special glasses or headgear through the use of a parallax barrier in front of the backlight. The system also features an accelerometer and a gyroscope.
The accelerometer is used when the system is closed for a feature called "StreetPass", where the system registers steps as the player is moving. This feature is intended both to track the player's steps and to register any players who are passing by. Other players registered via StreetPass are invited into the player's StreetPass Mii Plaza. For every 100 steps, the player can accumulate up to ten play coins each day. Play Coins can be spent in the StreetPass Mii Plaza to purchase a random puzzle piece. They can also be spent in Find Mii and Find Mii II. Additionally, there are a number of compatible 3DS games that incorporate Play Coins into the gameplay. A similar system was previously used in the game Personal Trainer: Walking, and the Pokéwalker.
The gyroscope is used as a form of motion control in games where the player tilts the Nintendo 3DS, such as Star Fox 64 3D. Incorporated into the Nintendo 3DS is preloaded software called "Face Raiders" which has the player tilting the Nintendo 3DS to shoot faces that they took using the Nintendo 3DS Camera. A similar system was previously used in the Nintendo DSi for games such as Face Training and WarioWare: Snapped!.
The console has a "Home" button, with a similar function to that of the Wii, and a digital control slider, like the Control Stick of home consoles, while retaining the "traditional" controls of the Nintendo DS series. The system is backwards-compatible with most Nintendo DS and DSi games.
Kirby Games on 3DS

[

edit

]
Cartridge Games
[
edit
]
3DS eShop downloadable titles
[
edit
]
Other games featuring Kirby characters

[

edit

]
Features
[
edit
]
AR Cards
[
edit
]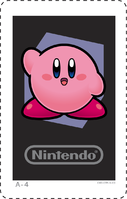 The Nintendo 3DS has built-in software to "read" AR cards, initiating game stages or 3-dimensional character animations. The cards included in the 3DS package feature a Question Block from the Mario series, Mario, Link, Kirby, Samus Aran, and Pikmin.
StreetPass Mii Plaza
[
edit
]
StreetPass Mii Plaza is one of multiple software preloaded with the Nintendo 3DS, meant to incorporate the StreetPass feature. Other players met through StreetPass and Nintendo Network compatible games are introduced into the StreetPass Mii Plaza. It is possible to view several attributes about players, such as their favorite title. The music will change depending on how many players have been gathered. Included in the StreetPass Mii Plaza are minigames known as Puzzle Swap and Find Mii (StreetPass Quest in British English).
In December 2011, a system update introduced new puzzle panels, collectible hats and a sequel to the original Find Mii game, known as Find Mii II (StreetPass Quest II in British English). Find Mii II is only playable after completing the original Find Mii game twice.
The New 3DS design is compatible with amiibo, which can be scanned in by placing the base on the lower screen during certain moments in compatible games. The original 3DS is not natively compatible with amiibo, but an accessory can be bought to compensate for this.
Puzzle Swap

[

edit

]
Puzzle Swap has the player exchanging 2 Play Coins for one puzzle piece, or obtaining one puzzle piece from another player met through StreetPass through the "Collect New Pieces" option. The puzzle pieces are added to panels representing a certain game or Nintendo series. The player starts with a single Puzzle Panel. It is normally impossible to unlock pieces for another puzzle panel without interacting with another player, however certain puzzle panels such as Kid Icarus: Uprising were available through promotions.
One of the available Puzzle Swap panels is a 5x3 piece puzzle based on Kirby. Kirby poses on a field while a Parasol Waddle Dee can be seen falling in the background. There are also puzzles themed to specific Kirby games: Kirby's Return to Dream Land, Kirby's Dream Collection Special Edition, Kirby: Triple Deluxe, Kirby: Planet Robobot, and a puzzle dedicated to both Dedede's Drum Dash Deluxe and Kirby Fighters Deluxe.
Find Mii

[

edit

]
Kirby makes a cameo in the original Find Mii game as one of the collectible hats. The Kirby hat can be obtained by clearing room 7 for the first time.
Nintendo 3DS Theme
[
edit
]
Nintendo 3DS Themes are official custom themes for the Nintendo 3DS HOME menu, purchased on the 3DS Theme Shop.
A Nintendo 3DS Theme consists of:
Themed background for both the main screen and the touch screen;
Unique folders and icons;
Game-specific music and sounds on select themes.
List of Kirby series Nintendo 3DS Themes

[

edit

]
Image
Theme
Release Date
Music
Description
Kirby: Craft-Paper Party
JP: 14 February, 2015
EN: 27 February, 2015
"Green Greens / Peanut Plains"
(acoustic version)
Kirby: Stripes and a Smile
JP: 14 February, 2015
EN: 27 February, 2015
"Green Greens"
(pop version)
Kirby's face.
Kirby: Sweet Gourmet Race
JP: 14 February, 2015
EN: 27 February, 2015
"Get up and Go-urmet!"
(brass band version)
The music for this theme was remixed for the Kirby Star Allies Celebration Picture "Crazy Mischief in the Stars".
Kirby Planet Robobot: Robobot Armor Activate!
JP: 28 April, 2016
EN: 10 June, 2016
"Pink Ball Activate!"
(theme of the Robobot Armor
from Kirby: Planet Robobot)
Released together with the video game Kirby: Planet Robobot.
Features official art of Kirby in the Robobot Armor with its several modes, and the Halberd.
Kirby's 25th Anniversary
JP/EN: 27 April, 2017
"Welcome to Dream Land"
(Kirby's Dream Collection Special Edition title version)
Features various official art from the events of Kirby's 25th Anniversary.
Kirby Mirror Ability
JP: 13 December, 2017
EN: 19 January, 2018
"Mallow Castle"
(from Kirby Super Star)
Free theme to celebrate Mirror winning the first Copy Ability poll for Kirby Battle Royale.
Distribution ended on 31 March, 2018 (JP).
Features Mirror Kirbys with both the Kirby Super Star (Kirby Super Star Ultra) hat and the Kirby: Planet Robobot hat.
External links
[
edit
]