Please remember that WiKirby contains spoilers, which you read at your own risk! See our
general disclaimer
for details.

User:Kirb
From WiKirby, your independent source of Kirby knowledge.
Jump to navigation
Jump to search
And the sacred knowledge they saved for the world can be followed and known in their writings.
They themselves are dead and gone, but their names are immortal in books.
Sandbox | Staff Stats | Contributions | Editor Survey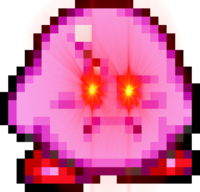 Projects
[
edit
]
General
[
edit
]
Uploaded over 2500 images, largely from 3DS and Wii games
Renaming images
Making tables
Fixing grammar and spelig
Present
[
edit
]
Made this cool new userbox template
Compiled a list of all of the news and events from the Kirby Portal
Recaptured KPL images
Captured KBBl images
Fixed up all pages relating to KBR
Added all of the KTD and KPR stage images
Made the new favicon
Removed all incorrect JPG and PNG file extensions
Added details on every needed image
Made a 2021 April Fool's article
Added enemy location tables for all enemies in KPR, KTD, KRtDL, and KSA
Finished up file categorizing in project clean-up
Add various enemy location tables, mostly from older games
Make a stage page for Dededetour! I have all the images for it kept here so they aren't unused.
Compile menus from the Kirby Cafe.
Achievements
[
edit
]
2020.09.22 - First edit
2020.09.22 - Autopatrol
2020.10.01 - 1000 edits
2020.11.14 - 2000 edits
2020.12.04 - Patroller
2020.12.23 - 3000 edits
2021.01.04 - 4000 edits
2021.01.30 - 5000 edits
2021.02.14 - 6000 edits
2021.02.25 - 7000 edits
2021.03.07 - 8000 edits
2021.03.09 - 1000 images uploaded
2021.03.23 - 9000 edits
2021.05.07 - 10000 edits
2021.06.18 - 11000 edits
2021.06.25 - Moderator
2021.06.26 - 1500 images uploaded
2021.07.30 - 12000 edits
2021.08.05 - 2000 images uploaded
2021.09.06 - 13000 edits
2021.11.14 - 14000 edits
2022.01.12 - 15000 edits
| | | |
| --- | --- | --- |
| | What Do You Dream About? by Hello Meteor | |