The annual
Cross-Wiki Week
is now underway from
Saturday, September 23rd
to
Sunday, October 1st!
Help out other
NIWA
wikis for the chance to win a
$20 Nintendo eShop gift card!
If you're visiting us from another wiki and you want to contribute, check out
our list of example tasks
for some ideas!
Please remember that WiKirby contains spoilers, which you read at your own risk! See our
general disclaimer
for details.
WiKirby
:
Site merge negotiations
From WiKirby, your independent source of Kirby knowledge.
Jump to navigation
Jump to search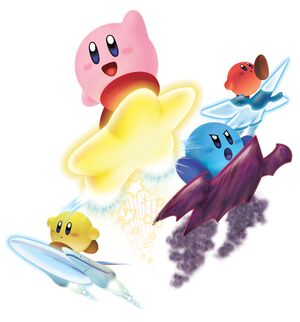 The drastic changes by Wikia have been scattering regular and loyal editors to all four winds. Some are moving to ShoutWiki, while some are going independent and paying for their hosting, domain, and other costs. The option to be discussed here is a merge of WiKirby and Kirby (Wikia)'s communities into one grand and united Kirby Wiki. All discussions and negotiations will take place in the talk page of this draft. The following terms will define the status of each draft section.
Negotiable- Open for negotiations and not currently finalized.
Negotiations ongoing- Any discussed point deemed unresolved at the present time.
Finalized- Agreement or consensus reached among all parties.
Disputed- Any point awaiting a compromise from either party. Or to indicate a revisited topic to consider new options brought to light later.
Guidelines
Discussions are open to any and all members of both communities. Comments will be weighed for their worth regardless of wiki staff rank. Outsider comments are welcome, but persons seeming disruptive to the discussion may receive a temporary block if deemed necessary to progress. Signatures are required on all posts, (type ~~~~ or click on the tab above the edit box to add a signature). Removing comments, or editing to change statements will not be tolerated. If the discussion becomes active, copy your comment to an offline word document, as edit conflicts will likely occur, and try again. Given the high priority, this page will be locked to WiKirby administration and changes will follow discussions as needed.
Community and Wiki Merge Proposal
Current editors and staff of Wikia's Kirby Wiki are migrating and welcomed here at WiKirby. The following and unforeseen issues and options will be discussed at length until agreements/compromises are reached.
Staff Positions
Negotiable
Initially Axiomist offered full transfer of Kirby Wikia's staff positions as they are; However, after viewing Staff Rolls it seems all 8 admins are also bureaucrats. As a compromise, WiKirby can remove its inactive and intended temporary staff members. If at all possible, WiKirby would like to divide the Kirby Wikia staff (8) into the following WiKirby staff groups:
Bureaucrats- 2 members from Kirby Wikia, elected by Kirby Wikia's community.
Admin- 3 members from Kirby Wikia, elected by Kirby Wikia's community.
Patroller- 3 members from Kirby Wikia, elected by Kirby Wikia's community.
If any members of the current 8 Kirby Wikia staff have not been and are not expected to be active, WiKirby would prefer to have the position foregone until a later date when new staff members can be recruited. At the present time, given the potentially high amount of work to be done, experienced administration would be most preferred.
NIWA Access
Negotiable
Currently, all staff members of WiKirby, even patrollers have access and are allowed input on behalf of WiKirby. At the time being, it is preferred by WiKirby to maintain this position, however, at a later date, we may be required to trim eligible representatives to keep in balance with other member wiki representation.
Main Page
Negotiable
WiKirby is proud of its work on the Main Page, as such, we enter this merge proposal under the condition that our Main Page design will be the preferred Main Page. However, elements of Kirby Wikia's main page can be recommended for eventual inclusion.
WiKirby Sig Policy
Negotiable
Currently, WiKirby does not allow images in talk page sigs. However, in an effort to accommodate the influx of Kirby Wikia, and present users from Mario Wiki.com. We can find a balance and size limit to allow more signature customization.
Image importation
Negotiable
Nintendo is the presumed copy right holder of all Kirby related images. Therefore, images can be imported freely of any license conflicts. However, WiKirby would most prefer if images imported are labeled and sourced to prevent any legal license disputes with Wikia Inc. Other preferences concerning images WiKirby has are as follows:
Do not replace current images, unless quality is superior.
Use .png over .jpg. JPG/JPEG Images do not allow for transparent backgrounds and get distorted every time they are saved. (Example:

File:AirRidingKirbys.png

has a transparent background instead of a white one, which takes up less space and gives WiKirby a better overall appearance.
Integrate images into articles as much as possible, rather than filling galleries. (Kirby's Epic Yarn is an exception, as the game is presently unreleased, thereby making the article difficult to construct thoroughly and properly)
Policy Pages
Negotiable
Although WiKirby has policies in place, and current policies have been sufficient to operations and past needs, WiKirby makes no assumptions on new editor's familiarity. The newest staff members will be expected to thoroughly discuss any proposed alterations and allow ample time before implementing new changes. There may be cases in which Kirby Wikia has a better policy. To propose for an "adopted" policy:
Initiate a talk page discussion in this page's talkspace. A consensus among current Kirby Wikia staff would be sufficient cause for a current WiKirby staff to review and consider the adoption.
Current WiKirby staff members will review the proposal and compare/contrast with current WiKirby policy.
The candidate policy will be added if approved.
If the candidate policy is disputed, or alterations recommended, WiKirby staff will pursue further discussions until a satisfactory resolution is achieved.
Article Importation
Negotiable
As of this writing, I (Axiomist) have no clue on what the legal terms of the differing text licenses (GFDL1.3 - CC-BY-SA) will mean for a merge. So far the other wikis left to start from scratch and we are breaking pretty new ground to merge. Input from others is needed. But the following options are obvious:
Building nonexistent articles from the bottom up. (This would take longer, but would free us from any license disputes. And hopefully would allow Kirby Wikia editors to feel more at home here as they get to create the pages anew.)
Improve/expand existing articles without copy/pasting. (Likely what will need to be done even if auto importing is used for the rest.)
Import nonexistent content to WiKirby. (This would technically be the easiest thing to do, however the next point bears relevancy)
Not sure of the extent of the issue, but I've seen complaints and acknowledgment of an issue of direct copy/paste jobs from Kirby's Rainbow Resort's Kirbypedia on Kirby Wikia. And the Kirby:Right Back at Ya! article on Kirby Wikia bears a template of being from Wikipedia. Although legally, that might be in terms with the license, editors and staff should be proud to have created their own article and strive to outdo the Wikipedia article. When someone pasted the exact text of Wikipedia's Kirby:Right Back at Ya! article here, we opted to delete it and encouraged the person to try to write it in his/her own words. WiKirby would prefer to maintain this stand against plagiarism, and we understand that Wikia allowed anonymous edits, so it slipped in uncontrollably.