Please remember that WiKirby contains spoilers, which you read at your own risk! See our
general disclaimer
for details.
User talk:YoshiFlutterJump
From WiKirby, your independent source of Kirby knowledge.
Jump to navigation
Jump to search
Welcome to WiKirby!
[
edit
]

Hi there YoshiFlutterJump, and welcome to
WiKirby
! We hope you'll enjoy editing here; check out our
help guide
for editing tips and information on do's and don'ts. Also, please keep in mind that all edits are subject to moderation until you become autoconfirmed (5 edits and 24 hours)! If you need any help, just contact one of the
administrators
. Thanks! —
The WiKirby Staff
-- Kirbot (talk) 18:39, 21 March 2018 (UTC)
Featured Content
[
edit
]
Just stopping by to say thanks for supporting my nominations. Since they had been up so long, we really only needed one person to support it for them to go up. :P
If you have any suggestions for nominations in the future, feel free to make them. I'll feature them if they get some support! --Fubaka (talk) 08:06, 8 April 2018 (UTC)
Regarding merge of Ado/Adeleine
[
edit
]
I have undone your merge of these two articles. The Ado article is specifically about her boss appearance in Kirby's Dream Land 3, and since she goes by a different name in these games, it is only fitting to have these as separate pages. Please do not merge high-profile articles like this without prior discussion and approval. --Fubaka (talk) 17:03, 26 April 2019 (UTC)
I see. It's just that I went to look at Ado's talk page, and apparently it seemed to have been in favor of merging the article, but hadn't been done since the last comment in summer 2018. I'll try to double-check in the future before doing something like this again, though. Thanks! -

YFJ

(

talk

·

edits

) 22:24, 26 April 2019 (UTC)
Patroller
[
edit
]
Hoy YoshiFlutterJump. I'm looking to make some new Patrollers on this wiki, and I figured you'd be a good pick. Essentially, Patrollers have the power to roll back edits, and to "patrol" edits from other users (though this latter action is seldom needed since we aren't a super active wiki). Patrollers also gain access to the Discord's staff chat channel (assuming you are on the Discord). Are you interested in becoming a Patroller? --Fubaka (talk) 08:28, 8 September 2019 (UTC)
Rank Update
[
edit
]
Owencrazyboy17's role should probably be adjusted on this page and this page due to recent promotion. Trig - (talk) 19:12, 5 April 2020 (UTC)
IPv6 blocks
[
edit
]
Hi, I see you've blocked a vandal at 2601:283:8203:97E0:50E:F801:4E10:1562. They returned again as 2601:283:8203:97E0:C418:B568:E6ED:CDF7. Blocking a single IPv6 address is useless, as they cycle every minute. I suggest blocking the /64 range instead. Thanks, Pandakekok9 (talk) 09:55, 23 May 2020 (UTC)
Done by Tacopill now. Btw, this is unrelated to the topic of this header, but is there a reason why Template:XL/doc was deleted? Shouldn't documentation be separated to /doc subpages? Thanks, pandakekok9 (poyo) 13:31, 23 May 2020 (UTC)
How do I make edits to MAINSPACE? (WiKirby) (Darkirby)
[
edit
]
Question is already shown in the title. Darkirby (talk) 17:29, 1 June 2020 (UTC)Darkirby
Help:Getting started should tell you everything you need to know. There's always something to edit; try Special:Random if you don't know where to start. Let me know if you have any questions. Happy editing! -

YFJ

(

talk

·

edits

) 19:09, 1 June 2020 (UTC)
Possible sockpuppets
[
edit
]
Greg Heffley (Talk) and 2A02:2F0B:8E00:DA00:3D2F:6679:9388:DAA8 seem to be the same person. Both tag pages for deletion for stupid reasons, as well vandalising (in some way) anime-related pages. Additionally, both insert random content to their user talks along with navbox for Kirby: Right Back at Ya!. Can you checkuser them of something? Superbound (talk) 18:11, 19 June 2020 (UTC)
Request
[
edit
]
On 14th of June, I've made proposal about queue for FP. However, when was making it, I didn't know that during deadline (28th June) I will be unavailable, and such unable to create pages, and so if proposal passes, I'm not going. So I have a request - if the proposal passes, can you create it for me? Of course when the proposal passes.
I'm also pretty sure I messed up grammar or something in it. Let me know if you can't understand something. Cheers! Superbound (talk) 06:52, 26 June 2020 (UTC)
OK, will do! -

YFJ

(

talk

·

edits

) 15:57, 26 June 2020 (UTC)

...

Superbound

(

talk

) 18:10, 4 July 2020 (UTC)
Checking in / Unretirement?
[
edit
]
Hoy! I'm checking in to see how you guys have been doing since my departure. I still get a lot of email notifications about changes on the wiki, and it seems like the place still sees a good deal of activity. I have additionally seen the rise of new dedicated users like Superbound and Trig Jegman, who have both done good work.
At any rate, I am reaching out to you now because I feel my voluntary exile from the site has lasted long enough. That said, I have no intention of trying to remove you from the Editor-in-Chief position which I once held, as I still consider you to be my rightful successor. Instead, I would like to take a background role and finish a lot of the projects that I started, to take that weight off your shoulders, and to support you in making the wiki as good as it can be. I smell a new game on the horizon, and I think you'll need help covering that, too.
Anyway, this is all so much hot air if you believe that me being around would be a detriment, and I place my fate in your hands. It is entirely up to you what rank you throw me into should you let me back, and if you want me to stay gone, or if you have conditions for me, I will comply. Get back to me soon, now! --Fubaka (talk) 02:15, 1 July 2020 (UTC)
Hey, nice to see you around! We were getting kinda worried over here when you deleted your Discord without notice. I don't think your presence here is a detriment at all, and I'll gladly restore you to administrator and/or bureaucrat rank if that's what you want (although I understand if you don't, being wiki staff is quite the commitment).
I don't want you to feel like you have to stay--we've actually been doing pretty well these last few months!--but I'm sure everyone on here would welcome you back with open arms, should you choose to stay. Cheers! -

YFJ

(

talk

·

edits

) 16:19, 1 July 2020 (UTC)

I can go into more detail about what I was (and to some extent am still) going through in less formal channels (like the Discord), but I will do my best to refrain from turning it into a pity parade, as my problems are ultimately my own to deal with. I should say first and foremost that I apologize for leaving you guys like that, especially since I promised I would leave a line of contact when I initially stepped down. It's a little embarrassing, honestly, since this is not the first time I tried to leave the community, but again, that can be elaborated on later if necessary. Guess I'm glad I left the bridge unburned, as it were.
Now, part of me wants to be more humble and accept only the role of administrator, but I understand people might look sideways at someone with my edit history and influence on the policy being merely an administrator. As such, you should probably restore me to bureaucrat as well, and I will hold a similar position as Vellidragon does now; important to the history of the site and influential, but not in charge. I intend to jump back into helping monitor the site for vandals and weigh in on important decisions, but most importantly, I intend to resume community engagement and important article work on the wiki...but on that latter point, I will be taking it a bit more slowly this time. :P I really do think part of the problem was that I overworked myself as EiC.
Anyway, I want to reiterate that you've done a very fine job as EiC so far, and on that accord, I want to be there to help you so you don't burn out like I did. I will be returning to the Discord later today under a new account, so look forward to that. Once I've been formally re-inducted into the wiki, I will also start editing and patrolling again. After a while, you'll forget I was ever gone. :P --Fubaka (talk) 16:59, 1 July 2020 (UTC)
Hi, I tried to add this tweet to this article, but spam filter doesn't allow me to save it due to link included in it. Is there some way around it? Superbound (talk) 10:58, 28 August 2020 (UTC)
This was brought to my attention on Discord some time ago, but I'm afraid I don't know what to change to fix that. It's not on MediaWiki:Spam-blacklist, nor did adding it to MediaWiki:Spam-whitelist fix anything. Please let me know if you think anything else might work! -

YFJ

(

talk

·

edits

) 15:41, 28 August 2020 (UTC)
Game time
[
edit
]
Since you left the Boards, I wasn't sure if you would want to play KF2 or Smash sometime, but if so, where could I contact you to arrange a time for that? -Mags (talk) 01:42, 30 November 2020 (UTC)
Guess what day is today
[
edit
]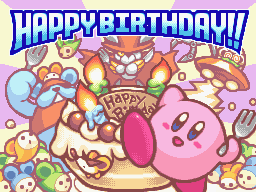 Superbound (talk) 14:48, 14 December 2020 (UTC)
Happy birthday YFJ! —Viperision (talk) 14:53, 14 December 2020 (UTC)

Happy birthday!

--kirb

16:00, 14 December 2020 (UTC)
Hi, would you mind renaming my account to Archivist Toadette? I just want it to parallel the MarioWiki rename I received a few months back. Toadette the Achiever (talk) 16:34, 20 February 2021 (UTC)