Please remember that WiKirby contains spoilers, which you read at your own risk! See our
general disclaimer
for details.
User
:
Vellidragon
From WiKirby, your independent source of Kirby knowledge.
Jump to navigation
Jump to search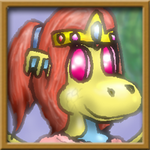 Hallo there. I'm a random fat dragoness who is WiKirby's lead admin. I am currently 99% inactive and do not check the site regularly; please notify me on my talk page if my admin powers are needed so I receive an email alert. I'm also an indie author, artist and various other things. You can find more about me and my other projects here:
♥ deviantART
♥ Tails of Lanschilandia, my weekly online comic
♥ My Fantasy books
♥ Wattpad
♥ Twitter
...Plus various related and unrelated websites.
If you happen to have any questions about myself, my edits or editing WiKirby in general, don't hesitate to contact me, preferrably via my talk page on here.
I can also change your username should you ask nicely; requests of that ilk should also go on my WiKirby talk page.