The annual
Cross-Wiki Week
is now underway from
Saturday, September 23rd
to
Sunday, October 1st!
Help out other
NIWA
wikis for the chance to win a
$20 Nintendo eShop gift card!
If you're visiting us from another wiki and you want to contribute, check out
our list of example tasks
for some ideas!
Please remember that WiKirby contains spoilers, which you read at your own risk! See our
general disclaimer
for details.
Togezo
From WiKirby, your independent source of Kirby knowledge.
Jump to navigation
Jump to search
Togezo is a spiky shell-wearing enemy that has made only a few appearances in the Kirby series, first appearing in Kirby's Adventure. It is a small black creature with stubby red feet and glowing eyes which wears a shell on its head covered in spikes. Its appearance is similar to Spiny from the Mario franchise, which has the same Japanese name (as such, Togezo in the Kirby series is likely a direct reference to Spiny). Kirby can obtain the Needle Copy Ability by inhaling and swallowing this foe.
Togezo typically starts out by slowly walking left and right, but is able to curl up into a prickly ball, bouncing into the air as it does so and proceeding to roll back and forth on top of the platform it is on at a high speed. However, after a short time, Togezo reverts to its initial state and form of movement.
In Kirby: Nightmare in Dream Land, Togezo was replaced by the similar enemy Needlous, who has since become the main provider of the Needle Copy Ability. Togezo has not appeared in any Kirby game since Kirby's Dream Land 3.
Game appearances
[
edit
]
Kirby's Adventure

[

edit

]
Togezos debut in Kirby's Adventure, where they are shown with pink shells and feet, white spikes and bright yellow eyes in their artwork, but usually use a pale orange palette in the game. They are first encountered behind the fourth door of Vegetable Valley, but are not seen again until the fifth stage of Orange Ocean after that.
In the game's remake, Kirby: Nightmare in Dream Land, Togezos are among the three types of adversaries to have been replaced, the others being Bounder and Rolling Turtle. In Togezo's case, it has been replaced by Needlous, which acts the same, but greatly differs in appearance.
Locations
[
edit
]
Togezo can be found in the following levels and stages:
Kirby's Dream Course

[

edit

]
In Kirby's Dream Course, Togezo reappears as one of the enemy types that Kirby may need to destroy in order to complete a Hole. Here, it is portrayed with a red shell, yellow spikes and blue feet. Like most other enemies in the game, Togezos can neither move nor harm Kirby, simply acting as a ground-based, stationary target instead that turns into a star when touched by Kirby. Defeating them automatically grants Kirby the Needle ability.
Locations
[
edit
]
In Kirby's Dream Course, Togezo can be found in the following courses and holes:
Kirby's Dream Land 3

[

edit

]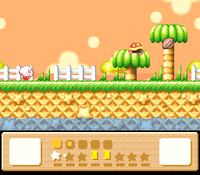 Togezo's most recent appearance is in Kirby's Dream Land 3, where it is encountered several times throughout the game, first appearing in the stage six of Grass Land. It retains its shell and spike colors from Kirby's Dream Course, but now possesses red feet and yellow eyes (red in its artwork). The appearance of its carapace has also changed; it has a much flatter rim, keeping it from covering the creature's back completely. Like in Kirby's Adventure, Togezos initially pace left and right. However, their behavior has been altered to be reminiscent of Spikey from Kirby's Dream Land 2, as they hide in their shells and extend their thorns when Kirby is within a certain vicinity. Doing so renders them immobile, but not invincible, enabling Kirby to easily inhale or attack them.
Locations
[
edit
]
In Kirby's Dream Land 3, Togezo can be found in the following levels and stages:
Gallery
[
edit
]
Names in other languages
[
edit
]
Language
Name
Meaning
Japanese
スパイニー (Kirby's Adventure)
Supainī
トゲゾー (Kirby's Dream Land 3)
Togezō

Spiny

Togezo; from「刺」(toge, spine) and possibly「小僧」(kozō, brat)