The annual
Cross-Wiki Week
is now underway from
Saturday, September 23rd
to
Sunday, October 1st!
Help out other
NIWA
wikis for the chance to win a
$20 Nintendo eShop gift card!
If you're visiting us from another wiki and you want to contribute, check out
our list of example tasks
for some ideas!
Please remember that WiKirby contains spoilers, which you read at your own risk! See our
general disclaimer
for details.
Submarine
From WiKirby, your independent source of Kirby knowledge.
Jump to navigation
Jump to search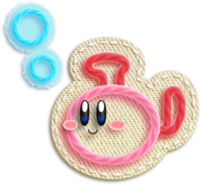 This article is about the Yarn Transformation from Kirby's Epic Yarn and Kirby's Extra Epic Yarn. For the transformation in Kirby and the Rainbow Curse, see Kirby Submarine.
The Submarine is a yarn transformation that both Kirby and Prince Fluff automatically undergo when submerged in water in Kirby's Epic Yarn and Kirby's Extra Epic Yarn. Shallow water, however, such as that of Rainbow Falls, will not trigger the Submarine transformation. Presumably, Kirby's and Prince Fluff's feet form the conning tower and propeller, as said parts, as well as their shoes, are in proportionate size, shape and color. Unlike Kirby's usual underwater transformations, goggles are not used.
In the Water Land map, Kirby and Prince Fluff are even able to transform into submarines to access areas. The Capamari battle is fought in this form.
Underwater actions
[
edit
]
Underwater movements are generally less restrictive since jumping is no longer needed to travel upwards. The whip, rolling-up, and toss powers remain intact.[1] The Yarn Whip actually has more potential underwater, as downward throws are possible.[2] In place of a jump or dash action, the 2 button allows for either action, while near a surface up and 2 will perform a jump, otherwise 2 will rotate the propeller faster and generate faster movement.[3] Underwater travel also is affected by jets of more powerful flow. While on the surface in Submarine form, waves can affect the submarine's travel.
Gallery
[
edit
]
Names in other languages
[
edit
]
| Language | Name | Meaning |
| --- | --- | --- |
| French | Sous-marin[4] | Submarine |
| German | U-Boot | Submarine |
| Italian | Sottomarino | Submarine |
| Spanish | Submarino[5] | Submarine |
References