Please remember that WiKirby contains spoilers, which you read at your own risk! See our
general disclaimer
for details.
Revenge of Meta Knight - Chapter 7
From WiKirby, your independent source of Kirby knowledge.
Jump to navigation
Jump to search
Theme music
---
Clips of the themes that play in Chapter 7 of Revenge of Meta Knight
Chapter 7 of Revenge of Meta Knight is the last of seven chapters in this game-mode from Kirby Super Star and Kirby Super Star Ultra. In this chapter, Kirby heads for the helm of the Halberd as the crew evacuates to deal with Meta Knight directly. After defeating him in a sword fight and destroying the helm of the ship, Kirby hops onto a Wheelie to make his escape as an enraged Meta Knight tries everything he can to stop his rival from doing so.
Intro cutscene
[
edit
]
In the opening scene, Kirby flies around the Halberd as a huge hole is blown in the hull of the ship, then lands back on the deck to head for the helm.
Overview
[
edit
]
The timer resets to 3000 as Kirby heads for the helm. The crew of the Halberd panics as Captain Vul abandons ship. The Meta-Knights, however, stay to try and get their revenge on Kirby. As they discuss this, Kirby makes his way through an auto-scrolling section past crumbling bridges inside the hangar.
In the next room, Kirby makes his way up the elevator where the Meta-Knights ambush him one more time. From there, Kirby has a choice between a few more abilities before reaching Meta Knight's cabin.
In the cabin proper, Meta Knight tosses a Sword to Kirby for an honorable duel. From there, the fight is on, as Kirby battles Meta Knight in the traditional manner. When the masked swordsman is defeated, his mask breaks, and he flees the scene. From there, the cabin explodes, and Kirby is sent tumbling to the final section.
With only 50 seconds left to escape, Kirby finds a Wheelie, and hops on it to flee the Halberd as it crashes. Meta Knight pursues, trying his best to slow Kirby down. Kirby cannot defeat Meta Knight in this phase, so he should focus on escaping. If the timer reaches 10 seconds, Meta Knight will automatically halt his assault on Kirby and instead chooses to flee the exploding Halberd. The stage ends as Kirby makes the leap off the ramp at the end of the causeway. The final cutscene plays of the Halberd crashing, and Kirby riding off into the sunset, and the game is complete.
Dialogue
[
edit
]
Intermittently, the Halberd crew can be heard by the player through dialogue boxes which pop up as Kirby makes his way through the stage. The following table lists off their dialogue in chronological order:
Chapter 7 Dialogue in Revenge of Meta Knight  
Character
Portraits
Dialogue (KSS)
Dialogue (KSSU)
Dialogue (Japanese)
Notes
Axe Knight
"We are losing power!
Engine No.3! Engine No.5!"
All systems failing!
No.3 and No.5 engines
are gone!
「各部の機能が低下しています!
第3、第5エンジン停止!」
Mace Knight
"Ain't any power left!
We can't fly!"
We're junked! Nothing
left to do but crash!
「もうぼろぼろだス!
すぐにおちるだスよ!」
Meta Knight
"(We've failed...
it's over.)"
(We've failed...but there's
nothing we can do.)
「(不覚…だがやむをえまい)」
Meta Knight
"Attention all crew!
Evacuate ship!!"
Attention to all crew!
Evacuate ship immediately!
「クルー全員に告ぐ!
至急本艦より脱出せよ!!」
Captain Vul
"Waaah!
The ship's going down!"
Ahhh! The ship is done for!
I gotta get out of here!
「あひえぇぇぇ!この艦はもう
だめだぁ!!わしは逃げるぅ!」
Captain Vul
"I'm not staying.
I'm evacuating!!"
I'm escaping now!
Don't think badly of me!
「じゃ、わしは逃げますぅ!
悪く思わんで下さい!」
Meta Knight
"Now, it's your
turn to evacuate."
So... Now it's time for the
rest of you to escape as well.
「さあ、
次はおまえたちが逃げる番だ。」
Axe Knight
"No, I want to stay
with you, Sir!"
I will stay until the
bitter end.
「いえ、最後までおつき合い
させていただきます!」
Mace Knight
"Let's try one more time
to get Kirby!"
We should finish off Kirby
then all escape together!
「カービィをぎゃふんといわせて、
それからみんなで逃げるだス!」
Meta Knight
"Hmmm....."
... ... ... ...
「……………………。」
Meta Knight
"..... It's dangerous,
but it's worth a try!"
...You are all about to perish.
Do as you please.
「…しにぞこないどもめ。
かってにするがよい」
The difference in tone between translations is notable.
The KSSU dialogue is closer to the Japanese text.
Meta Knight
"Thank you, guys."
(...I'm sorry.)
「(…すまない)」
Axe Knight
"Wait, Kirby!!"
Wait, Kirby!!
「まて、カービィ!!」
One of the few instances where the portrait expression is different between versions.
Mace Knight
"You can't go any
further!"
I cannot let you go
any farther!
「こっからさきには、
通さないだスよ!」
Axe Knight
"Sir Meta Knight,
you're on your own!"
Lord Meta Knight,
please take care!
「メタナイトさま、
あとはおねがいしますぅ!」
Mace Knight
"We're evacuating!"
We'll go on ahead then!
「ダメなわしらは
おさきにしつれいだスぅ!」
Meta Knight
"Kirby, this is it!
Prepare to die!"
This is the end! Kirby!
Come meet your doom!!
「これが最後だ!
カービィ!いざ勝負!!」
Note the removal of the phrase "prepare to die" in KSSU.
The equivalent in the Japanese dialogue is "Let us duel!"
Sailor Waddle Dee
"Th-thump. Th-thump."
(Heart races...)
「(どきどきどきどき…)」
Meta Knight
"You'll never escape!"
I won't let you escape!
「のがさんぞ!」
Enemies, mid-bosses, and boss
[
edit
]
| Image (KSS/KSSU) | Name | Copy Ability |
| --- | --- | --- |
| | Meta-Knights (all four types) | None |
Boss: Meta Knight
[
edit
]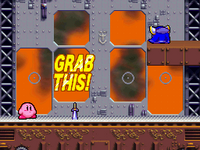 As Kirby enters the duel against his masked rival, he is made to pick up a Sword on the ground with the helpful text "GET IT!" ("GRAB THIS!" in SSU) overhead. Just like in the corresponding fight in Kirby's Adventure and Kirby: Nightmare in Dream Land, Kirby cannot drop his sword during the fight. Once he picks it up, Meta Knight throws his cape aside and begins to duel with Kirby. While he is not quite as able to block Kirby's attacks as before, he does have much greater durability, and he has a few new moves. One move allows him to conjure a giant tornado which can catch Kirby and throw him into the air before slamming him into the ground. As always, when Meta Knight is defeated, his mask breaks, forcing him to retreat.
Ending cutscene
[
edit
]
Once Kirby hops off the Halberd, he lands on a cliffside off the ocean to watch the ship crash into the water. After a moment, Kirby then rides off on his Wheelie down a desert road as the credits roll. Once enough time has passed, the next scene has Kirby and his Wheelie riding into the sunset, ending the game mode.
This stage marks the very first time that Meta Knight was depicted with wings, a trait that would stick with him for the remainder of the series.
In the ending cutscene, a faint speck of light (presumably Meta Knight himself) can be seen flying away from the Halberd just before it sinks.
Gallery
[
edit
]
This auto-scrolling path features lots of enemies, pitfalls, and Copy Essences