The annual
Cross-Wiki Week
is now underway from
Saturday, September 23rd
to
Sunday, October 1st!
Help out other
NIWA
wikis for the chance to win a
$20 Nintendo eShop gift card!
If you're visiting us from another wiki and you want to contribute, check out
our list of example tasks
for some ideas!
Please remember that WiKirby contains spoilers, which you read at your own risk! See our
general disclaimer
for details.
Olive Ocean - Boss
From WiKirby, your independent source of Kirby knowledge.
Jump to navigation
Jump to search
Olive Ocean - Boss is a room in Olive Ocean, the sixth area of Kirby & The Amazing Mirror.
This room is reachable from Olive Ocean - Room 23. Once Gobbler is defeated, Kirby returns to Rainbow Route - Central Circle after completing his dance.
Overview
[
edit
]
Main article: Gobbler
After squirming through a small overhead tunnel, Kirby drops down into a room half-filled with water with hanging thin floors above. In the water waits a large blue shark with a life saver ring around its abdomen. This shark is the boss Gobbler, who Kirby must defeat.
Gobbler fights by charging through the water, jumping out over the platforms, and spawning smaller sharks to chase Kirby down. Against common sense, it may actually be better for Kirby to contend with Gobbler in the water, since he can utilize his Water Gun which is very effective against this boss.
Once Gobbler is defeated, Kirby and his buddies may collect the next Mirror Shard in peace and then return to Rainbow Route.
Olive Ocean Area Map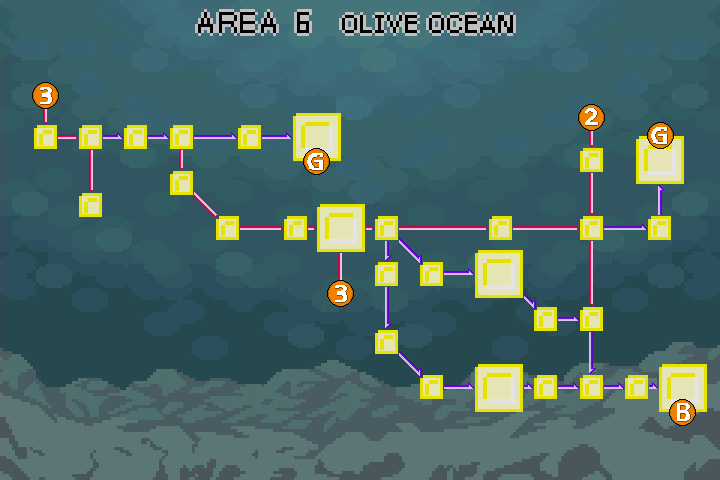 Click on any room