The annual
Cross-Wiki Week
is now underway from
Saturday, September 23rd
to
Sunday, October 1st!
Help out other
NIWA
wikis for the chance to win a
$20 Nintendo eShop gift card!
If you're visiting us from another wiki and you want to contribute, check out
our list of example tasks
for some ideas!
Please remember that WiKirby contains spoilers, which you read at your own risk! See our
general disclaimer
for details.
Mustard Mountain - Boss
From WiKirby, your independent source of Kirby knowledge.
Jump to navigation
Jump to search
Mustard Mountain - Boss is a room in Mustard Mountain, the fourth area of Kirby & The Amazing Mirror.
This room is reachable from Room 14. Once Kracko is defeated, Kirby returns to Rainbow Route - Central Circle after completing his dance.
Overview
[
edit
]
Main article: Kracko
The layout of the room begins with Kirby at the base of a series of irregular floating steps which lead upward. From there, Kirby steps onto a flat walkway which he cannot jump back down from. Once here, Kracko appears from up in the sky, transforming immediately from his junior form.
Kracko has a number of different attacks, most of which are recycled from Kirby: Nightmare in Dream Land. These attacks are as follows:
Kracko conjures an enemy to attack Kirby. This could be a Waddle Doo, a Flamer, or a Twister.
Kracko swoops the stage.
Kracko zaps the platform with lightning as he travels horizontally across it.
Kracko shoots a beam whip around himself.
Kracko releases a small rainstorm in a target location.
Once Kracko is defeated, Kirby and his buddies may collect the next Mirror Shard in peace and then return to Rainbow Route.
Mustard Mountain Area Map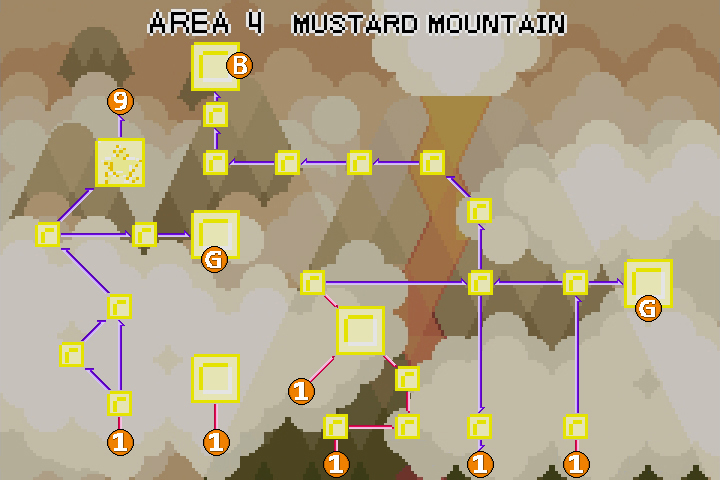 Click on any room