The annual
Cross-Wiki Week
is now underway from
Saturday, September 23rd
to
Sunday, October 1st!
Help out other
NIWA
wikis for the chance to win a
$20 Nintendo eShop gift card!
If you're visiting us from another wiki and you want to contribute, check out
our list of example tasks
for some ideas!
Please remember that WiKirby contains spoilers, which you read at your own risk! See our
general disclaimer
for details.
Moonlight Mansion - Room 15
From WiKirby, your independent source of Kirby knowledge.
Jump to navigation
Jump to search
Moonlight Mansion - Room 15 is a room in Moonlight Mansion, the second area of Kirby & The Amazing Mirror.
This room links to Moonlight Mansion - Room 14 and Moonlight Mansion - Warp.
Overview
[
edit
]
This room begins with an ambush by Waddle Doo and Twister in a small room. From there, Kirby must pass a timed switch gate and a spike pit, but must be careful on the other side, for it leads to a bottomless pit and another Waddle Doo eager to push Kirby in. The path continues upward from there, with the path further up guarded by Gordos and a 1-Up visible outside on the mansion roof. To the right is a small side chamber containing a Battery. Past the Gordos, Kirby can get out onto the roof where, to the right, two paths can be seen, the upper of which is blocked off with metal blocks. Taking the lower path causes the room Kirby enters to seal off, but allows him to return to Room 14.
Once Kirby returns with the Burning ability, he can use it to break through the upper path, and access a chest below containing a sparerib. Above is the door to the Warp room.
Enemies
[
edit
]
Gallery
[
edit
]
Moonlight Mansion Area Map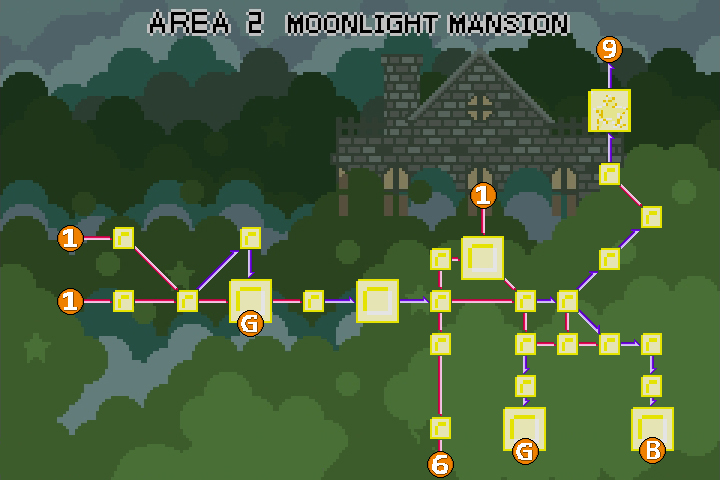 Click on any room