Please remember that WiKirby contains spoilers, which you read at your own risk! See our
general disclaimer
for details.
Kirby Wiki
From WiKirby, your independent source of Kirby knowledge.
Jump to navigation
Jump to search


Since 2010,
WiKirby
has been striving to be the best resource for
Kirby
information on the internet.
And you can help us!
It's easy - just head on over to our
Help & Policy section
and then find a page to get started.
Not sure where to begin? Check out our maintenance page.
Please keep in mind that in order to create new pages (including your user page) and upload files, you must create an account, wait one day, and make 5 edits to pages first. Doing this will also allow you to edit without being moderated!

Keep in mind that this wiki contains spoilers, which you view at your own risk!
Have fun and thanks for visiting!


New and Upcoming Kirby Games


Featured Article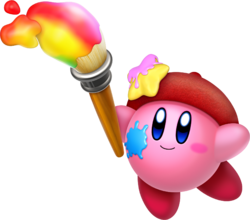 Artist is a Copy Ability that debuted in Kirby Star Allies. The Artist ability gives Kirby a magical paintbrush which can be used to splatter enemies in paint, and paint entities that can attack autonomously. Kirby also gains the ability to sculpt stone statues which he can then use to bash enemies with. When Kirby gains the Artist ability, he is given a large wooden paintbrush smothered in rainbow-colored paint. He also gains a red hat which resembles a beret and has a paint-covered star inset near the front, and a splash of green paint on the side. As a final touch, Kirby's right cheek is splashed with light blue paint.
The primary provider of the Artist ability is the mid-boss Vividria, who uses a similar array of attacks. Artist can be seen as a more developed version of the Paint ability from Kirby Super Star combined with the painting abilities of past bosses such as Paint Roller and Adeleine. However, Artist Kirby does not appear to be as skilled as Adeleine when it comes to painting living creatures, as hers are significantly more powerful.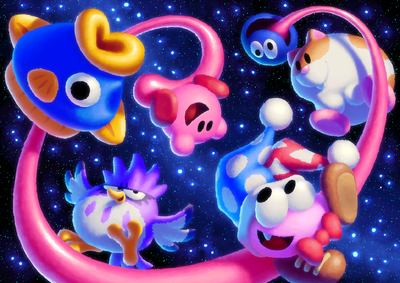 I figure at some point all of the Celebration Pictures are going to end up on the Featured rotation, and for good reason. So, yeah. I support. --Samwell (talk) 17:46, 10 August 2022 (UTC)
Did you know that...

September 21st, 2022 - The Good referendum has concluded! The community has decided to overhaul the Good template to make it more exclusive, and disbar its usage on files entirely. Look out for the changes on the Featured content policy page!
September 13th, 2022 - Kirby fans rejoice! The newest Nintendo Direct has revealed a remake of Kirby's Return to Dream Land called Kirby's Return to Dream Land Deluxe for the Nintendo Switch! New features include an updated art style, a new Copy Ability called Mecha, and new and remastered Sub-Games! Look forward to the release on February 24th, 2023!
September 6th, 2022 - Attention, all WiKirby regulars! There is a new referendum happening right now, to decide the fate of the Good template. Please go to this page to read up about it, and this page to vote! The referendum ends after September 20th, 2022!
August 11, 2022 - The Kirby 30th Anniversary Music Festival was streamed worldwide! It announced that Kirby's Dream Buffet is releasing on August 17th, 2022, and a Blu-Ray box set for the Japanese version of Kirby: Right Back at Ya! is scheduled for this winter!
July 22nd, 2022 - Heads up! Kirby's Avalanche is now available on Nintendo Switch Online in the west, and Kirby's Star Stacker (Super Famicom) is available on the Japanese NSO service. If you have a Japanese Switch account, this is an opportunity to finally play the game on an official emulator!
July 12, 2022 - Kirby's Dream Buffet, a new spin-off, has just been announced for this summer!
June 28th, 2022 - WiKirbians and friends, let it be known that we have three high-profile promotions to announce today! Users MetaDragon and Pinkyoshifan have both been promoted to Administrator, and Kirbeat has been promoted to Moderator! Give them all your congratulations!
May 29th, 2022 - The spoiler referendum has ended! Going forward, spoilers will not be marked as such on individual pages. Instead, a sitewide spoiler warning will be placed at the top of every page. Thanks to everyone for helping us determine how best to proceed.
Community Poll
We just got word that Kirby's Return to Dream Land is getting a remake on Switch! Is this exciting news to you?
You voted for "I'm more excited for Pikmin 4!" on 2 October 2022 at 19:08. You can change your vote by clicking a different answer below.
There were 32 votes since the poll was created on 16:51, 13 September 2022.
poll-id 390CA7A3F67E3B8404763E860FB2EBC4

NIWA
is a family of open-content encyclopedias based on Nintendo franchises, vowing to be now and forever independent!
Other Nintendo franchise wikis are welcome; please visit the NIWA website for more information!
NIWA also has a
Discord
server that you can join by clicking
here
.
Recommended Downloads

We at WiKirby would like to share some tools that make your wiki-editing life easier. If you aren't currently using any of these, we recommend looking into them. All are free of charge, and easy to install or uninstall if desired.