Please remember that WiKirby contains spoilers, which you read at your own risk! See our
general disclaimer
for details.
Kirby Wiki
From WiKirby, your independent source of Kirby knowledge.
Jump to navigation
Jump to search


Since 2010,
WiKirby
has been striving to be the best resource for
Kirby
information on the internet.
And you can help us!
It's easy - just head on over to our
Help & Policy section
and then find a page to get started.
Not sure where to begin? Check out our maintenance page.
Please keep in mind that in order to create new pages (including your user page) and upload files, you must create an account, wait one day, and make 5 edits to pages first. Doing this will also allow you to edit without being moderated!

Keep in mind that this wiki contains spoilers, which you view at your own risk!
Have fun and thanks for visiting!


Featured Article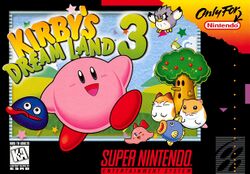 Kirby's Dream Land 3 is a video game released for the Super Nintendo Entertainment System in the year 1997. This game is the direct sequel to Kirby's Dream Land 2, adapting many mechanics of that game and continuing the story of Dark Matter. This game was followed by Kirby 64: The Crystal Shards in 2000, which expanded further upon the ideas introduced in this game and its predecessor. In 2009, the game was re-released via the Wii's Virtual Console service. It was later re-released in 2012 with other Kirby games in Kirby's Dream Collection, and again in 2013 as part of the Wii U's Virtual Console service. It would also be released in 2019 on the Nintendo Switch as part of Nintendo Switch Online.
Kirby's Dream Land 3 continues the central concept of its predecessor by featuring only eight basic copy abilities for Kirby to acquire, but allowing him to pair these abilities with one of his Animal Friends for a different effect. Instead of just three friends, however, Kirby has access to a total of six, with each one offering a different set of strengths and drawbacks, as well as providing unique combinations when paired with an ability. Kirby also has access to an expanded move-set, which includes the Slide technique, the Headbutt, and the Dash. In addition, a second player can join in as Gooey, who can be called forth from inside Kirby's mouth at any time, and has nearly all of the same skills, including the copy ability and the ability to pair with animals. If no second player is available, Gooey can be directed by the CPU to act as a helper similar to the ones in Kirby Super Star.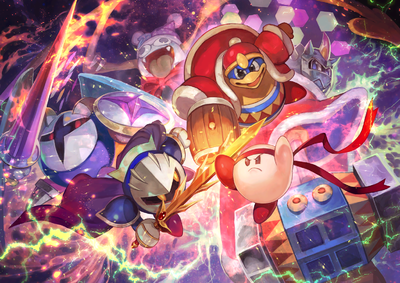 As per the points above. I cannot provide any details for the image that have not already been covered. This image has won my vote! Lmn620 (talk) 23:09, 17 November 2020 (UTC)
Did you know that...

May 29th, 2022 - The spoiler referendum has ended! Going forward, spoilers will not be marked as such on individual pages. Instead, a sitewide spoiler warning will be placed at the top of every page. Thanks to everyone for helping us determine how best to proceed.
April 27th, 2022 - Today marks the 30th anniversary of the release of Kirby's Dream Land in Japan!
March 25th, 2022 - Get ready to join Kirby in a new world! Kirby and the Forgotten Land is now officially out worldwide! Note that endgame content and other spoilers will be added to the wiki shortly, so watch what you read if you do not want to be spoiled!
March 3rd, 2022 - Get a mouthful of this! A demo for Kirby and the Forgotten Land has been released, featuring three stages from the full game. Go take a look, and then see our increasing coverage of the game and its contents!
February 5th, 2022 - WiKirby now has a Community Poll on its main page! All readers and editors are invited to take part in these lighthearted polls that will be updated at semi-regular intervals.
January 12th, 2022 - New information on Kirby and the Forgotten Land has surfaced, including a release date for March 25th, 2022! Additionally, two new Copy Abilities were unveiled, those being Drill and Ranger, along with a plethora of other little details!
September 23rd, 2021 - A new mainline Kirby game, the first ever in 3D, has been announced at today's Nintendo Direct: Kirby and the Forgotten Land! It's set to release on Spring 2022. We will add more information about it as it comes!

May 9th, 2021

-

New NIWA Member

: From a parallel universe comes our latest NIWA inductee,

Ukikipedia

! Give them a visit for in-depth

Super Mario 64

knowledge.
Community Poll
These Copy Abilities have been absent for more than 15 years. Which would you most like to see return?
Please vote below. Results will be shown when you have voted.
There were 15 votes since the poll was created on 14:45, 26 June 2022.
poll-id 316ACEF8554A29C83AC5CEB197F793E1

NIWA
is a family of open-content encyclopedias based on Nintendo franchises, vowing to be now and forever independent!
Other Nintendo franchise wikis are welcome; please visit the NIWA website for more information!
NIWA also has a
Discord
server that you can join by clicking
here
.
Recommended Downloads

We at WiKirby would like to share some tools that make your wiki-editing life easier. If you aren't currently using any of these, we recommend looking into them. All are free of charge, and easy to install or uninstall if desired.