Please remember that WiKirby contains spoilers, which you read at your own risk! See our
general disclaimer
for details.
Kirby Wiki
From WiKirby, your independent source of Kirby knowledge.
Jump to navigation
Jump to search


About Us


Since 2010,
WiKirby
has been striving to be the best resource for
Kirby
information on the internet—
and you can help us!
It's easy—just head on over to our
Help & Policy section
and then find a page to get started.
Not sure where to begin? Check out our maintenance page. If you have any additional questions, contact an administrator+.
Please keep in mind that in order to create new pages (including your user page) and upload files, you must create an account, wait one day, and make 5 edits to pages first. Doing this will also allow you to edit without being moderated!

Keep in mind that this wiki contains spoilers, which you view at your own risk!
Have fun and thanks for visiting!


Featured Article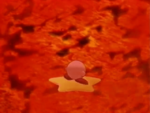 Prediction Predicament - Part II is the 42nd (39th in the 4Kids broadcast) episode of the Kirby: Right Back at Ya! series, and carries on the story from the previous episode: Prediction Predicament - Part I. In this episode, the asteroid seen in the previous part looms closer to Dream Land and over the course of a few days is set to crash into it. After consulting with Kabu, the people of Cappy Town become resigned to their fate and prepare for the end, but Tiff and her cohorts endeavor to try and redirect the asteroid using Castle Dedede's cannons. Meanwhile, after coming to terms with his bad deeds, King Dedede decides he will build the Cappies the playground he promised in order to let his conscience rest, and is shortly after swept into the air along with Kirby by the force of the asteroid's approach. At the last moment, Kirby saves Dream Land by giving the cannonballs shot from the castle a boost using his inhale, thus redirecting the asteroid, though King Dedede is still scorched somewhat by its passing.


Featured Picture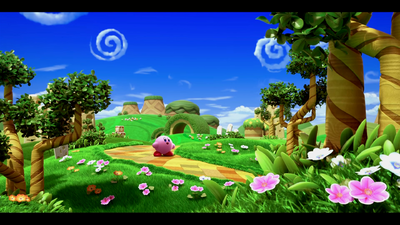 This week's featured picture showcases part of the opening cutscene in Kirby and the Forgotten Land. Here, Kirby observes the beautiful environment of Dream Land that he ever so briefly gets to see before getting sucked into the portal where a new adventure awaits him...
It's a great shot to show off the landscape of Kirby's home that might not be noticed otherwise. The borders at the top and bottom are a bit distracting, but that makes sense as a cutscene picture.
---
Pink
Yoshi
Fan
Did you know that...


WiKirby News

September 5, 2023 - The Super Famicom version of Kirby's Star Stacker has been released internationally on Nintendo Switch Online, marking its first-ever release outside of Japan! Give it a shot if you love the Game Boy version, and check out our articles!

August 30, 2023 - New NIWA Member: Hey, baby, how's it going? Rhythm Heaven Wiki, home of the Rhythm Heaven/Rhythm Paradise series, is here to give you a sense of rhythm! If you think you can beat these offbeat beats, head on over!

June 22, 2023 - New NIWA Member: Mystery Dungeon Franchise Wiki, the wiki for all Mystery Dungeon games, from Dragon Quest to Pokémon. Feel free to visit them, but try not to get lost in the labyrinths!

March 25th, 2023 - WiKirby just reached 4,000 articles, with Road to Victory being the 4,000th one! Thanks for your continued support; WiKirby wouldn't be here today without you all! Let's celebrate with a delicious picnic!
March 16th, 2023 - Heads up, WiKirbians! Just a friendly reminder that on March 27th, 2023, Nintendo plans to completely shut down the eShops for Wii U and Nintendo 3DS. There were a lot of great Kirby games on offer for both of those devices, whether made for the systems or on Virtual Console, so if you were looking to get your hands on any of those games, now would be the time to do it. Don't let the chance to legally own and play Kirby's Blowout Blast slip you by for the rest of eternity! That would be a darned shame...
Community Poll
Kirby and the Forgotten Land introduced Evolved Copy Abilities as variants on regular abilities. Which of these would you want to see become full abilities?
You voted for "Space Ranger" on 4 October 2023 at 22:13. You can change your vote by clicking a different answer below.
There were 38 votes since the poll was created on 17:06, 15 September 2023.
poll-id 5F451C4698C94D96E897A5C5C3FD936B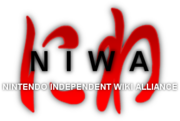 NIWA
is a family of open-content encyclopedias based on
Nintendo
franchises, vowing to be now and forever independent!
Other Nintendo franchise wikis are welcome; please visit the NIWA website for more information!
NIWA also has a
Discord
server that you can join by clicking
here
.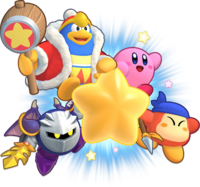 Recommended Downloads

We at WiKirby would like to share some tools that make your wiki-editing life easier. If you aren't currently using any of these, we recommend looking into them. All are free of charge, and easy to install or uninstall if desired.