Help:Redirects
From WiKirby, your independent source of Kirby knowledge.
Jump to navigation
Jump to search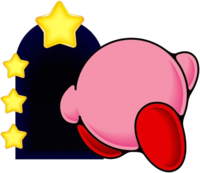 Redirects are short pages which serve to move the reader automatically to a different page. These pages do not count toward the wiki's article total, and are primarily used on names that are popularly typed into the search bar, but not quite correct. An example is typing "Dedede" instead of King Dedede. In this case, a redirect page is made titled "Dedede" to automatically redirect the reader to the appropriate page.
Creating a redirect page
Creating a redirect page is exceptionally simple. To do this, simply start creating a new page as usual under the desired name. From there, insert this line of code and make changes where appropriate:
#REDIRECT[[(insert target article here)]]
If anything else is typed on the page, the redirect will fail to function properly, so only use the above line when creating a new redirect.
Misuse of redirect pages
Due to their nature, redirect pages should never be linked to from articles. While it's not the end of the world if a reader clicks a link only to be redirected to a different page, it is not ideal, and can lead to confusion. As such, all internal links should point directly to the appropriate article, and piped links should be used where necessary.
In addition, there may be cases where moving pages or other chicanery results in the creation of a "double redirect". A double redirect is a redirect which points to another redirect. These should not exist on any wiki worth its salt, and should be corrected as soon as they are spotted. Editors are encouraged to check this list on occasion to see if any double redirects exist on the wiki and purge them.
Additionally, some standards should be followed when naming new redirect pages. For more information on that, see the Naming policy.
Finally, file redirects should not be created, and are candidates for deletion.