The annual
Cross-Wiki Week
is now underway from
Saturday, September 23rd
to
Sunday, October 1st!
Help out other
NIWA
wikis for the chance to win a
$20 Nintendo eShop gift card!
If you're visiting us from another wiki and you want to contribute, check out
our list of example tasks
for some ideas!
Please remember that WiKirby contains spoilers, which you read at your own risk! See our
general disclaimer
for details.
Hammer Flip
From WiKirby, your independent source of Kirby knowledge.
Jump to navigation
Jump to search
Hammer Flip is an attack which was introduced in Kirby Super Star. It is usually one of the strongest attacks which Hammer Kirby can perform.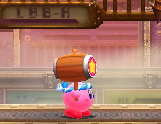 Overview
[
edit
]
Hammer Flip is usually performed by pressing ↑ + attack button (or simply by holding the attack button and releasing in Kirby and the Forgotten Land). The user charges up their hammer as it sets on fire in a second or two, which can be interrupted by enemy's attacks during the startup. If the preparation is successful, the user does a powerful flip (usually an uppercut) with their now flaming hammer, dealing heavy damage to enemies. Flame versions can light Cannon Fuses, burn grass, etc. like other Fire-element attacks do.
Hammer Flip can be performed by:
Super Smash Bros. series

[

edit

]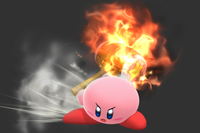 Hammer Flip is Kirby's side special move in Super Smash Bros. for Nintendo 3DS / Wii U and Super Smash Bros. Ultimate, replacing his no-element Hammer from Super Smash Bros. Brawl. Hammer Flip in these games can be charged to increase power, and Kirby can move and jump slowly while charging. The uncharged version has no element and only the charged version does flame damage. However, Kirby will receive recoil damage if it's over-charged up to a certain limit.
Super Smash Bros. for Nintendo 3DS / Wii U also has two custom moves that can be used in place of the Hammer Flip. The first, Hammer Bash, functions much the same way as his Hammer side-special in Super Smash Bros. Brawl. The second, Giant Hammer, deals more damage and has a longer reach but takes longer to attack opponents with. In these games' British English translations, the uncharged version is called Hammer, like in prior games, whereas the charged version specifically is called Hammer Flip.
In Kirby: Planet Robobot, as the Smash Bros. ability is based on Kirby's moveset from Super Smash Bros. for Nintendo 3DS / Wii U, the Smash Bros. version of Hammer Flip is performed by "→ + B" and also chargeable unlike its traditional appearances in the Kirby series up until Kirby Star Allies.
Charge Hammer Flip
[
edit
]
Starting with Kirby Star Allies, Hammer Kirby, Bonkers and King Dedede receive the Charge Hammer Flip attack instead. Its button execution remains the same (↑ + attack button).
As its name suggests, Charge Hammer Flip is chargable and the user can move and jump slowly while charging, just like the Smash Bros. version in Kirby: Planet Robobot. However, if the hammer is over-charged, it will break, leaving the user with only the handle, which can still be swung for very little damage. The hammer returns to normal after this. In Star Allies exclusively, Charge Hammer Flip has no element by default (i.e. to reprise the traditional flame effect from the Hammer Flip in prior titles, the user has to be enchanted the Sizzle element).
The following lists the additional effects of elemental Charge Hammer Flip.
In many games, a "reverse" Hammer Flip can be done by performing it back against the boss so the charging and the flip both hit, which does more than damage in total than a normal flip. For example, a "reverse" Hammer Flip from Hammer Kirby does:
Gallery
[
edit
]
Names in other languages
[
edit
]
Hammer Flip
[
edit
]
Language
Name
Meaning
Japanese
おにごろし火炎ハンマー
Onigoroshi Kaen Hanmā
Demon Slayer Flame Hammer
Traditional Chinese
鬼殺火焰錘[1]
guǐ shā huǒ yàn chuí
Demon Slayer Flame Hammer
Simplified Chinese
鬼杀火焰锤[1]
guǐ shā huǒ yàn chuí
French
Marteau ardent
Fire Hammer
German
Feuerzorn
Fire Anger
Italian
Iper martellata
Hyper Hammer
Spanish
Martillo ígneo
Fire Hammer
Charge Hammer Flip
[
edit
]
Language
Name
Meaning
Japanese
おにごろしチャージハンマー
Onigoroshi Chāji Hanmā
Demon Slayer Charge Hammer
Traditional Chinese
鬼殺蓄力錘
guǐ shā xù lì chuí
Demon Slayer Charge Hammer
Simplified Chinese
鬼杀蓄力锤
guǐ shā xù lì chuí
Dutch
Vuurhamer laden
Charge Fire Hammer
French
Marteau ardent chargé
Charge Fire Hammer
German
Feuerzorn-Ladung
Charge Fire Anger
Italian
Iper martellata caricata
Charge Hyper Hammer
Spanish
Martillo ígneo cargado
Charge Fire Hammer
References