Please remember that WiKirby contains spoilers, which you read at your own risk! See our
general disclaimer
for details.
Dedede's Drum Dash
From WiKirby, your independent source of Kirby knowledge.
Jump to navigation
Jump to search
Dedede's Drum Dash

Title screen.

Details
Type(s)
Rhythm - Score
Levels
4
Players
1
Appears in
Kirby: Triple Deluxe
Theme music
---
The main menu theme for Dedede's Drum Dash.
"
Bounce

King Dedede

along the drums! Move forward with →, and go for the

goal

!
"

— In-game tutorial text for Dedede's Drum Dash, from Kirby: Triple Deluxe

Dedede's Drum Dash is a Sub-Game in Kirby: Triple Deluxe where the player controls King Dedede in a rhythm-based challenge involving bouncing along drums, collecting coins, and avoiding enemies to the beat of the music that is playing. There are a total of three normal stages and an extra stage that must be unlocked, with each stage being faster than the last. Clearing a stage gives a medal depending on how many points were earned, ranging from bronze up to platinum. Points are earned in stages by collecting coins, completing the stage quickly, and clapping at the peak of each jump (a move referred to as a Backbeat). If King Dedede takes damage, points are lost, and he can only be hit a certain number of times before being defeated and failing the stage, unless he falls into a pit in which case he is immediately defeated.
A standalone expanded version of this game for the 3DS eShop titled Dedede's Drum Dash Deluxe would later be released that has more stages and other added features.
Gameplay
[
edit
]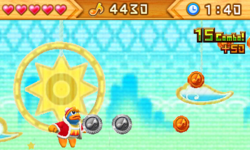 Dedede's Drum Dash involves King Dedede hopping along a series of big drums which make up the topography of each stage. There are essentially only two ways to control Dedede as he moves across the stage, as follows:
Pressing ← or → moves King Dedede in those directions. The higher he jumps, the quicker he can move laterally.
Pressing A when King Dedede lands on a drum will allow him to bounce higher, with three total jump heights possible. Not pressing A resets him to the lowest jump height.

Pressing A while in the air will cause King Dedede to play a cymbal which - if played at the mid-point between jumps - will count as a Backbeat, adding more points.
To move forward, King Dedede has to jump across the drums and head toward the right, with the player needing to make the decision of how high King Dedede ought to jump and where he will land afterward in order to collect coins and avoid danger, such as colliding with enemies and hazards or falling into the bottomless pit between the drums. The lowest jump height will keep King Dedede in the bottom screen of the 3DS, while the upper two launch him into the higher screen, so the player will need to keep eyes on both screens while playing. The pace of each stage is dictated by the tempo of the music playing in the background, with each subsequent stage being faster than the previous.
King Dedede has five points of health (three in the last stage). Each time he collides with a hazard or enemy, he will lose one HP, and will be defeated if he loses all five. If he falls into the bottomless pit below, he will be immediately defeated.
Enemies
[
edit
]
The following enemies appear in Dedede's Drum Dash, and must generally be avoided:
Objects and hazards
[
edit
]
The following are notable objects and hazards that need to be contended with:
Regular drums come in two sizes. Smaller drums have less room for error when landing on them. Drums in general will not bounce King Dedede if he lands on their edges.
Winged drums can appear which move back and forth. These also come in two different sizes.
Fragile drums will break after being used more than once. Some come pre-damaged, and will break after a single use.
Clouds can be seen floating in various places which obscure the view. They dissipate when collided with.
The objective of Dedede's Drum Dash is to earn as high a score as possible on each stage, which naturally includes reaching the end of the stage in order to have those points saved. Points are earned in the following manner:
Bouncing on a drum is worth 10 points (the first drum is not counted, nor is the first bounce after fumbling counted).
Collecting Musical Coins: Bronze coins are worth 50 points, silver are worth 200, and gold are worth 500.
Hitting backbeats between each jump: Backbeats are worth 50 points each, and a combo is tracked throughout the stage, with certain milestones being worth a certain number of points (there is no functional difference between "Good" and "Great!"). Milestones are as follows:

5 - 50 points
10 - 50 points
15 - 50 points
20 - 50 points
30 - 100 points
50 - 100 points

Every extra second at the end of a stage is worth 150 points (fractions of a second are divided accordingly).
At the end of each stage, there are four bonus objectives that, if met, will provide an extra 1000 points each. They are as follows:
Time Bonus - Stage is complete with at least 30 seconds remaining.
No Damage - Dedede reaches the end without taking a hit.
All Coins - Dedede collects every Musical Coin in the stage.
Backbeat Perfect - Every Backbeat is hit at the right time during the stage.
The only way points can be lost during a stage is if King Dedede takes damage, incurring a 100 point deduction.
Stages
Stage
Music
In-Game Description
Time Limit
Health
Notes

A good stage for beginners. Match the rhythm, and press A to

jump

!

2:00
5

The

tempo

increases in this

gourmet

track! Watch for

moving drums

!

2:00
5

The king's own theme song. In this stage, drums can

break

due to the

fast pace

!

2:00
5

A challenging

bonus stage

for those who've mastered the other levels. Good luck!

1:45
3
This stage is unlocked by obtaining Gold or better on the previous three stages.
According to a Miiverse post, the highest score the developers achieved in Dedede's Drum Dash was 43,435 points on Distant Traveler. The lowest score they achieved was 1,640 points.
Names in other languages
[
edit
]
Language
Name
Meaning
Japanese
大王のデデデでデン
Daiō no dedede de den
The King's Drumming
でんでん (Denden) describes the sound of something being pounded, as in a drum.
Canadian French
Tam-Tam Dadidou
Tom-Tom Dedede
European French
Tam-Tam DaDiDou
Tom-Tom Dedede
German
Dededes Trommellauf
Dedede's Drumrun
Italian
A ritmo con Dedede
In rhythm with Dedede
Korean
대왕 디디디로 쿵쿵
Daewang Dididiro Kungkung
Bounce-Bounce with King Dedede
(Kung) describes the sound of a heavy landing, like "boom" or "thud".
Polish
Dedede's Drum Dash[1]
-
Spanish
Redoble de Dedede
Dedederoll
Pun on "redoble de tambores", "drumroll".
Dedede's Drumroll
Direct translation
References