Эй, Эй, Эй! There's a
referendum
going on about potentially adding a Russian language version of WiKirby! Please go to
the referendum page
and vote on it in the
corresponding talk page
before the end of
February 7th, 2023
!
Also,
it's WiKirby's 13th anniversary!
Let's celebrate with some
Car-Mouth Cake
!
Please remember that WiKirby contains spoilers, which you read at your own risk! See our
general disclaimer
for details.
Coner
From WiKirby, your independent source of Kirby knowledge.
Jump to navigation
Jump to search
Coner is an enemy in the Kirby series with the form of a hermit crab. It made its first appearance in Kirby's Dream Land and has since appeared in a small selection of subsequent games in the series.
Coner's appearance is that of a hermit crab - it possesses a conical spiral shell with eyes, legs and pincers emerging from the base. It has exceptionally large eyes that peer out from below the shell, giving Coner a shy appearance. The original coloring of Coner is a green shell and yellow skin; however, in Kirby: Nightmare in Dream Land, alternate coloring gives it pink and yellow tone variations as well.
Coners have two interesting qualities—they are among the few enemies that can survive both on land and in water, and they are also impossible for Kirby to inhale when inside their shell.
Game appearances
[
edit
]
Kirby's Dream Land

[

edit

]
Coner makes its first appearance in the very first Kirby game. It appears exclusively in Float Islands and is worth 600 points when defeated. Unlike many other enemies, it is not replaced by anything else in the Extra Game.
Kirby's Adventure/Kirby: Nightmare in Dream Land

[

edit

]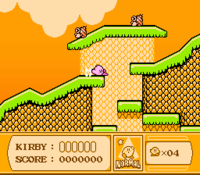 Coner appears again in this title and its remake, unchanged from its previous appearance. The introduction of copy abilities makes it much less of an issue to defeat, however.
Locations
[
edit
]
Coner can be found in the following levels and stages:
Kirby's Block Ball

[

edit

]
Coner appears as an enemy in this title, sometimes patrolling the block formations. Much like in Kirby's Dream Land, it is worth 600 points when defeated.
Kirby's Star Stacker for Game Boy

[

edit

]
In Kirby's Star Stacker on the Game Boy, Coner can be found in one of the illustrations. Specifically, it can be found on the beach with Waddle Dee in his "lose" screen in VS mode.
Kirby Star Allies

[

edit

]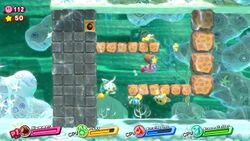 After a very long absence, Coner reappears in Kirby Star Allies as a standard enemy, making its first appearance in 3-D. Its behavior is largely unchanged from its older appearances.
Locations
[
edit
]
Coner can be found in the following stages:
Gallery
[
edit
]
Artwork used for the Kirby Café website during the Summer 2020 event
Names in other languages
[
edit
]
Language
Name
Meaning
Japanese
コナー
Konā
Coner
German
Coner
Coner
Italian
Pagurio
From "paguro" (hermit crab)
Korean
코너
Koneo
Coner