The annual
Cross-Wiki Week
is now underway from
Saturday, September 23rd
to
Sunday, October 1st!
Help out other
NIWA
wikis for the chance to win a
$20 Nintendo eShop gift card!
If you're visiting us from another wiki and you want to contribute, check out
our list of example tasks
for some ideas!
Please remember that WiKirby contains spoilers, which you read at your own risk! See our
general disclaimer
for details.
Checklist (Kirby Mass Attack)
From WiKirby, your independent source of Kirby knowledge.
Jump to navigation
Jump to search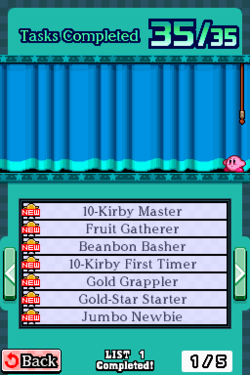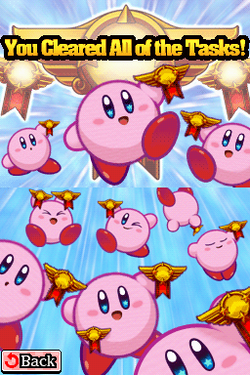 This article is about the checklist for Kirby Mass Attack. For Checklists in a more general context, see Checklist.
The following tables list every objective in the Kirby Mass Attack Checklist, known as the Award List in British English:
To view uncleared objectives on this list, 80 Medals are required:
| Objective | Description | Notes |
| --- | --- | --- |
| 10-Kirby Master | Clear Stage 8 of Green Grounds with 10 Kirbys without using the shortcut. | |
| Fruit Gatherer | Get all fruit in Stage 3 of Green Grounds, then clear the stage. | Does not include fruit from enemies. |
| Beanbon Basher | Defeat 50 or more Beanbons throughout the game, then clear the stage after the 50th defeat. | |
| 10-Kirby First Timer | Reach the goal with 10 Kirbys, then clear the stage. | |
| Gold Grappler | Find and defeat the Gold Beanbon, then clear the stage where you find it. | Gold Beanbon is in Green Grounds - Stage 4. |
| Gold-Star Starter | Earn your first gold star. | |
| Jumbo Newbie | Eat Jumbo Candy for the first time, then clear the stage. | |
To view uncleared objectives on this list, 100 Medals are required:
| Objective | Description | Notes |
| --- | --- | --- |
| Fruit Shaker | Get all fruit in Stage 11 of Dedede Resort, then clear the stage. | Does not include fruit from enemies. |
| Canyon Master | Defeat the boss of Sandy Canyon with 10 Kirbys, then clear the stage. | |
| Grounds Master | Defeat the boss of Green Grounds with 10 Kirbys, then clear the stage. | |
| Fruit Blocker | Break the fruit block in Stage 7 of Sandy Canyon, then clear the stage. | The block appears in a sandstorm. |
| Panel Whacker | Hit all of the goal panels in Stage 7 of Green Grounds without hitting any wrong panels, then clear the stage. | |
| Balloon Master | Get all of the ?s while floating in Stage 5 of Sandy Canyon, then clear the stage. | |
| Skully Evader | After getting a skull key, open the skull chest without being picked up, then clear the stage. | |
To view uncleared objectives on this list, 120 Medals are required:
| Objective | Description | Notes |
| --- | --- | --- |
| One-on-One Victor | Defeat the boss of Dedede Resort with one Kirby, then clear the stage. | |
| Bronze Avoider | Earn at least silver stars in all stages. | |
| Fruit Stocker | Get all fruit in Stage 9 of Dedede Resort, then clear the stage. | Does not include fruit from enemies. |
| Star Shopper | Get all fruit while star-surfing in Stage 3 of Dedede Resort, then clear the stage. | |
| Catch Master | Catch all bubbles that don't have bombs in Stage 1 of Dedede Resort, then clear the stage. | The Kirbys must ONLY catch bubbles without bombs in them. |
| Panel Sniper | Get all fruit from the panels and Soarars in Stage 4 of Dedede Resort, then clear the stage. | |
| Pinball Dominator | Get a Kirby in all pockets of the pinball game in Stage 2 of Dedede Resort, then clear the stage. | It's okay if a Kirby is lost to the skull pocket. |
To view uncleared objectives on this list, 140 Medals are required:
| Objective | Description | Notes |
| --- | --- | --- |
| Piggy Takedown | Defeat the boss of Volcano Valley with 10 Kirbys, then clear the stage. | |
| Burn-Free Kirby | Don't get burned and don't use the shortcut while clearing Stage 1 of Volcano Valley. | |
| Safe Driver | Don't get damaged in the tank while clearing Stage 2 of Volcano Valley, and don't use the shortcut. | |
| Volcano Survivor | Clear Stage 9 of Volcano Valley with 10 Kirbys without using the shortcut. | |
| Superb Torcher | Light all the candles in Stage 6 of Volcano Valley, then clear the stage. | Candles are located only on the lower path. |
| Forward Mover | Evade all Banishbacks in Stage 4 of Volcano Valley, then clear the stage without using the shortcut. | |
| Spaceship Assembler | Restore the blueprint in Stage 10 of Volcano Valley without taking damage, then clear the stage. | This objective is misleading. The actual requirement is to fully restore the blueprint, then clear the spaceship section without taking damage. |
To view uncleared objectives on this list, 160 Medals are required:
| Objective | Description | Notes |
| --- | --- | --- |
| Gold Thrasher | Defeat the Gold Waddle Dee, then clear the stage where you find it. | Gold Waddle Dee is in Dedede Resort - Stage 6. |
| Shortcut Scout | Find 30 hidden shortcut doors, then clear the stage after the 30th discovery. | Does not require the Kirbys to enter the doors. |
| Jumbo Rampager | Defeat 10 foes after eating the Jumbo Candy, then clear the stage. | |
| Stage Sweeper | Clear every stage. | |
| Ultimate-Boss Master | Defeat the ultimate boss on the final island with 10 Kirbys, then clear the stage. | Refers to Necrodeus. |
| Gold-Star Champion | Earn a gold star in every stage. | |
| Medal Master | Get all medals. | |