Please remember that WiKirby contains spoilers, which you read at your own risk! See our
general disclaimer
for details.
Carrot Castle - Boss
From WiKirby, your independent source of Kirby knowledge.
Jump to navigation
Jump to search
Carrot Castle - Boss is a room in Carrot Castle, the fifth area of Kirby & The Amazing Mirror. In this room, Kirby does battle with the boss Mega Titan.
This room is reachable from Carrot Castle - Room 12. Once Mega Titan is defeated, Kirby returns to Rainbow Route - Central Circle after completing his dance.
Overview
[
edit
]
Main article: Mega Titan
Kirby finds himself in a room with walls coated in an electric current. Occupying the room is a massive floating metal suit of armor with six jet-equipped gauntlets, which it uses to battle with. Kirby will find that if he tries to attack this monster directly, he will do no damage, but he can push the titan back a bit. If Kirby manages to slam Mega Titan into one of the walls, the robot will take damage and be momentarily stunned. Four such hits will cause Mega Titan to crumble.
However, the fight is not over yet. The head of the titan emerges from the rubble and continues fighting. Mega Titan's head does not have immunity to direct attack, and its only means of defense is to fire missiles, which can be inhaled. Once the head is defeated, Mega Titan finally goes down.
Once Mega Titan is defeated, Kirby and his buddies may collect the next Mirror Shard in peace and then return to Rainbow Route.
Gallery
[
edit
]
Carrot Castle Area Map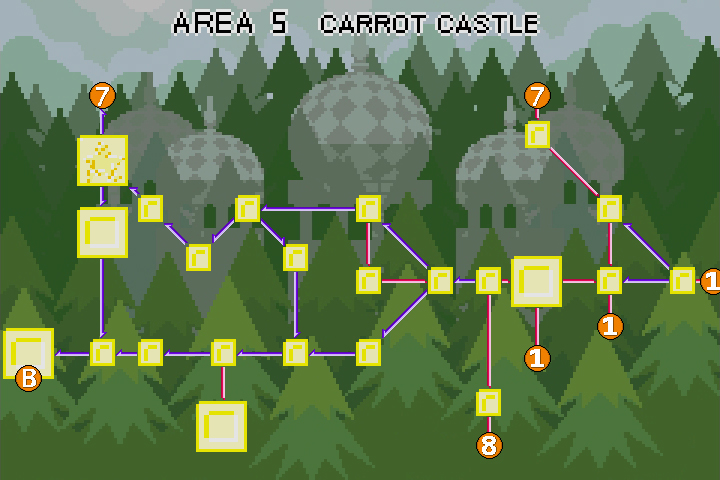 Click on any room