On
March 27th, 2023
, the eShops for
Wii U
and
Nintendo 3DS
will shut down. Many
Kirby
games are available on both, including digital-only 3DS games that will become permanently unavailable. If you want to play games like
Kirby's Blowout Blast
but haven't bought them yet, now's the time!
WiKirby just reached 4,000 articles
, with
Road to Victory
being the 4,000th one! Thanks for your continued support; WiKirby wouldn't be here today without you all!
Please remember that WiKirby contains spoilers, which you read at your own risk! See our
general disclaimer
for details.
Kirby Wiki
From WiKirby, your independent source of Kirby knowledge.
Jump to navigation
Jump to search


About Us


Since 2010,
WiKirby
has been striving to be the best resource for
Kirby
information on the internet—
and you can help us!
It's easy—just head on over to our
Help & Policy section
and then find a page to get started.
Not sure where to begin? Check out our maintenance page. If you have any additional questions, contact an administrator+.
Please keep in mind that in order to create new pages (including your user page) and upload files, you must create an account, wait one day, and make 5 edits to pages first. Doing this will also allow you to edit without being moderated!

Keep in mind that this wiki contains spoilers, which you view at your own risk!
Have fun and thanks for visiting!


Featured Article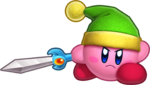 Sword is a Copy Ability which grants Kirby a blade to wield against his foes. First appearing in Kirby's Adventure, this is one of Kirby's oldest and most essential abilities, and has since become one of the most ubiquitous and recognizable Copy Abilities in the series - often being among the first (if not the very first) seen. When utilizing it, Kirby adopts a green hat with a yellow brim and a pompom at its tip, which grants him a look similar to that of Link from the The Legend of Zelda series. The most common way to obtain the Sword ability is by inhaling Sword Knight, Blade Knight, or the Mid-Boss Gigant Edge. Sword is also notable for being one of the abilities that can be used underwater, making it very versatile. In Kirby's Return to Dream Land and Kirby's Return to Dream Land Deluxe, there is a super version of this ability called Ultra Sword.
A recurring character, the sword-wielding Meta Knight, is prone to challenge Kirby to duels throughout the series. Prior to these battles, Meta Knight commonly throws Kirby a sword, which he can use to get the Sword ability as well. In most cases, Meta Knight refuses to battle Kirby if he is not equipped with this ability.


Featured Picture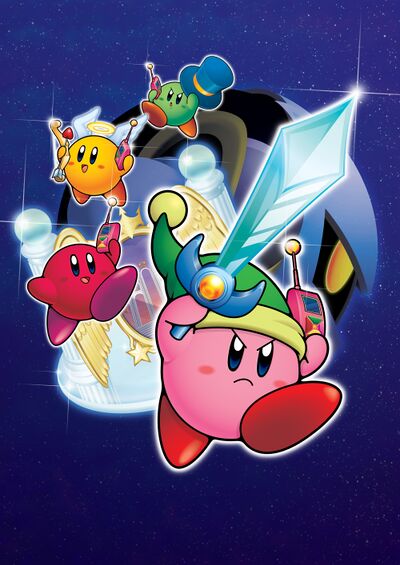 Amazing! Good quality. I love to see the 4 Kirbys together, it transmits the feeling of the game, in my opinion. --Tucayo 21:03, 22 September 2010 (CDT)
Did you know that...


WiKirby News

Community Poll
Which of these phrases do you feel best encapsulates Magolor?
Please vote below. Results will be shown when you have voted.
There were 50 votes since the poll was created on 21:51, 16 March 2023.
poll-id 7290DD43277F7B92BC53E45DFD89E7D9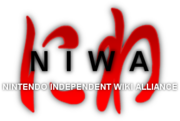 NIWA
is a family of open-content encyclopedias based on
Nintendo
franchises, vowing to be now and forever independent!
Other Nintendo franchise wikis are welcome; please visit the NIWA website for more information!
NIWA also has a
Discord
server that you can join by clicking
here
.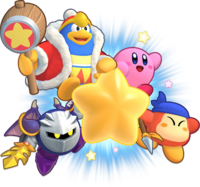 Recommended Downloads

We at WiKirby would like to share some tools that make your wiki-editing life easier. If you aren't currently using any of these, we recommend looking into them. All are free of charge, and easy to install or uninstall if desired.