Please remember that WiKirby contains spoilers, which you read at your own risk! See our
general disclaimer
for details.
Kirby Wiki
From WiKirby, your independent source of Kirby knowledge.
Jump to navigation
Jump to search


Since 2010,
WiKirby
has been striving to be the best resource for
Kirby
information on the internet.
And you can help us!
It's easy - just head on over to our
Help & Policy section
and then find a page to get started.
Not sure where to begin? Check out our maintenance page.
Please keep in mind that in order to create new pages (including your user page) and upload files, you must create an account, wait one day, and make 5 edits to pages first. Doing this will also allow you to edit without being moderated!

Keep in mind that this wiki contains spoilers, which you view at your own risk!
Have fun and thanks for visiting!


Featured Article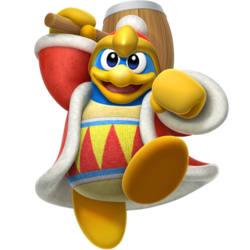 King Dedede (King DeDeDe in some older games; sometimes shortened to Dedede) is a portly, blue, penguin-like creature who wields a hammer and proclaims himself king of Dream Land. He is a recurring character who serves as Kirby's "arch frenemy" and is usually fought as a boss. Though he often engages in trouble-making, mostly involving stealing other people's food, he has performed noble deeds as well, such as trying to seal away Nightmare, helping Kirby battle Queen Sectonia, and accompanying Kirby in several of his adventures. Because of this, he is considered a protagonist, despite his greediness and egotism. King Dedede lives in a castle atop a mountain with a retinue of Waddle Dees acting as his servants.
Having debuted in the series' first installment, Kirby's Dream Land, King Dedede is arguably the most recognizable character from the Kirby series behind the pink hero himself. He is often portrayed as a comic foil to Kirby, especially in spin-off titles, which makes him comparable to Bowser from the Mario franchise, though King Dedede is not nearly as villainous. He has appeared in one form or another in nearly every game in the series, and he even stars in his own side game, Dedede's Drum Dash Deluxe. In older games, he was seldom playable, but this changed starting with Kirby 64: The Crystal Shards, with the king being playable in many of his subsequent appearances.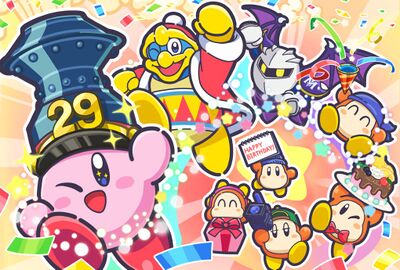 This week's featured picture is the illustration posted on the Kirby JP Twitter to commemorate Kirby turning 29.
Did you know that...

August 11, 2022 - The Kirby 30th Anniversary Music Festival was streamed worldwide! It announced that Kirby's Dream Buffet is releasing on August 17th, 2022, and a Blu-Ray box set for the Japanese version of Kirby: Right Back at Ya! is scheduled for this winter!
July 22nd, 2022 - Heads up! Kirby's Avalanche is now available on Nintendo Switch Online in the west, and Kirby's Star Stacker (SNES) is available on the Japanese NSO service. If you have a Japanese Switch account, this is an opportunity to finally play the game on an official emulator!
July 12, 2022 - Kirby's Dream Buffet, a new spin-off, has just been announced for this summer!
June 28th, 2022 - WiKirbians and friends, let it be known that we have three high-profile promotions to announce today! Users MetaDragon and Pinkyoshifan have both been promoted to Administrator, and Kirbeat has been promoted to Moderator! Give them all your congratulations!
May 29th, 2022 - The spoiler referendum has ended! Going forward, spoilers will not be marked as such on individual pages. Instead, a sitewide spoiler warning will be placed at the top of every page. Thanks to everyone for helping us determine how best to proceed.
April 27th, 2022 - Today marks the 30th anniversary of the release of Kirby's Dream Land in Japan!
March 25th, 2022 - Get ready to join Kirby in a new world! Kirby and the Forgotten Land is now officially out worldwide! Note that endgame content and other spoilers will be added to the wiki shortly, so watch what you read if you do not want to be spoiled!
March 3rd, 2022 - Get a mouthful of this! A demo for Kirby and the Forgotten Land has been released, featuring three stages from the full game. Go take a look, and then see our increasing coverage of the game and its contents!
Community Poll
Kirby's Dream Buffet was announced recently. What's your impression?
You voted for "The game looks fun! I'll probably pick it up some time." on 16 August 2022 at 20:13. You can change your vote by clicking a different answer below.
There were 32 votes since the poll was created on 20:10, 25 July 2022.
poll-id FC023E51B1D2614D1F9771494B1BB584

NIWA
is a family of open-content encyclopedias based on Nintendo franchises, vowing to be now and forever independent!
Other Nintendo franchise wikis are welcome; please visit the NIWA website for more information!
NIWA also has a
Discord
server that you can join by clicking
here
.
Recommended Downloads

We at WiKirby would like to share some tools that make your wiki-editing life easier. If you aren't currently using any of these, we recommend looking into them. All are free of charge, and easy to install or uninstall if desired.